Modern Wedding Cakes
The term "modern wedding cake" may mean different things to different people. Here at A Wedding Cake Blog, we take the term to mean anything with a contemporary feel; a cake that eschews the traditional white on white, piped and buttercreamed and trimmed with swags or roses. Modern may refer to a bold use of color, or a contemporary decor or shape. It may also refer to choosing something other than the grand, traditional tiered cake – a cake of macarons, for instance, or an assortment of individual cakes. Modern means that you are updating the tradition: perhaps you aren't entirely throwing it out. You're just giving it a breath of fresh air.
0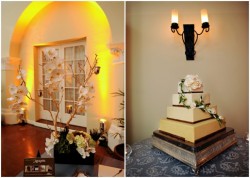 Greetings, Cake Lovers!  I trust that your Valentine's Day was all that you hoped it would be and more.  Around here, we're desperately looking forward to spring and all that beautiful warm weather.  It's even distracting us a little, we confess… Read More
0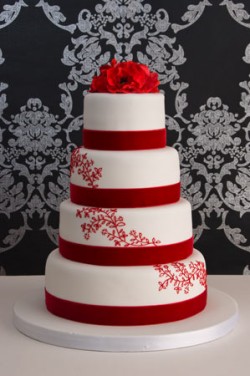 It's Love Day-Eve here at aWCB, and it's time to celebrate l'amour the best way we know how…with lots and lots of calories!
But first, the news…
From the San Francisco Chronicle:  in the categories of What Took Them So Long? and Of Course They Did!, Read More
0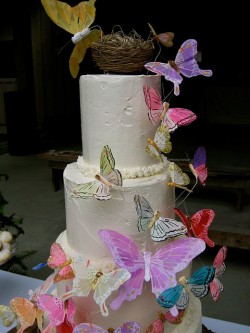 This cake is so simple, yet so beautiful. Smooth frosting accented with bright butterflies flying up to a birds' nest. The natural feel of the cake extends to the "cake stand," a wood round that was harvested by the groom and his father!
The cake was inspired by Martha Stewart's butterfly wedding cake, and is Read More
0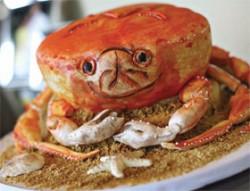 Dreary, dreary, dreary. As we cross over that period of winter when we think we're never going to have warm weather again, and into the hope that surely, spring is just around the corner, we at AWCB can't think of anything that cheers us up better or faster than a towering confection of sugary love and Read More
0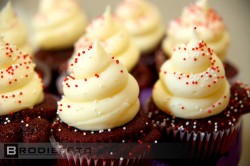 After eight seasons of stabbings, shootings, adopted/foster children, violent attacks, numerous boyfriends and a failed multi-million dollar company Brooke Davis finally got married tonight.  Are you confused?
Brooke Davis (a.k.a Sophia Bush) from One Tree Hill on The CW.  Am I the only person left in America who still cares?  Maybe..however, judge me if you must because it has been years in the making.  I've spent the past six years of my life tuned in once a week to watch the Read More
0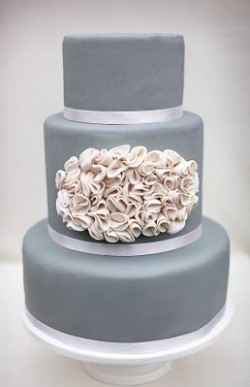 We're ranging far and wide this week to bring you the latest and greatest in all things sweet to eat – and otherwise – about weddings.
They announced their engagement on Twitter and Facebook.  This week, Kate and William fax their Save the Dates.  Embracing technology in the name of Read More
0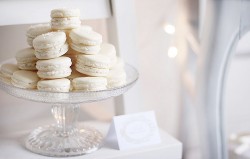 As cold and snow once again blanket most of the U.S. (except for those lucky ducks on the West Coast) we look around to see what's happening this week in the world of cakes. Some fun, some strange, some delectable – all entertaining! 
But first – some cake news:
A slice of cake reportedly from Prince Charles' marriage to Diana Spencer Read More
0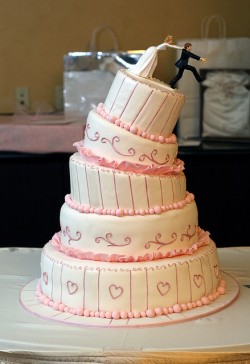 You know that line in "Pretty Woman," the one where Richard Gere asks Julia Roberts what happens after the knight saves the princess?  "She saves him right back," she replies.
That came to mind when I saw this beautiful and whimsical cake.
There are several things that I love about it.  Read More
2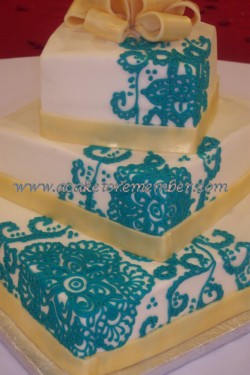 Welcome to A Wedding Cake Blog's first Sunday Round-Up ever!
Here, we plan to give you some interesting tidbits to snack on, as we review fun things that have happened in the world of wedding cakes this week.
If you know an awesome wedding blogger or bakery that you'd LOVE to see us feature on aWCB, please send us a comment!  We are ALL about making friends and learning what's new Read More
0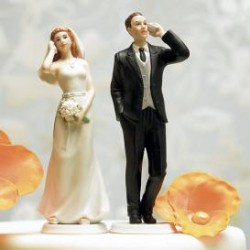 Let's face it — everyone's had that one dinner out where you're both caught up in an important call and paying little to no attention to each other! Especially if you're high-powered executives, socialites, or just friends with everyone, it's tough to put down the phone these days 😉
This "gift of gab" cake topper is perfect for the communicative and connected couple!