Simple Wedding Cakes
Sometimes simple says it best. You might choose a simple wedding cake because you prefer a minimalist approach, or because you like you like to stick with the basics when it comes to cake, or even because you are interested in showcasing a particularly fancy flower or cake topper, simple wedding cakes never go out of style. The basic, stacked, white wedding cake, frosted in a smooth coating of buttercream or covered in a snowy blanket of fondant, may hide beautiful flavors and colors beneath its exterior – the best of both worlds. Or maybe you and your groom prefer the traditional "white cake, white frosting" approach – or "chocolate cake, chocolate frosting" – after all, simple doesn't necessarily mean traditional. On the other hand, a simple cake may be the perfect way to showcase a special caketopper or flower that has personal meaning for you. A topper that shows your style or a hobby that you and future hubby share becomes all the more visible when it doesn't need to compete with a fancy cake. Maybe you have a family heirloom that can nestle atop your cake. Alternatively, some dazzling orchids or floppy peonies may be all the statement that you need to make. A simple cake need not be boring, after all.
0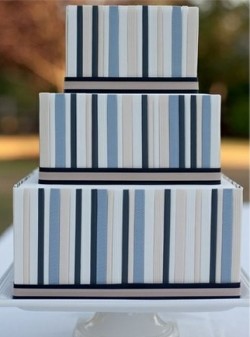 I went in search of preppy today. And preppy I found.
You may not believe this, but I'm not so much a froufrou girl.  My favorite colors?  Khaki and navy blue.  In fact, I'll give you a $100 if you can spy me one day out of my life without khaki on my person somewhere.
I really love tailored and unfussy stuff.  And today, I wanted to declutter a bit, cakewise.
I love this approach to cakery, don't you?  Sure, we've seen Read More
Other Posts You May Enjoy:
0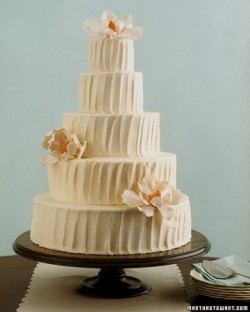 I was in the mood for simple today. Maybe it's because life seems so fast and so complicated. So I went in search of simplicity, and this is what I found. If life can't be simple today, my choice of cake sure can be!
Remember all those times that you helped to frost those cakes, and Mom or Grandma took extra care to make the frosting all loopy and swoopy before calling it a done deal for the Read More
Other Posts You May Enjoy:
0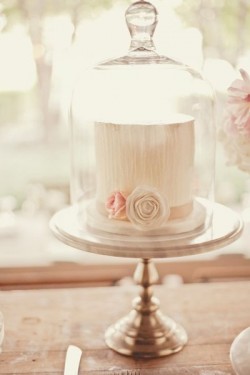 I espied this on Wedding Wire today and just had to share it with you.
I just love a little cake.  Now, this one is billed as a cake for a shower or a bridesmaids' luncheon, but having gone through the big wedding hoopla, I love the idea of a wedding intimate enough that this darling little cake would be enough for all your guests.
There's so much to Read More
Other Posts You May Enjoy:
0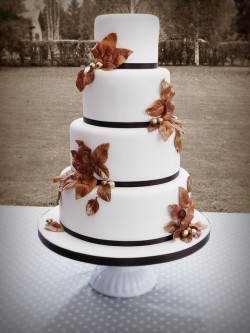 I spied this wedding cake and just had to share it with you.
We love fall weddings, don't we?  That hint of chill in the area with the glorious warmth of leaves changing, setting hills and fields ablaze with their beautiful colors.  But when you distill and dress up the essence of all of those colors, you come away with gold.  If silver is for winter, then gold is surely for fall.
To an otherwise plain, fondant-covered cake with black ribbon trim, cake artist Mina from My Read More
Other Posts You May Enjoy:
0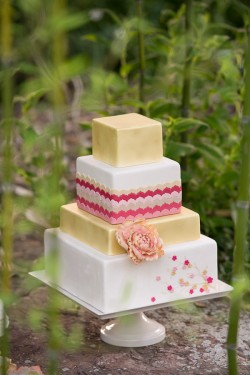 Erica of  Erica O'Brien Cake Design takes us in a decidedly unexpected direction with today's Thai-inspired cake.
I have seen some really beautiful cakes that pull from Asian inspiration, but most of the time, they featured deep, bright colors. But with this cake, which was featured in a stylized shoot, we see beautiful Thai design elements approached with the light, deft touch of pastel.  And it works beautifully.  I absolutely love the stacked fondant Thai arches, and the way that Erica alternates a couple of gold layers into the mix.  And the sweet flower blossoms, as well as the gold-tinged peony, are breathtaking.  She even plays with Read More
Other Posts You May Enjoy:
0
This is one of my all-time favorite cakes that I've featured.  Why am I providing you with a re-run today, you ask?  A couple of reasons:
1. A cake loved should be shared more than once.
2. We will never forget.
So today, although I will not dwell on what September 11 has come to mean to Americans as well as others around the world, I do offer you this apple cake Read More
Other Posts You May Enjoy:
0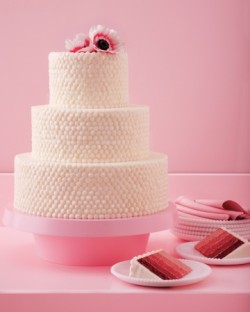 From the pages of Martha Stewart, we find this new take on a much loved classic, Red Velvet Cake.
Everybody knows that the BEST red velvet cakes must be covered in a thick layer of cream cheese frosting, right?  I mean, you do know that?  Well, that doesn't leave a lot of wiggle room for creativity on the outside of your cake…so this baker, Francina Stewart of One Girl Cookies in Brooklyn, took to the inside to set her cake apart.  The outside is covered with Read More
Other Posts You May Enjoy:
0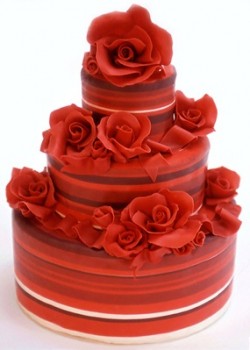 I'm not feeling very subtle today. So I went in search of a cake that would set Brooke convention (you know, beachy, classic, pearls, blah blah blah) on its head.  And this is what I found.
Isn't this stunning?  Bands of different red hues encircle an otherwise simple three-tiered round cake.  A band of white is added on the top and bottom layers for contrast, and the whole thing is trimmed out in Read More
Other Posts You May Enjoy:
0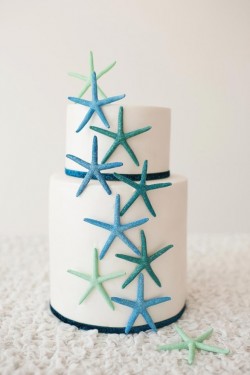 It's beachy, and it's sea glass blue and green.  That makes it perfect.
Now, while I wouldn't put actual starfish on a wedding cake, these gumpaste buddies are just the thing.  The cool colors – all greens and blues and hues in between – are some of my favorite, evoking water and calm…two things that speak to me in soft, soothing tones. The wonky ginormous bottom layer – is triple height the new Read More
Other Posts You May Enjoy:
0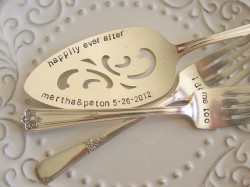 Hi There!
Oh my, but the autumn bug has officially bitten in this household!  Oh, sure.  There's some summer fun left here, and we're still wearing shorts and all, but it's actually been, well, NOT hotter than the hinges of Read More
Other Posts You May Enjoy: