Simple Wedding Cakes
Sometimes simple says it best. You might choose a simple wedding cake because you prefer a minimalist approach, or because you like you like to stick with the basics when it comes to cake, or even because you are interested in showcasing a particularly fancy flower or cake topper, simple wedding cakes never go out of style. The basic, stacked, white wedding cake, frosted in a smooth coating of buttercream or covered in a snowy blanket of fondant, may hide beautiful flavors and colors beneath its exterior – the best of both worlds. Or maybe you and your groom prefer the traditional "white cake, white frosting" approach – or "chocolate cake, chocolate frosting" – after all, simple doesn't necessarily mean traditional. On the other hand, a simple cake may be the perfect way to showcase a special caketopper or flower that has personal meaning for you. A topper that shows your style or a hobby that you and future hubby share becomes all the more visible when it doesn't need to compete with a fancy cake. Maybe you have a family heirloom that can nestle atop your cake. Alternatively, some dazzling orchids or floppy peonies may be all the statement that you need to make. A simple cake need not be boring, after all.
0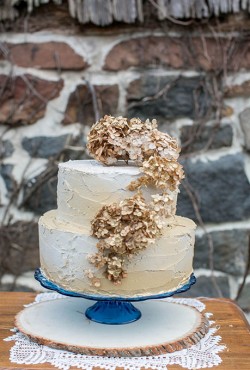 There must be something in the air this week … this is the second gold-toned wedding cake we've featured in the past few days!
I'm beginning to think that I have gold on my mind. Which isn't a bad thing.
Lately I'm starting to look for more rustic wedding cakes – I still love the over-the-top elegant cakes, but there's something to be said for a simple yet gorgeous rustic cake.
Like today's cake. Read More
0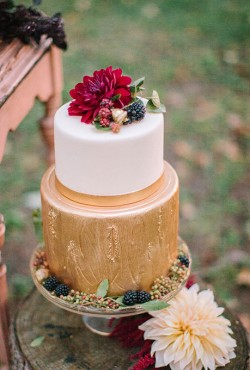 Despite the never-ending summer-like temperatures outside, we are getting closer and closer to the first official day of fall!
Which means it is time to start thinking about fall-inspired wedding cakes.
I love the idea of rustic cakes for a fall wedding, something with a unique twist. Read More
0
I adore polka dots. They're fun and whimsical while still being classic and somewhat elegant.
And if those polka dots look like tiny hearts? Well, that's even better.
Today's wedding cake is a study in fun – a stark white, three-tier cake adorned with black fondant hearts instead of black polka dots!
It is nearly wedding cake perfection. Read More
0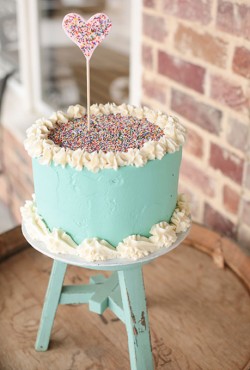 I love the idea of having a small wedding cake for the newlyweds but giving the rest of the guests a chance to enjoy a dessert bar full of sweet treats.
And if you're going to go with that plan, you should consider having a fun wedding cake – something like today's featured cake!
I love this one-tier wedding cake with the gorgeous Tiffany-blue icing and whimsical sprinkles on top. Read More
0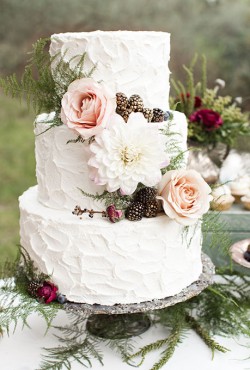 A quick, cursory glance at today's wedding cake and you might think "OK, it's a pretty white cake with some fresh flowers."
But look closer. This cake has a feature that is unique and one I wouldn't have thought of on my own.
This cake is adorned with gold-dusted berries and they look like mini pine cones.
In fact, that's what I thought they were when I first saw this lovely fall-inspired wedding cake. But oh no, they're gold-dusted berries. Read More
0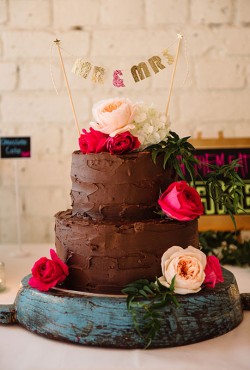 It's that time of year again – when I am finally over summer and just want it to be fall.
I need cooler temperatures, warm sweaters, and pumpkin spice everything. A chocolate cake would be nice too!
I love the idea of having a chocolate cake as your wedding cake. It's so non-traditional – even if I keep seeing it mentioned on wedding websites. Read More
0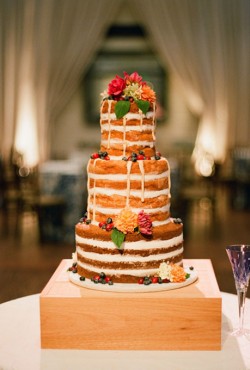 It's been a bit chilly around here in the evenings, which makes me think about fall.
Oh how I love fall. It's my favorite season – full of apples, sweaters, and all things pumpkin spice.
Of course I know we still have weeks of summer left. That's how it is in August and September in the Midwest. We get teases of fall for weeks. Read More
0
I'll be the first to admit that pink wasn't "my color" for the longest time. In fact, I avoided the color pink, even when planning my own wedding years ago.
But now I can actually tolerate the color pink and even love it sometimes.
Like today. When I find a gorgeous pink wedding cake that is subtle and elegant and practically perfect in its pink-ness. Read More
0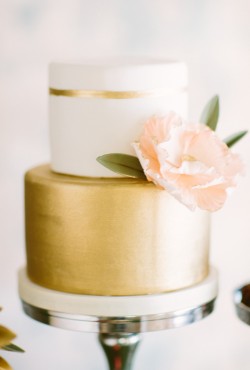 I don't know about you but I'm still glued to the television every night watching the 2016 Summer Olympics.
I'm cheering on Team USA every night (although I will admit to rooting for Usain Bolt the other night!).
And since we are winning a whole lotta gold medals in Rio, I wanted to find a gold wedding cake to keep with the Olympic theme. Read More
0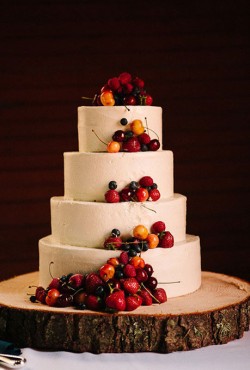 One of my favorite things about mid-to-late summer is the abundance of fresh fruit at my local market. Peaches, plums, cherries, berries, and more.
And I can't think of a better way to showcase all those gorgeous fruits than on a lovely white wedding cake!
People don't often think about using fresh fruits as an embellishment on a cake, but it really is genius. Read More