Simple Wedding Cakes
Sometimes simple says it best. You might choose a simple wedding cake because you prefer a minimalist approach, or because you like you like to stick with the basics when it comes to cake, or even because you are interested in showcasing a particularly fancy flower or cake topper, simple wedding cakes never go out of style. The basic, stacked, white wedding cake, frosted in a smooth coating of buttercream or covered in a snowy blanket of fondant, may hide beautiful flavors and colors beneath its exterior – the best of both worlds. Or maybe you and your groom prefer the traditional "white cake, white frosting" approach – or "chocolate cake, chocolate frosting" – after all, simple doesn't necessarily mean traditional. On the other hand, a simple cake may be the perfect way to showcase a special caketopper or flower that has personal meaning for you. A topper that shows your style or a hobby that you and future hubby share becomes all the more visible when it doesn't need to compete with a fancy cake. Maybe you have a family heirloom that can nestle atop your cake. Alternatively, some dazzling orchids or floppy peonies may be all the statement that you need to make. A simple cake need not be boring, after all.
0
I'm all about thinking spring right now!
Sure it's been a mild winter here in the Midwest but with a potential snowstorm in tonight's forecast I've decided that I'm done with winter and just want to focus on spring.
And spring means all things green! It's the one time of year that I really, really like the color green.
Green grass. Green leaves. Shamrock Shakes. You know, all things spring. Read More
0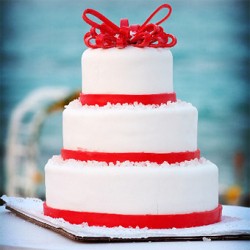 Red and white is one of my favorite color combinations. There is such a stark contrast between the two colors, I just can't get enough of red and white.
Take today's featured cake – featuring bright white icing and bright red fondant ribbons – it's elegant and simple and quite perfect. Read More
0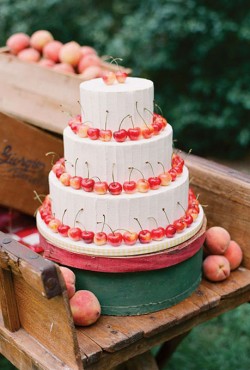 Sometimes it's nice to find a simple yet elegant wedding cake that would be perfect in any season.
Today's cake is just that kind of cake.
I love the simplicity of the three-tiered cake adorned with Rainier cherries.
It isn't fussy or over-the-top. It's just pretty. And sometimes that's all you need for a perfect wedding cake. Read More
0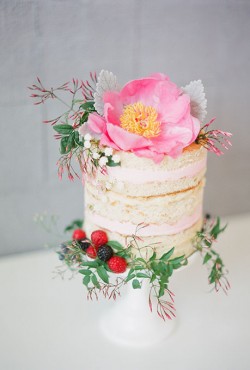 We're still daydreaming about spring even if winter is still hanging on and sending more cold temperatures our way.
And one of the things we love most about spring is the arrival of gorgeous flowers.
Of course we also love fresh flowers on wedding cakes, like the blooms on today's naked wedding cake. Who needs icing when you have flowers, right? Read More
0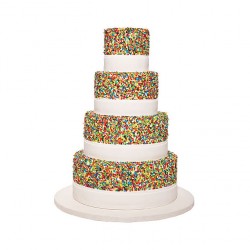 Happy February! We're thismuch closer to spring now!
And we're thinking warm and cheery thoughts today with this fun rainbow wedding cake.
Who needs a plain ol' white wedding cake when you can add sprinkles for some fun and whimsy? Read More
0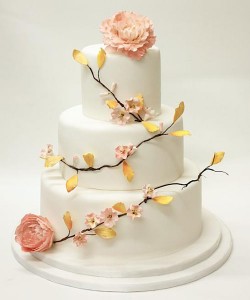 It seems like a good time to start dreaming about springtime wedding cakes adorned with gorgeous blooms.
Never-ending winter weather will do that to a girl, ya know?
I'm loving this wedding cakes thanks to its simple elegance and charm. Read More
0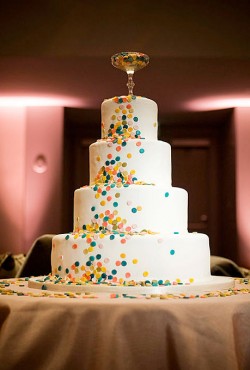 As we move deeper and deeper into the dreary, gray months of winter it's always nice to showcase a cheery and bright wedding cake.
Take this lovely rainbow cake. I love the elegant yet whimsical take on using rainbow colors to decorate the cake.
The cascade of rainbow candy from the champagne glass is so much fun. Read More
0
I love simple wedding cakes.
And if that simple wedding cake happens to be a chocolate wedding cake that's even better!
This one-tier chocolate cake would be ideal for a small, intimate reception.
Or it would be great if the bride and groom want to have their own cake while letting the guests enjoy a dessert bar filled with sweet treats like candy, cupcakes, or even mini cakes. Read More
0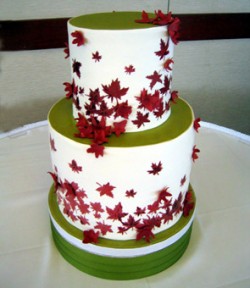 It's beginning to look a lot like Christmas around here so it seemed like a good day to find a green and red wedding cake!
I love this cake. It's fun and modern and whimsical. And it would be great for a winter wedding.
The three-tiered cake features bright green icing one the top of the tiers which really makes the cake pop. Read More
0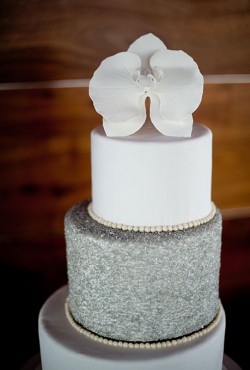 There's no denying it now – winter is almost officially upon us.
It's December and that means holidays, cold weather, and snow. But it also means festive holiday weddings!
And to beat those winter blahs you'll want a stunning winter wedding cake – like this gorgeous cake I'm featuring today. Read More