Simple Wedding Cakes
Sometimes simple says it best. You might choose a simple wedding cake because you prefer a minimalist approach, or because you like you like to stick with the basics when it comes to cake, or even because you are interested in showcasing a particularly fancy flower or cake topper, simple wedding cakes never go out of style. The basic, stacked, white wedding cake, frosted in a smooth coating of buttercream or covered in a snowy blanket of fondant, may hide beautiful flavors and colors beneath its exterior – the best of both worlds. Or maybe you and your groom prefer the traditional "white cake, white frosting" approach – or "chocolate cake, chocolate frosting" – after all, simple doesn't necessarily mean traditional. On the other hand, a simple cake may be the perfect way to showcase a special caketopper or flower that has personal meaning for you. A topper that shows your style or a hobby that you and future hubby share becomes all the more visible when it doesn't need to compete with a fancy cake. Maybe you have a family heirloom that can nestle atop your cake. Alternatively, some dazzling orchids or floppy peonies may be all the statement that you need to make. A simple cake need not be boring, after all.
0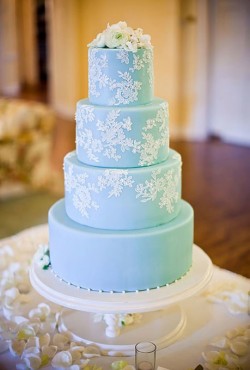 If there's one color I love to see on a wedding cake it is blue – specifically a light blue that was made famous by a particular jewelry company.
Today's featured cake is that lovely shade of blue and the addition of a lace overlay piped onto the cake takes it to the next level for sure.
This cake is elegant and classic and it could also fill the role of "something blue" at the wedding. Read More
0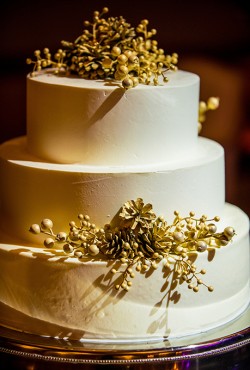 I love this time of year with all the Christmas trees and winter holiday decorations.
Everything is so pretty and festive, so your winter wedding cake should fit into the holiday theme!
Today's featured cake is the perfect winter wedding cake. It features pinecones and berries with a stark white icing as the background. Read More
0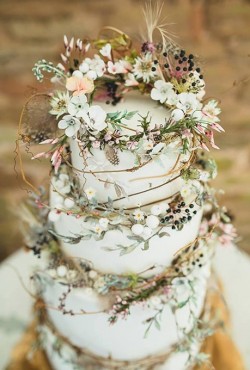 I've always loved the idea of a fairy tale, woodland-themed wedding.
And today's featured wedding cake would be ideal for just that type of reception. The cake is romantic and elegant and just what you'd want for a rustic wedding.
This rustic cake features three tiers of lovely white frosted cake surrounded by woodland vines straight out of a fairy tale. Read More
0
One of my absolute favorite flavors regardless of the season is caramel.
Whether we're talking about candy or coffee or just pure caramel sauce, I can't live without out.
So imagine my excitement when I found this rustic fall wedding cake with caramel sauce! Look at this cake – it is a work of art! Read More
0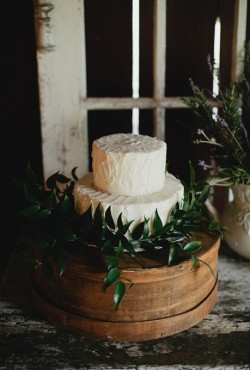 As much as I love an over-the-top wedding cake every now and then, I really like the simple and elegant wedding cake too.
Sometimes you don't need a lot of stuff on the cake to make it gorgeous.
Take today's cake for example. Read More
0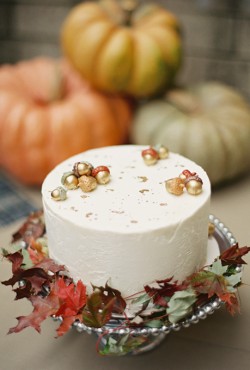 We raked a lot of leaves over the weekend around here. The trees are just past peak color and the leaves are raining down in our yards.
Another thing raining down – acorns!
Which brings us to today's fall-inspired wedding cake featuring colorful fall leaves and acorns.
This one-tier cake practically screams fall … in an elegant and refined manner of course. Read More
0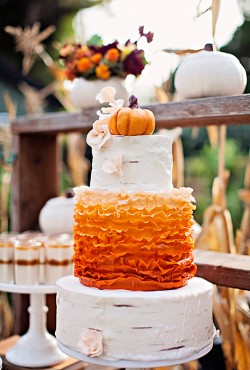 Of the best things about fall is the annual visit to the local pumpkin farm. We get to pick our own pumpkins out in the fields and then it's time to buy pumpkin doughnuts.
There's no denying that the pumpkins are the stars of the season.
And so, if you're planning a fall wedding it only makes sense to add some pumpkins to your decor or even to the dessert table. Read More
0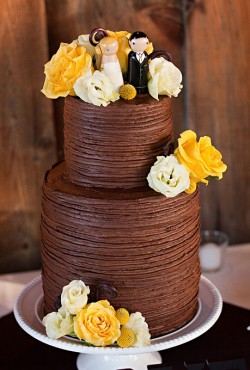 If I had the chance to do my wedding cake over, I'm pretty sure there would be chocolate involved. As in, I'd have an all chocolate wedding cake.
Because, chocolate.
I love the idea of bucking a trend – white wedding cakes – and serving something you really love. Like chocolate cake. Or at least cake with chocolate icing. Read More
0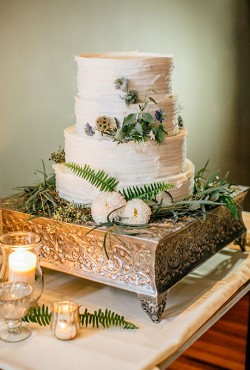 I love this time of year – the leaves are changing colors, the nights are cooler, and everything is about fall!
So if you're getting married during this season, why not choose a wedding cake the plays on the themes of the season without being too over-the-top?
Today's featured cake is one of those perfectly fall cakes. Read More
0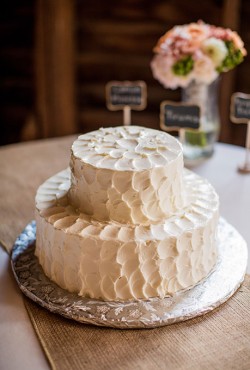 After featuring several non-traditional wedding cakes lately it seemed like a good week to head back to the basics.
So today, we're talking about a lovely white wedding cake. Boring? No way.
Check out this beauty. Read More