Simple Wedding Cakes
Sometimes simple says it best. You might choose a simple wedding cake because you prefer a minimalist approach, or because you like you like to stick with the basics when it comes to cake, or even because you are interested in showcasing a particularly fancy flower or cake topper, simple wedding cakes never go out of style. The basic, stacked, white wedding cake, frosted in a smooth coating of buttercream or covered in a snowy blanket of fondant, may hide beautiful flavors and colors beneath its exterior – the best of both worlds. Or maybe you and your groom prefer the traditional "white cake, white frosting" approach – or "chocolate cake, chocolate frosting" – after all, simple doesn't necessarily mean traditional. On the other hand, a simple cake may be the perfect way to showcase a special caketopper or flower that has personal meaning for you. A topper that shows your style or a hobby that you and future hubby share becomes all the more visible when it doesn't need to compete with a fancy cake. Maybe you have a family heirloom that can nestle atop your cake. Alternatively, some dazzling orchids or floppy peonies may be all the statement that you need to make. A simple cake need not be boring, after all.
0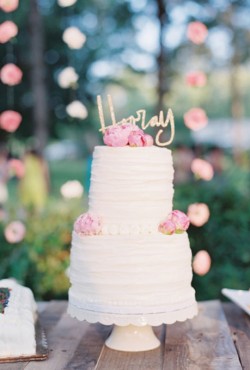 Gone are the days of the 'traditional' bride and groom cake topper. Now it's all about modern and "playful" decor for the top of your wedding cake.
I'm sure gonna miss those porcelain figurines atop a white wedding cake.
But seriously, all joking aside … I really do love seeing fun and whimsical cake topper on wedding cakes. Heck, I'm even a fan of just using fresh blooms to accent the top of your cake.
As long as the cake topper adds beauty to the cake I say go for it! Read More
0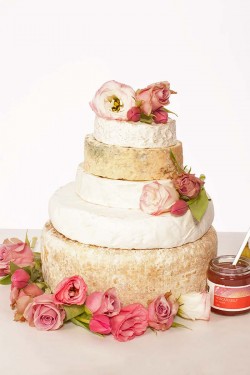 I love cheese.
I'm talking I could eat cheese at every meal if given the opportunity. Which is probably why I would love to be invited to a wedding reception where the cake was made entirely of cheese.
Just like today's wedding cheese cake.
This stunning cake was created using five wheels of cheese and it would be the perfect "cake" for a reception where there was also a dessert buffet. Read More
0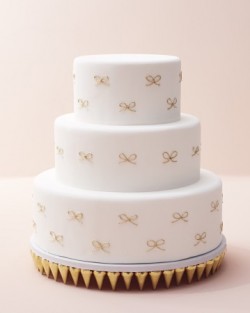 I like finding wedding cakes that are unique – something you aren't going to see at every other wedding.
Today's cake is that kind of cake. It's not every day that you see a wedding cake adorned with tiny gold bows, and that makes me love it even more.
This three-tier cake is perfect for an elegant reception with a small guest list. Read More
0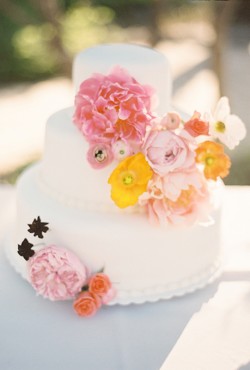 One of the things I love most about summer is watching all the flowers bloom and grow and sometimes even outgrown their planting pots.
And if you're having a summer wedding it's a great idea to showcase some of those gorgeous summer blooms on your wedding cake!
Aside from looking great, when you decorate your cake with flowers you don't need anything else on the cake – not even a cake topper. Read More
0
I love the beach. Specifically I love how the color of the ocean can change throughout a day from dark blue to greenish-blue and back again.
This wedding cake reminds me of my favorite ocean color – that sea green-blue when the water is clear and you can see to the bottom.
The three-tier cake features square cakes adorned with simple white icing and seafoam green Necco candy wafers. Read More
0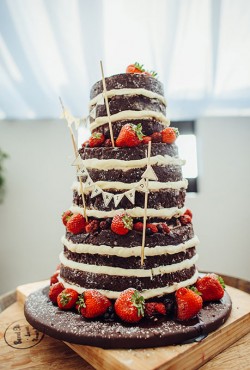 We're still enjoy the fresh-from-the-farm strawberries around here, but the season is quickly coming to and end.
And so, I thought it would be a good idea to find a gorgeous wedding cake that incorporated that sweet and juicy summer fruit before everyone stopped thinking about strawberries.
The fact that I found a naked chocolate cake with strawberries is so perfect.
As much as I love frosting on cakes I'm a big fan of the naked wedding cake trend. Especially when the tiers are separated by a lot of icing. That almost makes up for the lack of all-over icing. Read More
0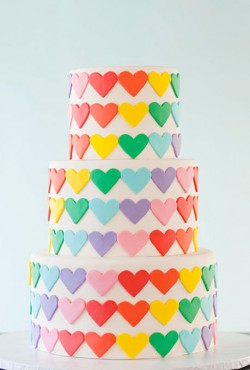 If there's one thing your wedding day is guaranteed to be full of it's love. Lots and lots of love.
And what better way to show off that love than with a wedding cake adorned with colorful little hearts? This cake practically screams LOVE! … but in a dignified manner of course. Read More
0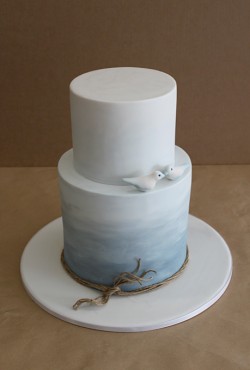 It's Shark Week this week on Discovery Channel. Which means I'm thinking about the beach and how it's probably best to stay ON the beach and out of the water.
So, instead of swimming in the ocean let's look at this lovely wedding cake that was inspired by the waves in the Big Blue!
I always wanted a beach wedding and this cake would be perfect for your beach wedding. Heck it would be perfect at your winter wedding if you had a beach theme! Read More
0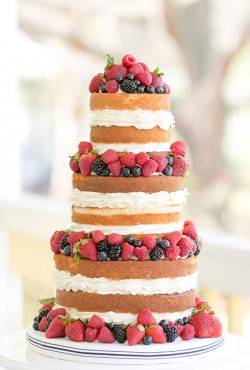 It's that time of year again – time for fresh berries!
OK, maybe it's just that time of year again in the midwest which means around here it's all about the strawberries. And raspberries. And blackberries.
Basically right now if it has fresh berries on it, we're going to eat it.
Which is why I am so in LOVE with this naked wedding cake! Read More
0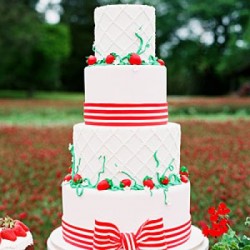 Here in the midwest it's officially strawberry season, which is rather exciting if you're a fan of the bright red sweet and juicy berries.
Me? I prefer mine with a big bowl of whipped cream and sans shortcake, but if someone was to offer me a slice of wedding cake adorned with strawberries I'm pretty sure I won't turn it down.
Especially if that strawberry wedding cake looked like this beauty! Read More