Simple Wedding Cakes
Sometimes simple says it best. You might choose a simple wedding cake because you prefer a minimalist approach, or because you like you like to stick with the basics when it comes to cake, or even because you are interested in showcasing a particularly fancy flower or cake topper, simple wedding cakes never go out of style. The basic, stacked, white wedding cake, frosted in a smooth coating of buttercream or covered in a snowy blanket of fondant, may hide beautiful flavors and colors beneath its exterior – the best of both worlds. Or maybe you and your groom prefer the traditional "white cake, white frosting" approach – or "chocolate cake, chocolate frosting" – after all, simple doesn't necessarily mean traditional. On the other hand, a simple cake may be the perfect way to showcase a special caketopper or flower that has personal meaning for you. A topper that shows your style or a hobby that you and future hubby share becomes all the more visible when it doesn't need to compete with a fancy cake. Maybe you have a family heirloom that can nestle atop your cake. Alternatively, some dazzling orchids or floppy peonies may be all the statement that you need to make. A simple cake need not be boring, after all.
0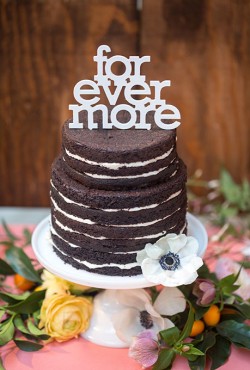 I have a confession to make – I love Oreo cookies.
Which is probably why I had to choose today's wedding cake to showcase. It looks like a stack of Oreos. OK, well it looks like a stack of Oreos to me.
I'll also confess that I'm not a huge fan of naked wedding cakes. I'm too much of a frosting fan to purposely eat a cake that lacks frosting.
However, this naked dark chocolate cake is really stunning because of its lack of frosting. The white icing peeking out between the tiers adds just the right amount of drama to this cake. Read More
0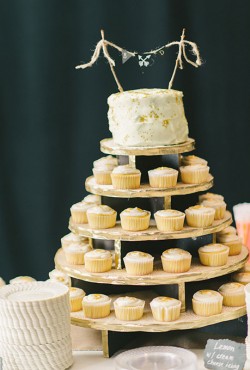 While wedding cupcakes are still a trend some brides really want to stick with tradition and have that wedding cake. But what if you could do both?
That's right – let them eat cake AND cupcakes!
I love the idea of keeping the traditional wedding cake as part of the reception – it is easier to cut a slice of cake than it is to share a cupcake with your new spouse. Read More
0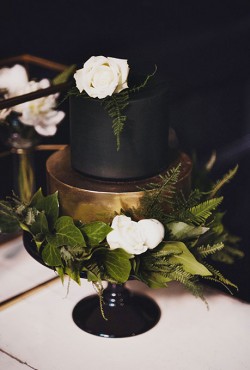 Sometimes when looking for wedding cakes to showcase I run across a cake that makes me go "hmmm" and "wow!" at the same time.
Today's cake is that cake.
I'll admit I never thought about having a black wedding cake when I was planning my wedding all those years ago. But I can see how it would work when looking at today's cake. Read More
0
I really like the idea of having a separate centerpiece cake just for the bride and groom to cut and enjoy.
And then you can have other small cakes for the guests or a dessert bar. Something different and a bit out of the ordinary.
Today's cake would be ideal for that concept.
This single tier cake is perfect for the new couple – you could even have it at the "head" table and then set up other cakes and desserts elsewhere. Read More
0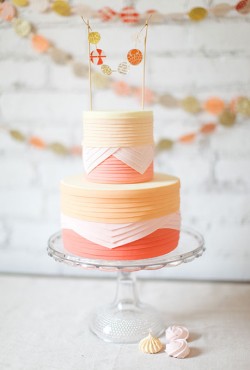 If there's a week when orange is the color to love, this week might be it.
With Halloween just a few days away the stores are awash in various shades of orange and while it might not be the first color you think of for a wedding cake it might be perfect!
There are so many shades of orange that could be used to accentuate the fall theme of your wedding, and today's cake does it in a subtle not-over-the-top way. Read More
0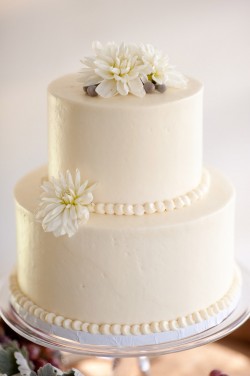 As much as I enjoy the occasional non-traditional wedding cake, for me it's all about going back to the basics.
A simple white wedding cake.
I love white wedding cakes in part because they are a great canvas for whatever you might want to add.
This time of year – late fall – I love seeing gorgeous white cakes adorned with fresh flowers in dark hues. Black Magic Roses, Gerbera daisies in dark red, anything that is dramatic! Read More
0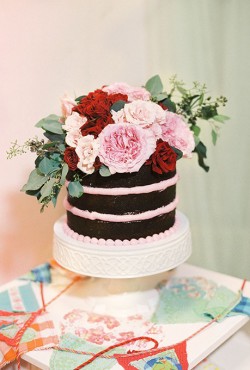 As we inch closer and closer to Halloween I love finding cakes that fit in the season!
Today's naked chocolate cake is perfect for fall (and even a Halloween-themed reception).
I'm normally not a huge fan of "naked" cakes – I love icing too much to serve a cake that is seriously lacking in that department.
But this cake is too pretty to dislike! I love the dark chocolate cake and the hint of light pink icing peeking out from between the tiers. Read More
0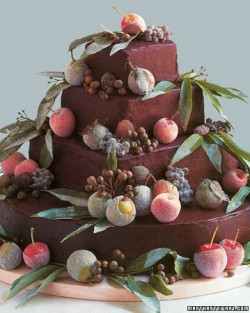 Once again we're talking about chocolate! I can't help myself – with all the Halloween candy at the stores my brain immediately thinks "chocolate."
I think chocolate cakes are perfect for fall and winter weddings – they're dark and decadent and seem to fit in with the colors and themes at this time of the year.
A chocolate cake in the summer would just be too much. But in the fall, when it's cold and blustery outside, it's perfect. Read More
0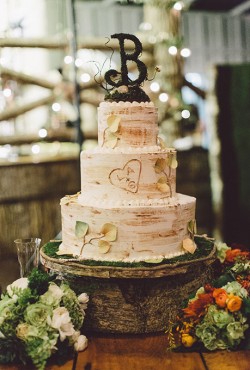 Ah, fall.
The temperatures are turning cooler. Everyone is busting out sweaters. The leaves are falling.
It's pretty much the most wonderful time of year.
And if you're planning a fall wedding there are so many amazing ways to incorporate fall into your reception.
Take today's wedding cake as an example. This tree-inspired cake would be perfect at your fall wedding, especially if you're hosting a rustic party. Read More
0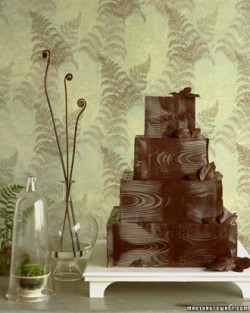 We're getting closer to Halloween which means the store shelves are stocked with all kinds of chocolate. And that's not a bad thing in my opinion!
Fall seems like the perfect time to have a chocolate wedding cake – especially one that is frosted with deep, rich chocolate icing.
I'm particularly fond of today's chocolate cake thanks to the rustic vibe the icing gives off. Read More