Themed Wedding Cakes
A themed wedding cake may be just what you're looking for to set your cake and reception apart. While a themed cake would be a natural fit for a wedding that also invokes a theme – say an "Alice in Wonderland" wedding, or a renaissance wedding – a bride and groom may also choose a theme for their cake based upon the a favorite amusement park ride or a preferred hobby, a favorite location, or a season or holiday. For the couple enjoys the daring fun of an amusement park ride, we've seen cakes that immortalize attractions like Disney's Splash Mountain – fun! Likewise, the bicycling-enthusiast couple might prefer a cake that shows a mountain bike ride. Less specific would be the couple who incorporate images and items from the ocean into a beach cake, which might include gum paste shells and star fish, sand-like or pearly finish, and maybe a sand castle topper. Finally, if your wedding takes place near a beloved holiday or season, like the Fourth of July, or autumn, or Christmas time, consider incorporating themes that echo those holidays or times of the year. A July wedding cake might be decorated with stars and sparklers, while autumn might show off colorful marzipan leaves and chocolate twigs and acorns. Christmas might inspire the use of traditional garnets and greens, or cool and snowy blues and silvers. If there is a theme that you love, consider celebrating it with your wedding cake. It will make your day even more memorable, for both you and your guests.
0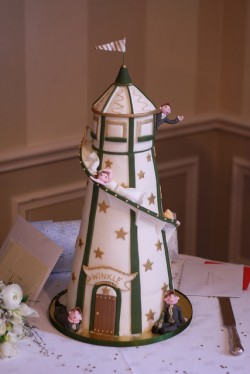 True story..you can make a cake look like ANYTHING. Including a lighthouse..with a slide coming out of the top and little tiny fondant members of the wedding party sliding down. I seriously scrolled through the Flickr album hoping that I could get some sort of clue HOW this wedding cake came Read More
Other Posts You May Enjoy:
1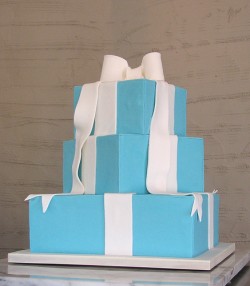 After a long weekend filled with work, work and oh..more work I want to start this week off right. With a little quote of inspiration from one Holly Golightly.

"Well, when I get it the only thing that does any good is to jump in a cab and go to Tiffany's. Calms me down right away. The quietness and the proud look of it; nothing very bad could happen to you there. If I could find a real-life place that'd make me feel like Tiffany's, then – then I'd buy some furniture and give the cat a name!"
I have to agree. There is something about Tiffany's and their signature Robin's Read More
Other Posts You May Enjoy:
0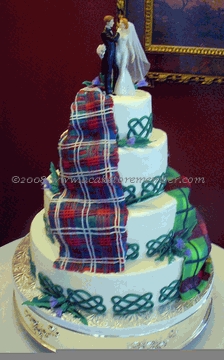 Kara Buntin of A Cake to Remember  of Richmond, Virginia, has created my Dream Wedding Cake.
What is it with me, wedding cake, and chick flicks featuring Julia Roberts?  But here we go again.
Remember that scene in "Steel Magnolias," where the ladies are discussing the wedding decorations in a Pepto-pink church?  And a demure – and very, very young – Julia Roberts remarks Read More
Other Posts You May Enjoy:
0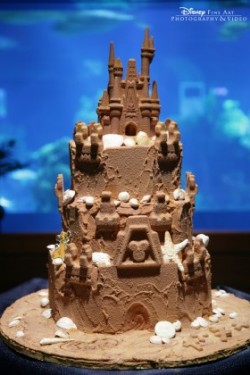 I'll be the first to admit that I am counting down the days to my Disney/Beach trip in May. I'm dreaming of fun warm Disney days followed by days relaxing on the beach. I want to wind in my hair, the sand between my toes and to lotion myself up with stuff that smells like tropical fruit. Too much information..maybe..
When I saw this cake feature on Disney's Fairytale Weddings and Honeymoon's Ever After Blog (say that three times fast) I almost Read More
Other Posts You May Enjoy:
0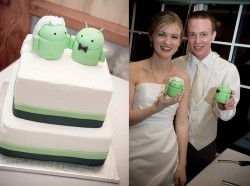 I've always thought that a wedding cake should show off a couple's personal style.
A classic monogrammed cake? You are traditional and classic.
A fun cute with lots of flowers? You are probably Read More
Other Posts You May Enjoy:
0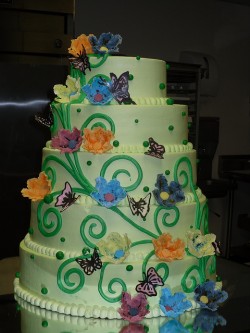 I have to admit that on days when it doesn't get past 50 degrees in South Carolina and I haven't seen then the sun in about five days..I get a little feisty.
I think I may of mentioned how I feel about January once before. Only instead of dreaming of Fall today I am dreaming of Spring..and this cake Read More
Other Posts You May Enjoy:
0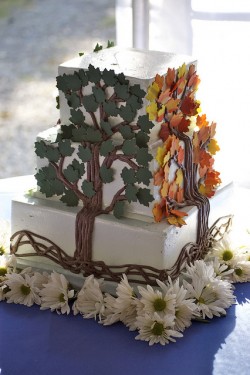 Including cakes! I have to admit when I saw this cake from a distance I wasn't exactly sure what was going on.
Then with closer inspection I realized that this is a basic three tiered square cake. Only this cake was a little different! On each side there is a tree and each tree represents a different season. It's the weather cycle at its best folks. Now, this isn't something that could just be slapped on a cake Read More
Other Posts You May Enjoy:
0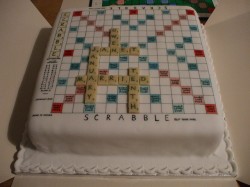 When I was a little girl I had a best friend named Maya. She was one of those people you knew was intimidatingly intelligent just by looking at them..when she was nine. Even though she was the editor of the yearbook and the star of the school play our high school principal once had the wherewithal to tell her she wasn't Read More
Other Posts You May Enjoy:
0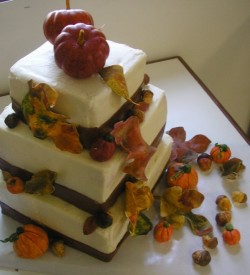 Let's face it. The holidays are over. The tree has come down, the lights have stopped twinkling, the stores are a little less silver and sparkly and that neighbor who won't take down his large inflatable Santa and Rudolf is starting to get on my nerves even though less than two weeks ago I stared out my window at the gorgeous decorations. What we are left with now is Winter. Dead, ugly winter.
What better way to cheer me up than a cake celebrating Read More
Other Posts You May Enjoy:
2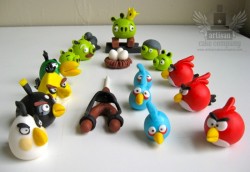 Over Christmas I became an iNerd. And my newest obsession? The Angry Birds. I have become one of those people who is constantly whipping out her iPhone to play this game. Ironically, real life birds are numero uno on the "List of Ridiculous Things Christen is Scared of". Number two, you ask? Hot Dogs.
Anyway…you better believe with my new iNerdom I flipped out when I saw Edible Angry Bird Cake Toppers. Oh yeah, I went there. You can buy the Read More
Other Posts You May Enjoy: