Unconventional Wedding Cakes
In today's wedding world, it seems that most wedding cakes are unconventional. It's almost unconventional to have a white on white wedding cake! But in an unconventional wedding cake might refer to the design, the topper, or the flavors featured. Regarding design, one popular unconventional style today is the topsy turvy, asymmetrical design. Stacked cake layers give the illusion that the cake could spill over any minute, when in fact, the cake is balanced and level. Unconventional toppers are another way that a couple may make their cake unique. The couple who loves Angry Birds, for instance, can feature the adorable characters perched atop their cake. Can't last a minute without your cell phone? There's a wedding topper for that, too. Prefer Goth to Victorian? No problem. A talented baker can help you realize your dream cake. But you might opt for traditional design and toppers, and still find ways to be unconventional with flavors – even savory alternatives to wedding cakes, like "cakes" made of wheels of cheese, or layers of savory meet pies, might stand in for a conventional cake. So, express yourselves! In cake! And send us pictures.
0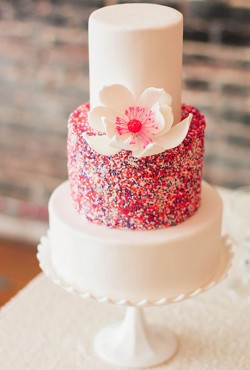 I really can't get enough of wedding cakes with sprinkles!
They're just so darn whimsical and fun.
Today's cake is particularly gorgeous with its light pink icing and just one tier decked out in colorful sprinkles. It really make the whole cake just pop!
The addition of a pretty pink bloom is the perfect enhancement – it adds some elegance to the cake but still keeps it fun. Read More
0
Naked wedding cakes are one of those wedding cake trends that I'm not sure I can fully support.
I mean, c'mon. These cakes are seriously lacking in one very important ingredient – FROSTING! But, as the saying goes, it's what in the inside that counts.
And if you're going to go with a naked wedding cake for your reception just make sure it has a lot of icing inside. Then I'll be OK with it. Read More
0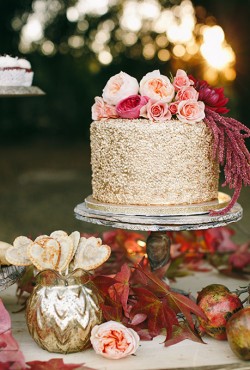 It's been established that I'm totally in love with the sprinkle wedding cake theme right now.
Which is really kind of weird because in reality I don't like sprinkles on cake or cookies (or ice cream). But I love how they look on a wedding cake.
I think it has to do with the "whimsical factor" that sprinkles add to a wedding cake. Because we all know how boring some wedding cake can be. Read More
0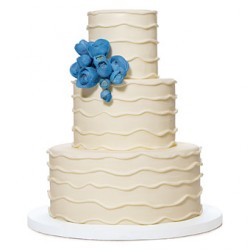 Lately I've been daydreaming about the beach. A lot.
This is likely due to the fact that very soon I'll be lounging on a beach in the Caribbean without a care in the world.
But it also got me thinking about beach-themed wedding cakes since it is the perfect time of year for a beach wedding.
And then I found this cake and fell in love. Read More
0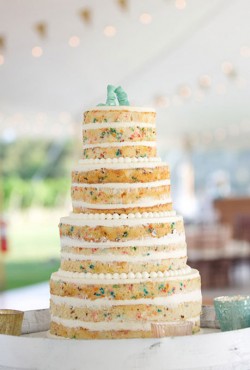 I will admit that I have a love-hate relationship with "naked" (non-frosted) wedding cakes.
On one hand I love the elegance and modern vibe of the cakes.
But on the other hand I'm a frosting kind of girl – the more the merrier. So a cake that purposely lacks frosting is suspect.
However, I do love this naked wedding cake if only because the cake batter has sprinkles baked in, giving it a very spring-y, colorful vibe! Read More
0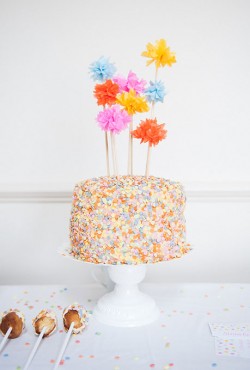 So my wedding cake obsession of late has been fun and whimsical cakes covered in sprinkles.
It's not that I like eating sprinkles (I don't – it's the texture) but I looove the way they look on cakes. And when they're used on wedding cakes it is so unique and non-traditional that the cakes always go in the "win" column.
Today's featured cake is no exception. Read More
0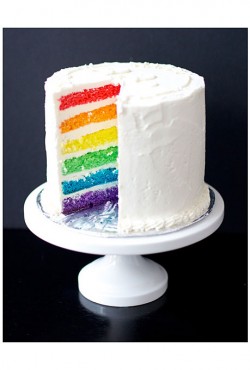 It's been raining a lot around here lately – you know, spring showers and all. Which of course has me thinking about rainbows.
I love the idea of a rainbow wedding cake – especially a subtle cake like this one.
On the outside it looks like your standard white wedding cake but when you slice it, you get every color of the rainbow! Read More
0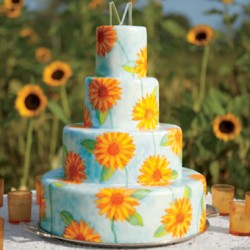 Sunflowers are my absolute favorite flower.
Sure, I love roses as much as the next person but sunflowers are just so darn happy. It makes them really hard to resist.
So imagine my surprise when I saw today's wedding cake – it's all sunflowers! Read More
0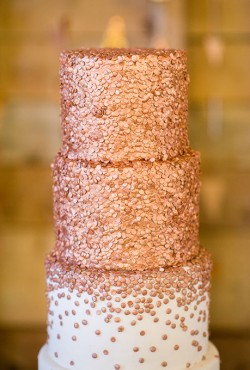 Right now I'm a huge fan of sprinkle wedding cakes!
I think they're fun and whimsical and perfect for a spring or summer wedding.
And today's cake? Well, it's rose gold and sprinkles so it's practically perfect.
Yes, it's true. I love rose gold. Read More
0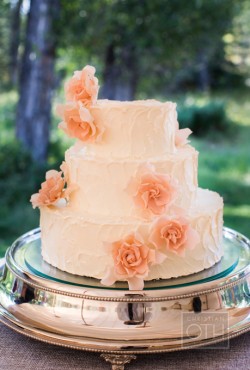 I wasn't always a fan of the color pink. It took becoming a mom to two girls to really bring me around to the many shades of pink.
I love seeing different pinks used in wedding cakes – and it always reminds me of the line from 'Steel Magnolias'  when Shelby says "My colors are blush and bashful" and her mother responds with "Your colors are pink and pink." Cracks me up every time.
Today's cake is a light peachy-pink hue and it's absolutely perfect for a spring or summer wedding. Read More