Unconventional Wedding Cakes
In today's wedding world, it seems that most wedding cakes are unconventional. It's almost unconventional to have a white on white wedding cake! But in an unconventional wedding cake might refer to the design, the topper, or the flavors featured. Regarding design, one popular unconventional style today is the topsy turvy, asymmetrical design. Stacked cake layers give the illusion that the cake could spill over any minute, when in fact, the cake is balanced and level. Unconventional toppers are another way that a couple may make their cake unique. The couple who loves Angry Birds, for instance, can feature the adorable characters perched atop their cake. Can't last a minute without your cell phone? There's a wedding topper for that, too. Prefer Goth to Victorian? No problem. A talented baker can help you realize your dream cake. But you might opt for traditional design and toppers, and still find ways to be unconventional with flavors – even savory alternatives to wedding cakes, like "cakes" made of wheels of cheese, or layers of savory meet pies, might stand in for a conventional cake. So, express yourselves! In cake! And send us pictures.
0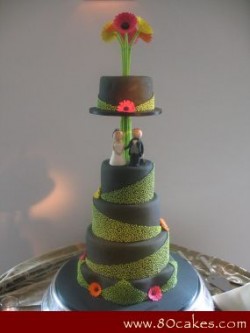 To me a black wedding cake is chic and classy.  I just adore them..and they are typically few and far between.  Especially the good ones.  We've featured a few here like this one.
Today I am so excited because now I get to show you a classic black wedding cake covered in what else..GERBERA DAISIES!  Hi, my name is Christen and I have a tiny obsession with all things gerbera.  Anyway, on with the cake business.  This cake was made by the talented Around the World in 80 Cakes.(Don't you just adore that name?  I wish I was a baker so I could Read More
Other Posts You May Enjoy:
0

Oh yes. We are going there. I was recently having a conversation with a friend of mine about this blog. He was asking me what the point of blogging about cake was. He didn't get it.
I had to explain that a wedding cake isn't just something you see, it's something you taste. If you go to a wedding and their cake is disgusting, you remember. If you go to a wedding and their cake is awesome, you remember. There have been more times than I'd like to count that I take a look at a gorgeous wedding cake and I cannot wait to dive in. Then after about six hours of dancing we FINALLY get to the cake cutting hoopla and I finally get my piece. (Because, of course, their wedding is ALL about me right?) Then after much anticipation…the cake sucks.
Have no fear though, because times they are a changing. Cake bakers are becoming more and Read More
Other Posts You May Enjoy:
0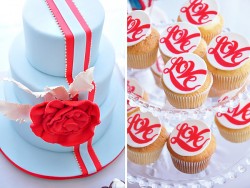 Oh, are you having summer attacks, too?  I don't know if it's the cruise I'm about to take, or the vacay that's coming up in a few weeks, or my close proximity to the beach, but I have a wicked case of the Summers!  Right now's the right time to be relaxing by the pool, icy cold drink in hand.  Makes for a difficult work week.  Well.  Except that I work with, you know, Read More
Other Posts You May Enjoy:
1
Now here is an original idea. This couple decided that instead of a traditional wedding cake they would make a cake that represent a stack of books. More importantly a stack of books that were significant to the bride and groom. The stack includes Dandelion Wine by Ray Bradbury, The Man Who Was Thursday by G.K. Chesterton, The Bromeliad Triology by Terry Pratchett and Just So Stories by Rudyard Kipling.  This is the point where I pretend I have heard of all of those books and throw out some fancy literary words Read More
Other Posts You May Enjoy:
0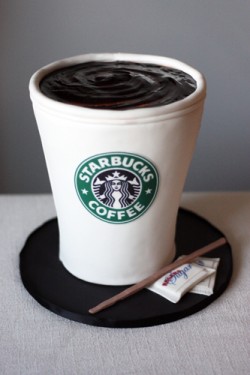 Raise your hand out there if you can make any sense whatsoever in the morning without first ingesting coffee.
Well, aren't you the lucky ones.
For the rest of us, who balk, nay, cry at the thought of not starting our morning with a cup of coffee, I give you the ultimate coffee tribute.  The Coffee Cake. 
The Starbucks Coffee Cake.
So, disclaimer:  Starbucks isn't paying me a single cent to tell you that their coffee courses through my veins!  And so, when I saw this incredible cake Read More
Other Posts You May Enjoy:
0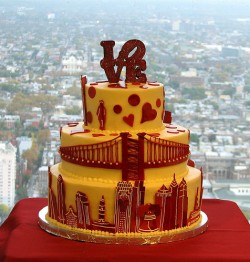 I'll admit I don't know much about Philadelphia. Rocky, cheese steak sandwiches, and that it's where the Fresh Prince was born and raised. (And spent most of his days on the playground from what I hear).
Another thing I know about Philadelphia is that is home to the LOVE statue. You know the one.I learned something new about Philadelphia today. Robert Indiana's LOVE sculpture and the city of Philadelphia inspired this gorgeous wedding cake. This three tiered Read More
Other Posts You May Enjoy:
2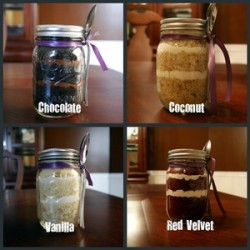 Oh yes..I have shown you cupcakes. I have shown you cake pops. I have shown you cake push-pops..and now I bring you cake jars.
Yes…yes. These delicious treats are made by Pickle's Bake Shop out of the Washington D.C. area. Have no fear if you aren't in the DC area because she has an online bakeshop right here. These little cakes come in a cute little glass jar with an adorable little spoon. They come in a variety of flavors..Red Velvet with Cream Cheese Icing, Chocolate with Chocolate/Vanilla/Marshmallow Butter Cream, Vanilla Read More
Other Posts You May Enjoy:
0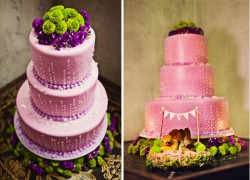 Oh, but what a week it has been!  Graduations and teacher's gifts and vacation planning oh my!  I don't know if your spring has been break neck speed like ours has been, but I am certainly glad for a long holiday weekend to slow the heck down and take in some family time.  Out to dinner, playing by the pool, and off to the beach – good times Read More
Other Posts You May Enjoy:
0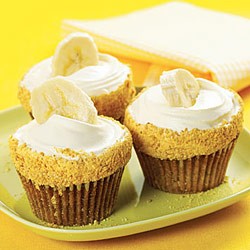 I really thrive on finding cakes and cupcakes that are really interesting. Let's face it:  while the classic vanilla cupcake with chocolate frosting is amazing, sometimes you just need to live a little dangerously and go out and find something really exciting and different. I am living on the edge with these Banana Cream Pie Cupcakes.
If there is one thing about the south that I love it is the food. I have sweet tea running through my veins and banana pudding helps pump my blood. (Suddenly this is starting to sound very unappetizing). Anyway, I love a good Banana Pudding or Banana Cream Pie. There are times I choose Banana Pudding over chocolate. Gasp! When I found these Banana Cream Pie cupcakes my southern heart almost exploded from happiness. If you fancy yourself a baker (which I am not by the way) you can whip out the old muffin tins and make some yourself thanks to this website. Brooke is the baker of this group so I think I'll let her try that. I can mess up cake in a box without really trying.
This leads me to the question I have got to know the answer to. What are your favorite desserts?
Other Posts You May Enjoy:
4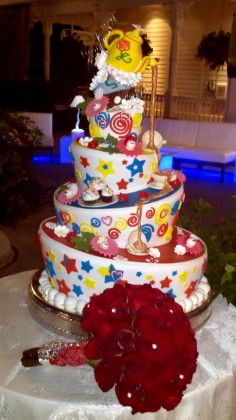 I'm late..I'm late..for a very important date!
You know what that means. I'm getting all Disney on you again. In the hub-bub of the Royal Wedding I forgot to showcase one of my favorite themed wedding cakes. This cake was made by the Grand Floridian Resort Bakery at Walt Disney World Resort in Florida. It was made for the All Night Royal Sleepover Celebration held at Disney's Wedding Pavilion the night before Read More
Other Posts You May Enjoy: