Unconventional Wedding Cakes
In today's wedding world, it seems that most wedding cakes are unconventional. It's almost unconventional to have a white on white wedding cake! But in an unconventional wedding cake might refer to the design, the topper, or the flavors featured. Regarding design, one popular unconventional style today is the topsy turvy, asymmetrical design. Stacked cake layers give the illusion that the cake could spill over any minute, when in fact, the cake is balanced and level. Unconventional toppers are another way that a couple may make their cake unique. The couple who loves Angry Birds, for instance, can feature the adorable characters perched atop their cake. Can't last a minute without your cell phone? There's a wedding topper for that, too. Prefer Goth to Victorian? No problem. A talented baker can help you realize your dream cake. But you might opt for traditional design and toppers, and still find ways to be unconventional with flavors – even savory alternatives to wedding cakes, like "cakes" made of wheels of cheese, or layers of savory meet pies, might stand in for a conventional cake. So, express yourselves! In cake! And send us pictures.
0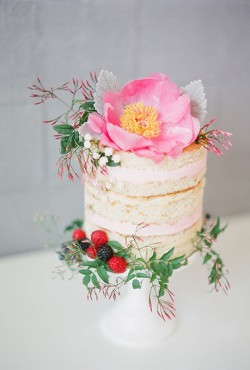 We're still daydreaming about spring even if winter is still hanging on and sending more cold temperatures our way.
And one of the things we love most about spring is the arrival of gorgeous flowers.
Of course we also love fresh flowers on wedding cakes, like the blooms on today's naked wedding cake. Who needs icing when you have flowers, right? Read More
0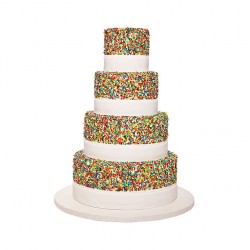 Happy February! We're thismuch closer to spring now!
And we're thinking warm and cheery thoughts today with this fun rainbow wedding cake.
Who needs a plain ol' white wedding cake when you can add sprinkles for some fun and whimsy? Read More
0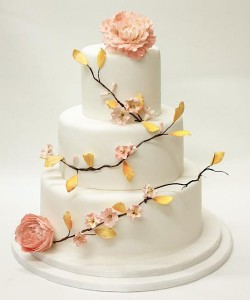 It seems like a good time to start dreaming about springtime wedding cakes adorned with gorgeous blooms.
Never-ending winter weather will do that to a girl, ya know?
I'm loving this wedding cakes thanks to its simple elegance and charm. Read More
0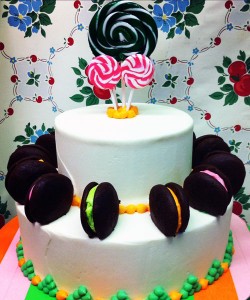 OK, here we are. In the middle of January. It's cold and snowy and we need something to cheer us up!
Well I'm happy to report that I found something – this wedding cake!
How can you not smile when you look at this fun and whimsical wedding cake? It is decorated with whoopie pies for crying out loud.
Whoopie pies. On a wedding cake. My day is complete. Read More
0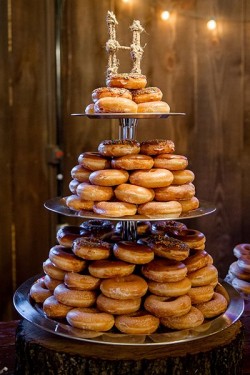 Sometimes you just want doughnuts, right?
So why not serve a wedding cake made completely out of doughnuts? That is something your guests will absolutely not expect.
I love the idea of a totally non-traditional wedding cake like this.
It would be especially cool if you were hosting a brunch-style reception or if you were going for a totally non-traditional type of reception. Read More
0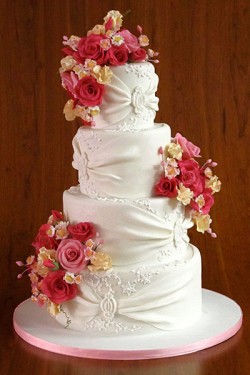 Winter is really REALLY here. Which means it is the perfect time to start dreaming about beautiful spring flowers!
Today's cake is perfect for floral daydreaming, don't you think?
I absolutely love the gorgeous pink roses – they make the cake almost too pretty to cut. Almost. Read More
0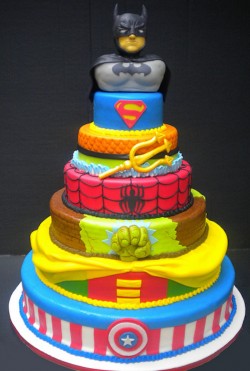 Happy New Year!
Since we're just a few days into 2016 it seemed like a good time to ease into the week … especially for those of you who might have been enjoying time off for the last week (or two).
So today's cake is all about fun – check out the superhero wedding cake!
Now granted, they're mixing Marvel and DC Comics which might be a big superhero no-no, but we don't care. This cake is COOL! Read More
0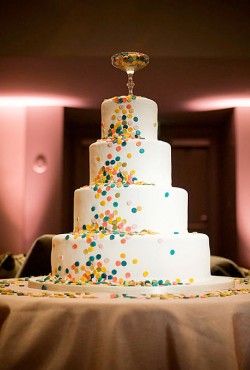 As we move deeper and deeper into the dreary, gray months of winter it's always nice to showcase a cheery and bright wedding cake.
Take this lovely rainbow cake. I love the elegant yet whimsical take on using rainbow colors to decorate the cake.
The cascade of rainbow candy from the champagne glass is so much fun. Read More
0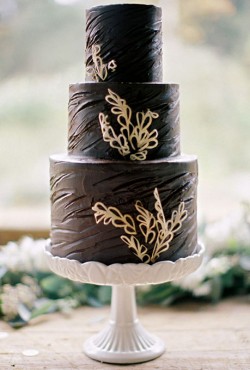 Chocolate cakes as wedding cakes is a trend I can completely support.
I love the idea of serving up something nontraditional – like this dark chocolate wedding cake.
It's so dramatic and unexpected which makes it perfect!
Of course a cake like this would be great at a winter wedding when it's cold outside. Read More
0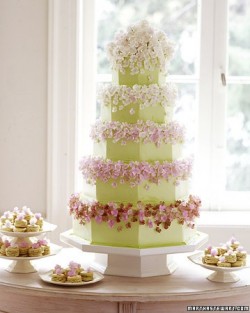 Since we're inching closer and closer to Christmas it seemed like a good time to feature a green wedding cake.
Today's cake is a five-tier creation and it is elegant and gorgeous and it would be incredible at a black-tie reception.
While I'm not a huge fan of the color green, this cake grabbed my attention thanks to its unique hue. It's more lime green than evergreen but the addition of the sugar hydrangeas makes it perfect. Read More