Unconventional Wedding Cakes
In today's wedding world, it seems that most wedding cakes are unconventional. It's almost unconventional to have a white on white wedding cake! But in an unconventional wedding cake might refer to the design, the topper, or the flavors featured. Regarding design, one popular unconventional style today is the topsy turvy, asymmetrical design. Stacked cake layers give the illusion that the cake could spill over any minute, when in fact, the cake is balanced and level. Unconventional toppers are another way that a couple may make their cake unique. The couple who loves Angry Birds, for instance, can feature the adorable characters perched atop their cake. Can't last a minute without your cell phone? There's a wedding topper for that, too. Prefer Goth to Victorian? No problem. A talented baker can help you realize your dream cake. But you might opt for traditional design and toppers, and still find ways to be unconventional with flavors – even savory alternatives to wedding cakes, like "cakes" made of wheels of cheese, or layers of savory meet pies, might stand in for a conventional cake. So, express yourselves! In cake! And send us pictures.
0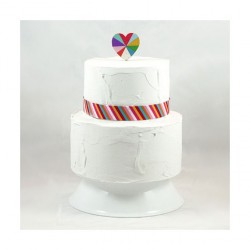 Since we're in the dog days of summer it seems like a good time to showcase another simple rainbow wedding cake.
Rainbows and summer go hand-in-hand, right?
I love the simplicity of this cake. It's not fussy or over-the-top. It's just a simple two-tier white wedding cake with a little bit of color added thanks to a cute little cake topper. Read More
0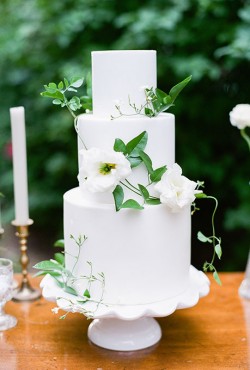 I love an over-the-top, non-traditional wedding cake just as much as the next non-traditionalist. But I also love simple wedding cakes that are both elegant and gorgeous.
Take today's wedding cake as an example.
There isn't a lot going on with the cake but that's what makes it special. The 'wow' factor is in the cake's simplicity.
A stark white tiered cake topped with fresh white blooms. It's simple and beautiful and makes a statement by not being over-the-top. Read More
0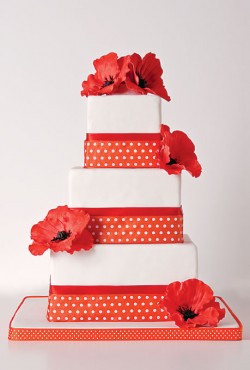 I am a huge fan of all things polka dot. There is something so fun and yet classy about those polka dots.
Plus, it's fun to say (and type) polka dot. 😉
While my favorite polka dot combo is black and white, I am loving today's wedding cake featuring red and white polka dots! Read More
0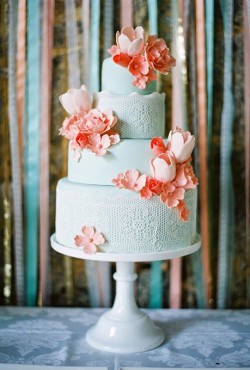 Lace-inspired wedding cakes are a trend I could definitely get behind, especially for summer weddings.
I love the idea of incorporating lace into the design of one's wedding cake.
You could even take a sample of the lace from your wedding dress and have the design appear on your cake. Read More
0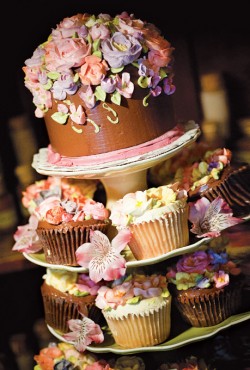 I love the idea of serving cupcakes at a wedding reception.
They're fun and functional. And everyone loves cupcakes!
But what if you want to serve cupcakes but still have a traditional wedding cake to cut too? Simple – serve both!
This is a fun concept – have a small, one tier wedding cake as the "main" cake – basically for the couple to cut – and then surround it by gorgeous cupcakes. Read More
0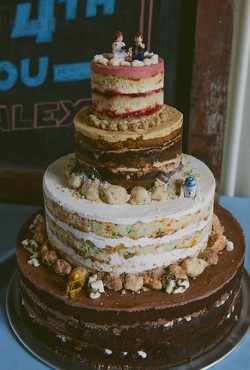 Today I'm showcasing another naked, unfrosted wedding cake simply because it's like nothing I've seen before.
Not only is it part of the whole "naked wedding cake" trend that just keeps hanging on (what do you have against frosting??) but look very closely at the cake.
Do you see what I see?
Yep! That's right! Star Wars Lego figurines.
That. Is. Awesome. Read More
0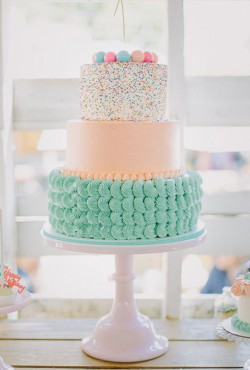 We're halfway through summer and I'm still loving wedding cakes with sprinkles!
I don't know what it is about these cakes – other than they are fun and whimsical and sometimes even elegant. And, they're totally not what you think of when you think "wedding cakes."
After all, sprinkles are the kind of thing you find on a child's birthday cupcake.
But I am loving this trend and I hope it sticks around. Read More
0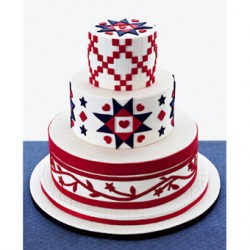 Happy Fourth of July!
While I hope you're enjoying a family cookout and lots of fireworks, it seemed only appropriate to showcase a patriotic red, white, and blue wedding cake today!
I love the abstract look of this cake. It's modern and fun with that all-American vibe thrown in for the holiday. Read More
0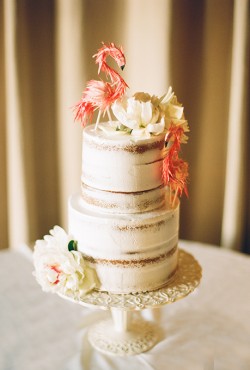 Strangely enough (or maybe not so strangely considering my love for all things warm and tropical) I adore flamingos.
Yes, they're odd looking – tall, pink birds – but they make me think of warm climates like Florida. Which makes me think about summer.
So it seems only fitting that I am in love with this summer-themed cake, made complete with the addition of adorable flamingos. Read More
0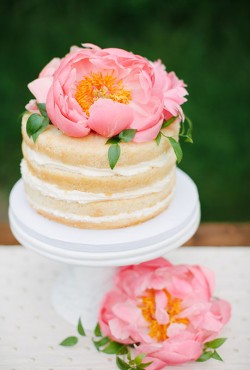 Sometimes, less is better.
For example – when it is 95 degrees outside with 1 million percent humidity, it's better to be in a bathing suit than a business suit. Less is better.
The same can be said of wedding cakes. When it's hot and humid outside sometimes the last thing you want is a wedding cake with a whole bunch of icing. Read More