Groom's Cake
Once a rarity at weddings, groom's cakes have gained such popularity that now, it's rare to go to a wedding that doesn't feature this alternative to the main wedding cake. The tradition of groom's cakes in the United States has its roots in the South. Normally, a groom's cake is a gift from bride to groom, and acts as a foil to the often feminine, traditional wedding cake. Normally, groom's cakes do not feature anything flowery or feminine, and often take the shape of something with significance to the groom – a mascot for a favorite sports team, a college logo, a favorite hobby or beverage. Likewise, the flavors of the groom's cake will typically contrast with the wedding cake, and will often be something "dark," such as chocolate or a liquor-soaked cake of some sort. Another popular option for a groom's cake is a cheesecake, which typically does not lend itself well to being stacked in multiple tiers (although it can – and is – done.) Groom's cakes are usually served on a separate table from the wedding cake, and may sometimes even be served at the rehearsal dinner the night before. Want to represent your groom in some meaningful and whimsical way to your wedding guests? A groom's cake may be just the thing.
0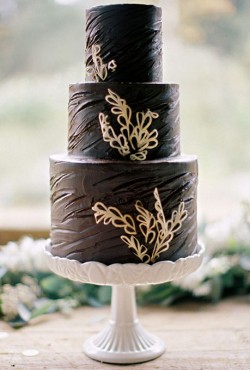 I loooove the idea of serving a chocolate cake at a wedding reception.
It's becoming THE thing to do – get away from the traditional white wedding cake and serve something a bit different.
Today's featured cake would be gorgeous any time of year, but I'd love to see it in the early spring when the temperatures are still a bit chilly. Read More
0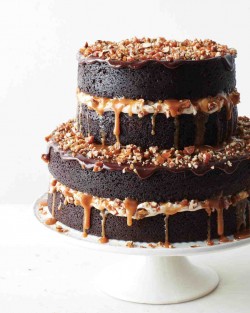 It's been a really long time since we've showcased a cake that could pass as a groom's cake.
But today we have a perfect groom's cake!
This naked chocolate stout cake would be the ideal cake for the groom. (Of course it would also work as a non-traditional wedding cake, but we really like the idea of a groom's cake). Read More
0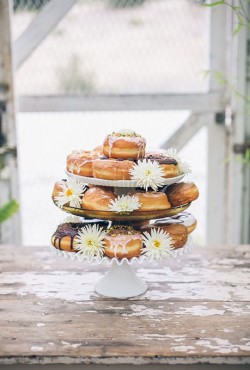 Sometimes I crave doughnuts.
I'm talking about those fresh-from-the-bakery, crispy on the outside doughnuts that make you all warm and fuzzy inside.
And if you love doughnuts as much as I do, it would be so much fun to serve doughnuts as your wedding cake!
Talk about an unexpected cake! Read More
0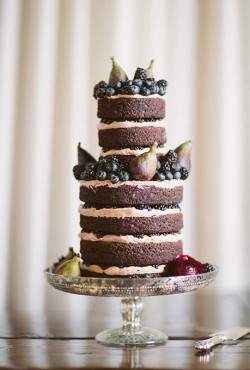 I have been craving chocolate lately.
I blame the displays of Halloween candy in the stores and the fact that I'm trying to avoid sweets.
So, to curb my cravings I've been looking at chocolate wedding cakes. And today's featured cake looks delicious!
This naked chocolate cake is the perfect "undressed" cake for a fall wedding thanks to the espresso frosting and the fresh berries and figs that adorn the cake. Read More
0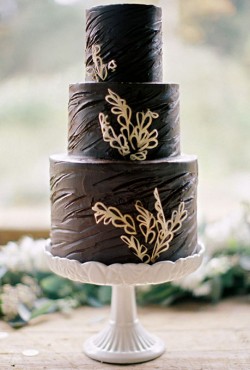 Can you feel it? Fall is almost here!
And that means it is time to start talking about dark and dramatic – and in today's case – chocolate wedding cakes!
I love the dramatic look of today's cake – a tower of dark chocolate icing adorned with a few white flower details.
It's the perfect cake for a fall wedding. Read More
0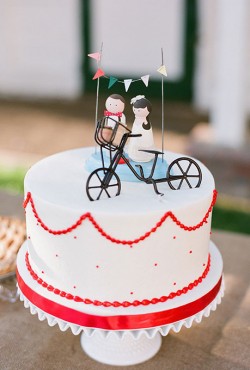 If there's one thing I really love to see when it comes to wedding cakes it's a cake that doesn't take itself too seriously.
After all, your wedding day should be filled with fun and smiles so why not add a touch of whimsy to the cake table?
Take today's cake as a perfect example – it has a fun carnival theme and a super cute cake topper to boot! Read More
0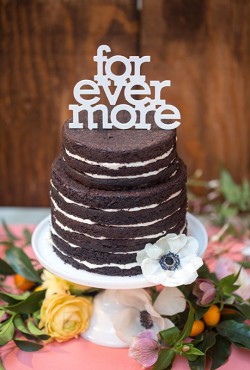 I have a confession to make – I love Oreo cookies.
Which is probably why I had to choose today's wedding cake to showcase. It looks like a stack of Oreos. OK, well it looks like a stack of Oreos to me.
I'll also confess that I'm not a huge fan of naked wedding cakes. I'm too much of a frosting fan to purposely eat a cake that lacks frosting.
However, this naked dark chocolate cake is really stunning because of its lack of frosting. The white icing peeking out between the tiers adds just the right amount of drama to this cake. Read More
0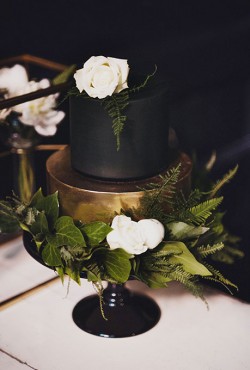 Sometimes when looking for wedding cakes to showcase I run across a cake that makes me go "hmmm" and "wow!" at the same time.
Today's cake is that cake.
I'll admit I never thought about having a black wedding cake when I was planning my wedding all those years ago. But I can see how it would work when looking at today's cake. Read More
0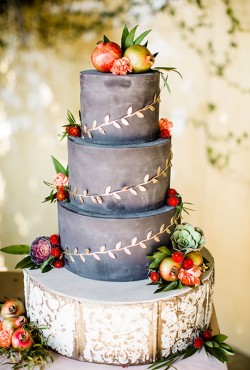 Fall and winter are the perfect time of year to think about a non-traditional wedding cake.
I'm talking about a cake that isn't topped with white icing – a dark wedding cake.
Today's cake would be the perfect late-fall or winter cake with its dark icing and fall fruit embellishments.
It's not often that you think about a dark color of icing for your wedding cake color but this cake would absolutely work if you have bright fall colors as part of your wedding color scheme. Read More
0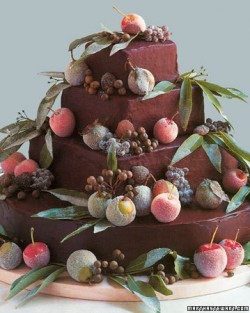 Once again we're talking about chocolate! I can't help myself – with all the Halloween candy at the stores my brain immediately thinks "chocolate."
I think chocolate cakes are perfect for fall and winter weddings – they're dark and decadent and seem to fit in with the colors and themes at this time of the year.
A chocolate cake in the summer would just be too much. But in the fall, when it's cold and blustery outside, it's perfect. Read More