Modern Wedding Cakes
The term "modern wedding cake" may mean different things to different people. Here at A Wedding Cake Blog, we take the term to mean anything with a contemporary feel; a cake that eschews the traditional white on white, piped and buttercreamed and trimmed with swags or roses. Modern may refer to a bold use of color, or a contemporary decor or shape. It may also refer to choosing something other than the grand, traditional tiered cake – a cake of macarons, for instance, or an assortment of individual cakes. Modern means that you are updating the tradition: perhaps you aren't entirely throwing it out. You're just giving it a breath of fresh air.
0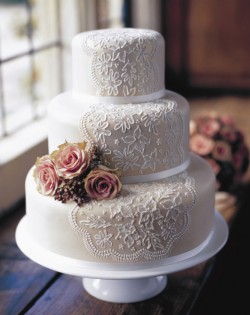 Having recently celebrated my own wedding anniversary, it's always fun to think back to my wedding cake.
It was eight (yes, EIGHT) tiers of heart-shaped cakes. It was massive. But it fit my wedding theme – which was hearts. Everything was hearts.
I like a cake that fits in to a wedding theme or incorporates something from the wedding.
Just like today's cake. Read More
0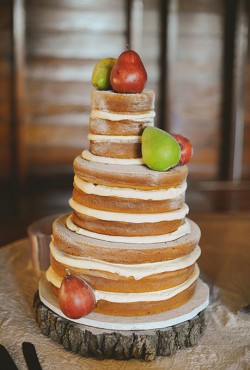 There's a chill in the air and we're all looking to cover up in sweaters and jackets as the days turn cooler.
So, it seems like a perfect time to showcase a naked cake, right? Of course it does!
Naked wedding cakes are still somewhat of the rage and I'll admit that I have found a few that look amazing. But I'm still a frosting kind of girl, so as pretty as these cakes are I prefer more icing.
But that's not to say that there's anything wrong with naked cakes. Take today's cake for example – it is stunning. Read More
0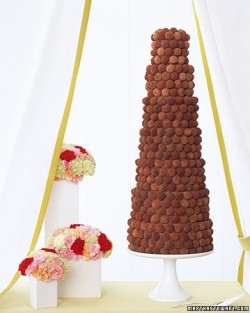 If I'm being totally honest, I have chocolate on the mind this week.
The other day I gave props to the gorgeous chocolate crepe wedding cake and today I'm talking about this amazing chocolate truffle tower cake.
Look at this cake. It is almost too amazing to eat.
Almost.
The cake is inspired by the corquembouche, a traditional French wedding cake. Each of the truffles is rolled in assorted cocoa powders which give the cake layers of color and flavor.
And if the truffles aren't enough to grab you, underneath the chocolate goodness is a yellow butter cake that is filled and frosted with more chocolate – chocolate ganache to be exact.
This is basically the most perfect chocolate wedding cake ever.
And if you're feeling particularly ambitious, you could actually make this cake. You know, as a DIY project. Check out the details here.
You'll find this truffle cake here.
0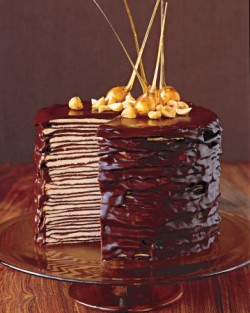 I love chocolate cake.
And when we're talking about wedding cakes I love unique chocolate cakes.
Like this crepe wedding cake, for example.
Look at how gorgeous this cake is! Layers of thin crepes sandwiched between dark chocolate glaze and hazelnut filling. It is pure chocolate bliss.
And the crepe cake is embellished with candied hazelnuts so you just know it'll be delicious. Read More
0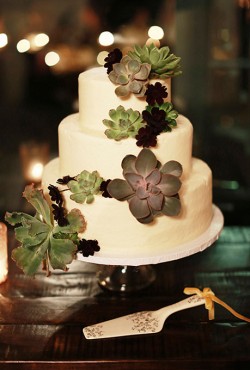 This week is the week! Fall officially begins on Wednesday!
Which means…we're going to be talking a lot about fall wedding cakes.
Today seems like a good day to start that conversation. And this simple yet elegant wedding cake is the perfect cake to officially kick off fall a few days early! Read More
0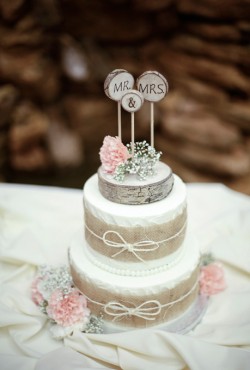 I woke up this morning to very chilly fall-like temperatures and the reality that fall really is just around the corner.
So what better time to start talking about fall wedding cake, right?
I love the idea of having a rustic fall wedding – especially if it's still warm enough outside to host an outdoor reception.
Which brings me to today's wedding cake – it's very rustic but also elegant, which isn't an easy combination to pull off. Read More
0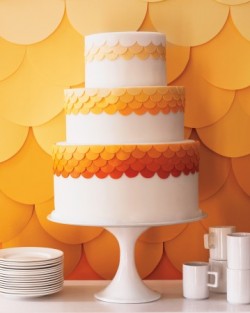 So now that we've "officially" said goodbye to summer, it's time to start thinking about fall.
More specifically it's time to start thinking about ideas for fall wedding cakes.
Now I'm not normally a fan of the color orange – it's just one of those colors that rarely wows me. Plus most orange cakes end up looking like pumpkins, which is OK if that's the look you're going for. Read More
0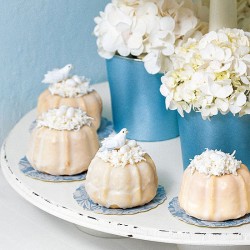 It's no secret that I love cake. Especially wedding cake.
There's just something extra special about wedding cake that makes it taste better than your average every day cake.
So how amazing would it be if you could serve your guests their own wedding cake?
I'm not talking about a slice of cake – I'm talking about miniature wedding cakes. One for every guest. Read More
0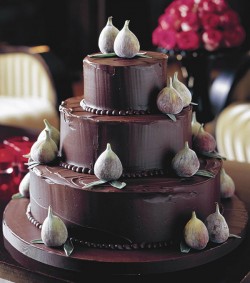 If there's one thing I wish I could do over from my wedding so many years ago it would be to include chocolate in my wedding cake.
Back in the day it was all about the white wedding cake – sure the flavors under the icing could vary, but standard white icing was all the rage.
But now I love the idea of serving a chocolate cake with chocolate icing because your guests will never expect it! Read More