Circle Wedding Cakes
Think of a traditional wedding cake, and chances are, you will immediately envision a tiered white cake with round layers. Round, or circle, wedding cakes are the standard for tradition. Whether the layers are separated by columns, or rest one upon another, it is safe to say that the majority of tiered cakes favor layers that are round in shape. In recent years, bakers have added interest to the otherwise traditional (and sometimes unexciting) profile of a round cake by stacking layers that are very similar in size, or by varying the height of various layers. But regardless of the size and height, circle wedding cakes are here to stay. And what could be more appropriate to signify and celebrate unending love, than the circle?
0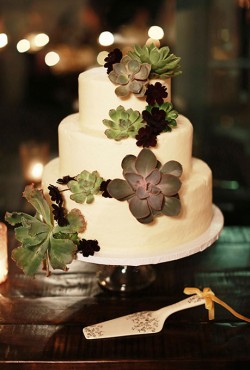 This week is the week! Fall officially begins on Wednesday!
Which means…we're going to be talking a lot about fall wedding cakes.
Today seems like a good day to start that conversation. And this simple yet elegant wedding cake is the perfect cake to officially kick off fall a few days early! Read More
0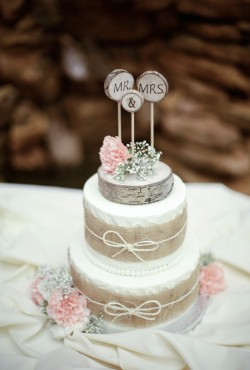 I woke up this morning to very chilly fall-like temperatures and the reality that fall really is just around the corner.
So what better time to start talking about fall wedding cake, right?
I love the idea of having a rustic fall wedding – especially if it's still warm enough outside to host an outdoor reception.
Which brings me to today's wedding cake – it's very rustic but also elegant, which isn't an easy combination to pull off. Read More
0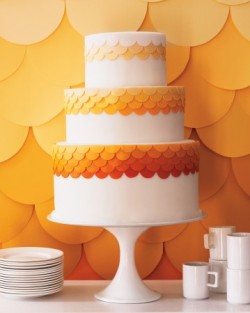 So now that we've "officially" said goodbye to summer, it's time to start thinking about fall.
More specifically it's time to start thinking about ideas for fall wedding cakes.
Now I'm not normally a fan of the color orange – it's just one of those colors that rarely wows me. Plus most orange cakes end up looking like pumpkins, which is OK if that's the look you're going for. Read More
0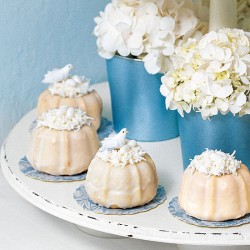 It's no secret that I love cake. Especially wedding cake.
There's just something extra special about wedding cake that makes it taste better than your average every day cake.
So how amazing would it be if you could serve your guests their own wedding cake?
I'm not talking about a slice of cake – I'm talking about miniature wedding cakes. One for every guest. Read More
0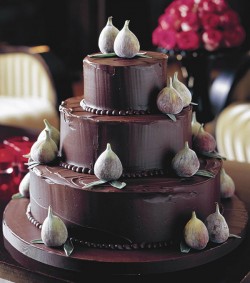 If there's one thing I wish I could do over from my wedding so many years ago it would be to include chocolate in my wedding cake.
Back in the day it was all about the white wedding cake – sure the flavors under the icing could vary, but standard white icing was all the rage.
But now I love the idea of serving a chocolate cake with chocolate icing because your guests will never expect it! Read More
0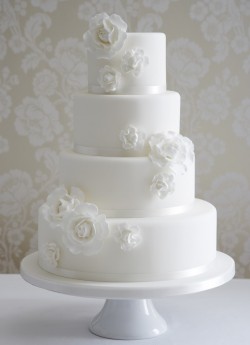 We've featured a lot of very bright and vibrant wedding cakes on this blog, but sometimes it's nice to get back to basics.
And today that means an all-white wedding cake creation.
This all-white cake would work in all seasons and with any color scheme making it versatile and very elegant.
I love the simple satin ribbon around each tier of the cake and the white flowers add to the overall elegance of the cake. Read More
0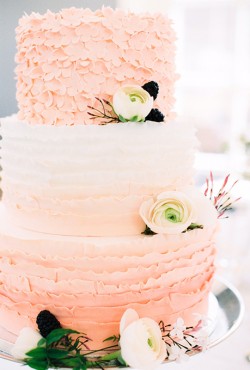 Sure the calendar says it is only the middle of August but we all know that fall is right around the corner. However, I'm still clinging to summer with all my might, which means we're still going to talk about summer wedding cakes.
Just like today's beautiful pink and white creation.
This gorgeous three-tiered cake features light pink and white icing with a ruffle design that really pops. Read More
0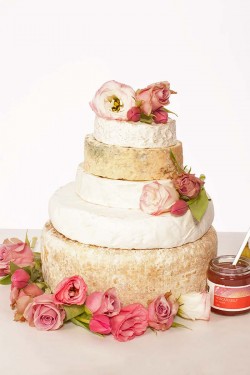 I love cheese.
I'm talking I could eat cheese at every meal if given the opportunity. Which is probably why I would love to be invited to a wedding reception where the cake was made entirely of cheese.
Just like today's wedding cheese cake.
This stunning cake was created using five wheels of cheese and it would be the perfect "cake" for a reception where there was also a dessert buffet. Read More
0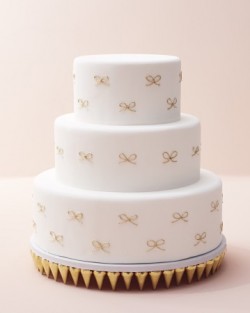 I like finding wedding cakes that are unique – something you aren't going to see at every other wedding.
Today's cake is that kind of cake. It's not every day that you see a wedding cake adorned with tiny gold bows, and that makes me love it even more.
This three-tier cake is perfect for an elegant reception with a small guest list. Read More