Simple Wedding Cakes
Sometimes simple says it best. You might choose a simple wedding cake because you prefer a minimalist approach, or because you like you like to stick with the basics when it comes to cake, or even because you are interested in showcasing a particularly fancy flower or cake topper, simple wedding cakes never go out of style. The basic, stacked, white wedding cake, frosted in a smooth coating of buttercream or covered in a snowy blanket of fondant, may hide beautiful flavors and colors beneath its exterior – the best of both worlds. Or maybe you and your groom prefer the traditional "white cake, white frosting" approach – or "chocolate cake, chocolate frosting" – after all, simple doesn't necessarily mean traditional. On the other hand, a simple cake may be the perfect way to showcase a special caketopper or flower that has personal meaning for you. A topper that shows your style or a hobby that you and future hubby share becomes all the more visible when it doesn't need to compete with a fancy cake. Maybe you have a family heirloom that can nestle atop your cake. Alternatively, some dazzling orchids or floppy peonies may be all the statement that you need to make. A simple cake need not be boring, after all.
0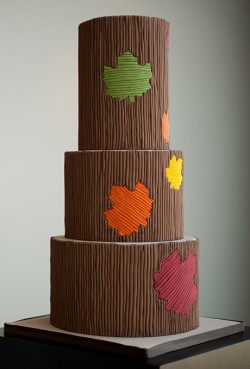 The leaves are falling from the trees in earnest around here and I have to admit I'd prefer if the leaves stayed on the trees for a bit longer. Because we all know that once the leaves have fallen the snow takes over.
But let's not get ahead of ourselves. Today we're talking about leaves. Bright colored fall leaves.
Just like the fondant leaves on this "tree trunk" wedding cake.
I just love the cool fall vibe of this cake. Read More
0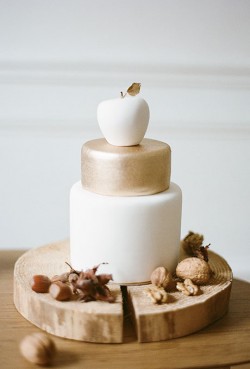 One of the best things about fall? Apples!
Picking apples, drinking apple cider, and of course wedding cakes with apples as the topper.
OK, so maybe that last one isn't so typical of fall but it should be.
Just look at this monochromatic white and gold cake – it is so perfect for fall. It is so elegant and yet simple at the same time. Read More
0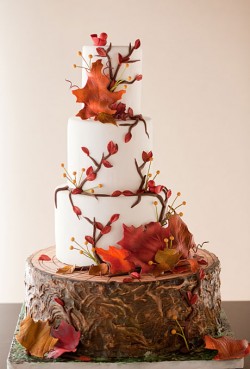 I think it's safe to say that fall is officially here.
There's a chill in the air, the leaves are changing color (at least around here), and I'm starting to see more fall decorations with a lot of orange and brown. So I figured it was a good time to feature a very fall wedding cake.
This is the perfect fall wedding cake – it has rustic colors, leaves, and even an edible tree stump as the cake's base.
The three-tier cake is iced with a beautiful white fondant that is embellished with gum paste leaves and branches in oranges, browns, reds, and greens. Read More
0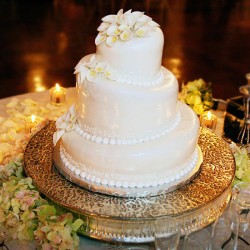 As much as I love wedding cakes with color – especially fall colors – there is something to be said for all-white wedding cakes.
An all-white wedding cake can be stunning and elegant and just downright beautiful when done properly.
Take this cake – the tilted white wedding cake. Read More
0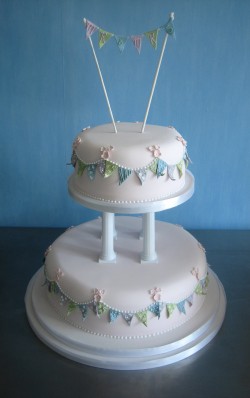 As we cling to the last days of summer I wanted to showcase this cake because it reminds of an old fashioned summer fair.
This gorgeous two-tier wedding cake was created by our friends at Hockleys Cakes and they described it as typical English afternoon tea cake.
I love the elegant simplicity of the cake. The smooth white icing accented on each tier with small pearls lends an air of sophistication to the cake. The tiers are separated by white columns. Read More
0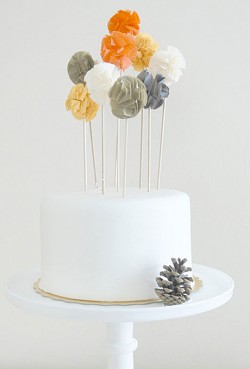 There is something to be said for a lovely one-tier wedding cake.
While I'm a fan of big wedding cake with many tiers and embellishments, I also think there's no reason to go overboard on cake if you're planning a small, intimate wedding reception.
If that's the kind of reception you're planning then you'll want the cake to match the small setting. And that's when you go for the single tier wedding cake.
But small wedding cakes don't have to be boring – in fact they should definitely stand out and make a statement.
Like this beautiful one-tier cake topped with colorful pom poms.
It's pretty. And simple. And perfect for a small reception.The silver pine cone is a pretty touch and gives the cake a nice fall feel. And of course you could personalize the pom poms with your wedding colors.
We found this cake here.
0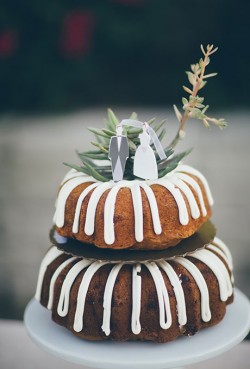 I'm always looking for great non-traditional wedding cakes – something out of the ordinary and unique.
I think today's cake fits that description.
I give you the "bundt cake wedding cake."
Now, when I think about bundt cakes I think about birthday cakes with chocolate glaze drizzled on the cake. I have never thought about a bundt wedding cake. Until now.
I love the simplicity of this cake – there's no muss, no fuss. It just a two-tier bundt cake frosted with simple white icing drizzled down the sides. Read More
0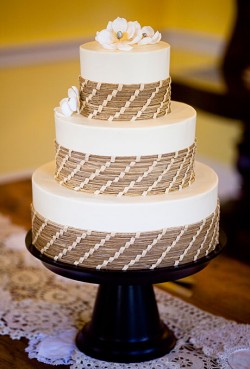 With Labor Day just around the corner, we're all trying to hold on to the last weeks of summer.
And while the heat and humidity outside might make you doubt fall's return in a few weeks, the calendar says it's coming. So it's time to transition into thinking about fall weddings and pumpkins and rustic wedding cakes.
Which brings us to today's cake.
I love the rustic simplicity of this cake and think it would be ideal for that late summer/early fall wedding. Read More
0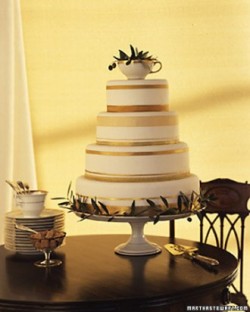 It used to be a tradition for a bride and groom to pick out a china pattern before they married.
Then, guests would purchase items from the china pattern and gift them to the new couple. I was one of those brides who registered for a china pattern. I've used it exactly once in the past 12 years.
But just because choosing a china pattern has fallen out of favor with some modern brides doesn't mean your cake can't be inspired by a china pattern. Read More
0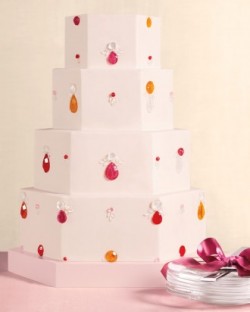 We all know that the bride's diamond ring is the one jewel that everyone will be staring at on the big day.
But what if your wedding cake was decked out in jewels too? That would definitely make it the center of attention for a while.
I love the idea of adding jewels to a wedding cake.
But what I love more is the idea of adding edible jewels to the wedding cake! Read More