Simple Wedding Cakes
Sometimes simple says it best. You might choose a simple wedding cake because you prefer a minimalist approach, or because you like you like to stick with the basics when it comes to cake, or even because you are interested in showcasing a particularly fancy flower or cake topper, simple wedding cakes never go out of style. The basic, stacked, white wedding cake, frosted in a smooth coating of buttercream or covered in a snowy blanket of fondant, may hide beautiful flavors and colors beneath its exterior – the best of both worlds. Or maybe you and your groom prefer the traditional "white cake, white frosting" approach – or "chocolate cake, chocolate frosting" – after all, simple doesn't necessarily mean traditional. On the other hand, a simple cake may be the perfect way to showcase a special caketopper or flower that has personal meaning for you. A topper that shows your style or a hobby that you and future hubby share becomes all the more visible when it doesn't need to compete with a fancy cake. Maybe you have a family heirloom that can nestle atop your cake. Alternatively, some dazzling orchids or floppy peonies may be all the statement that you need to make. A simple cake need not be boring, after all.
0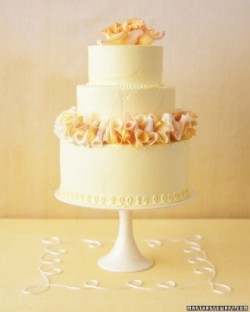 We're inching closer and closer to Valentine's Day and if there's one time of year when roses take center stage it's now.
Which is why we're featuring a lovely wedding cake with fresh rose petals today. This cake is pretty and elegant and is a fun and unique way to showcase fresh flowers on your cake.
At first glance it looks like the cake is decorated with icing ribbons between the tiers, but look closely. Those are rose petals arranged as a ribbon. It's pure floral genius! Read More
0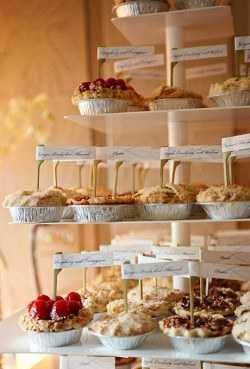 It's time to think outside of the cake box today!
As much as I love wedding cake (actually all cake), sometimes it's nice to color outside the lines and do something unexpected.
Like serving miniature pies instead of wedding cake.
Now that's a dessert trend I can get behind.
Everyone goes to wedding receptions prepared to eat a slice of cake but what if you wowed your guests instead with cute and delicious miniature pies? That would be an amazing reception! Read More
0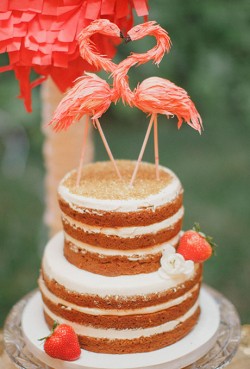 Thanks to the groundhog, it's official – we have six more weeks of winter.
But that doesn't mean we can't start thinking warm and tropical thoughts!
I've had enough snow and cold weather to last until next winter so today I decided to find something fun and warm and beach-y to share – and I found this adorable pink flamingo cake topper!
And while the cake topper looks amazing on the "naked" cake featured here, it would also work on a frosted cake. Read More
0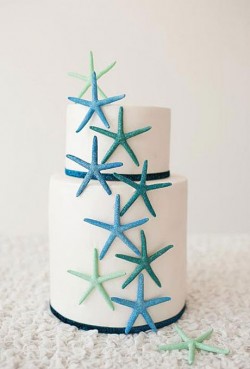 As the East Coast is snowed in today and I'm seeing more winter weather in my local forecast I'm finding myself daydreaming more every day about my summer beach vacation.
And these daydreams of sand and surf made me think about summer beach weddings. Which of course brings us to today's wedding cake.
I'm in love with this fun and whimsical cake. Read More
0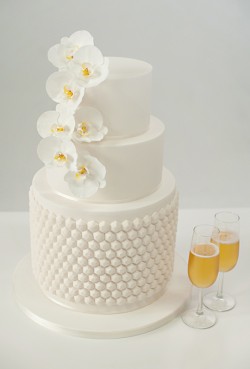 As I look outside the window today it's a sea of white. A fresh layer of snow covers the ground which (of course) made me start thinking about the traditional all white wedding cake.
I do love all the non-traditional wedding cakes I feature here – the bright colored cakes, the black fondant cakes, the whimsical cakes. But in the end, nothing beats that all-white wedding cake in all its elegance and charm. Read More
0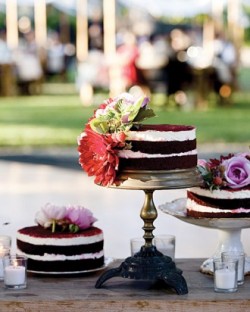 If I had to choose just one cake flavor to eat for the rest of my life – the horror! – it would be red velvet.
The first time I had red velvet cake I fell in love instantly. The combination of the not-too-sweet cake with the cream cheese icing is pure perfection.
But today we're talking about a naked red velvet wedding cake! Read More
0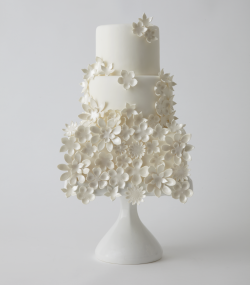 It might still be the middle of January, but that doesn't mean we can't start thinking about spring. Because believe it or not, the month of January will eventually end. Really.
So with that in mind – and thoughts of spring sneaking in to these cold winter days – let's talk about this all-white stunner of a wedding cake. Read More
0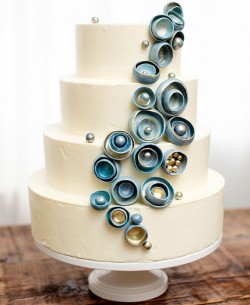 As winter continues its relentless grip on most of the country I have decided it's time to dream about summer and beach weddings.
Which brings me to today's nautical, beach-inspired wedding cake.
Don't you feel warmer just looking at this cake? I can almost imagine the beach wedding, right on the sand, with the sun shining down.
OK, enough daydreaming. Back to this cake. Read More
0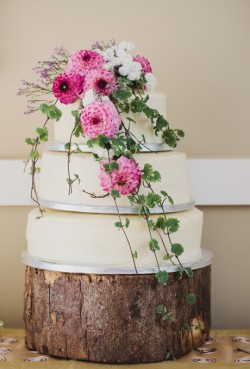 As we trudge headlong into the cold, brutal months of winter it only seemed fitting that I would showcase a cake that made me think of warmer temperatures and bright sunny days.
This lovely white cake with fresh blooms is that cake!
I love the rustic charm of the cake, sitting atop a small tree stump. Of course, if tree stumps as decor aren't your cup of tea the cake would also look lovely on a more traditional cake stand. Read More
0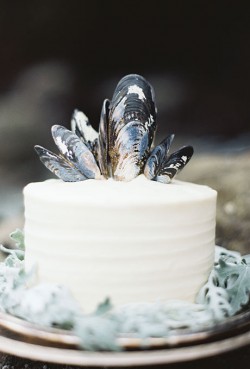 Baby it's cold outside!
So, let's dream about a destination wedding in a warm, tropical, and beach-y location. And at this wedding your theme is seashells.
Lots and lots of seashells.
And this gorgeous one-tier cake is your beach-inspired, seashell-topped wedding cake.
I love this cake. Maybe it's because I love the beach and collecting shells. Or maybe it's because it reminds me of summer. Either way, I think this would be a lovely cake at your beach wedding. Read More