Simple Wedding Cakes
Sometimes simple says it best. You might choose a simple wedding cake because you prefer a minimalist approach, or because you like you like to stick with the basics when it comes to cake, or even because you are interested in showcasing a particularly fancy flower or cake topper, simple wedding cakes never go out of style. The basic, stacked, white wedding cake, frosted in a smooth coating of buttercream or covered in a snowy blanket of fondant, may hide beautiful flavors and colors beneath its exterior – the best of both worlds. Or maybe you and your groom prefer the traditional "white cake, white frosting" approach – or "chocolate cake, chocolate frosting" – after all, simple doesn't necessarily mean traditional. On the other hand, a simple cake may be the perfect way to showcase a special caketopper or flower that has personal meaning for you. A topper that shows your style or a hobby that you and future hubby share becomes all the more visible when it doesn't need to compete with a fancy cake. Maybe you have a family heirloom that can nestle atop your cake. Alternatively, some dazzling orchids or floppy peonies may be all the statement that you need to make. A simple cake need not be boring, after all.
0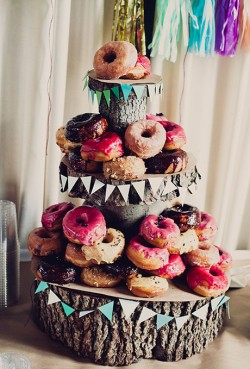 Let them eat … doughnuts!
Sometimes you just want to be a litte non-traditional, right? So why not consider skipping the wedding cake entirely and giving your guests a different sweet treat?
Like doughnuts!
While this type of "wedding cake" isn't what most people are expecting, it's always fun to do something different. Plus, just about everybody loves doughnuts. Read More
0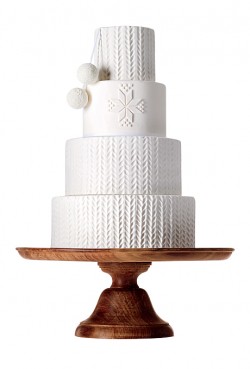 Baby it's cold outside!
So why not pick a cake for your winter wedding that reminds your guests of a warm – and very stylish – sweater?
OK, that doesn't sound very intriguing does it? But just look at this beautiful all-white wedding cake and tell me it's not stunning!
Aside from the whole all-white-cake vibe going on, just look at the design on this cake. It reminds me of one of those very cozy winter ski sweaters that are all the rage during the winter. Read More
0
As much as I love all things purple, one would think that I would feature more purple cakes around here. But truth be told, I don't often find purple wedding cakes that wow me.
Until today.
I love this cake. I love it a lot.
This three-tier wedding cake is elegant and beautiful and I'd love to see it at a winter wedding.
I absolutely love the simplicity of the smooth white icing combined with the ombre purple gumpaste ribbons on the side of each tier.
The color combination is modern and not at all fussy or over-the-top. The purple shades are delicate and not garish in any way.
You don't even need to be a big fan of purple to love this cake. It's just that perfect.
The pearls add that perfect amount of old-world glamour to the cake.
I found this cake here. It was created by the Sofie Bifield Cake Company in Canada.
0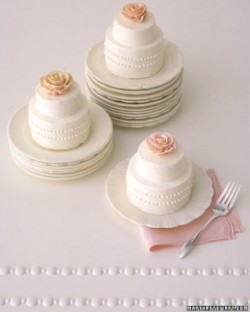 Just about everyone loves cake – and that's really true at a wedding reception. Guests normally can't wait for the happy couple to cut the cake so everyone can enjoy the sweet confection.
So I say – let them eat cake! Individual miniature wedding cakes to be exact.
How perfect are these for your wedding reception? Read More
0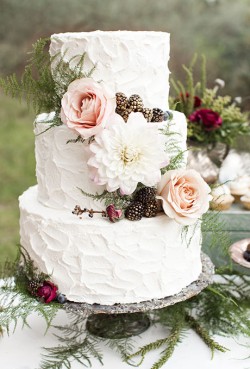 Happy December!
As we tread lightly into the winter season, I want to hold on tightly to any remnant of fall even when it comes to fall-inspired wedding cakes.
Today's cake evokes thoughts of late fall and early winter so it seemed perfect for the first day of December.
This three-tier cake features fluffy white icing and some gorgeous fresh flowers including a white dahlia and blush roses. Read More
0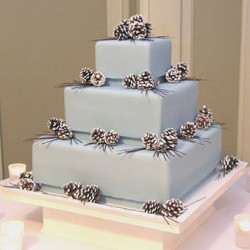 I heard on the news yesterday that all 50 states had a below freezing temperature this week, so it seems like winter is early and here to stay.
Which got me thinking – maybe it's time to feature a winter-themed wedding cake.
And I found this beauty – all square tiers, and icy blue frosting. Read More
0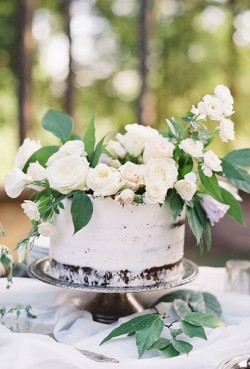 There's something to be said for an elegant, one-tier wedding cake.
With a smaller cake there's no muss, no fuss but the cake can still steal the show.
While I'm a fan of big, elegant and fancy wedding cakes I also like the smaller cakes.
Whether you're hosting a small, intimate reception and you don't need a big cake, or you're planning on serving other desserts (cupcakes, a dessert bar, or maybe a cheese wedding cake) – a one-tier cake can be perfect for so many reasons. Read More
0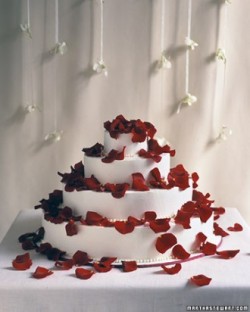 I've been writing a lot about the use of fresh flowers on wedding cakes and how much I love the trend.
Heck I even used fresh Black Magic Roses and greenery on my own wedding cake more than a decade ago.
Fresh flowers just never go out of style (in my humble opinion).
But, instead of using the whole flower, consider for a moment using just the petals from those fresh flowers – just like this cake. Read More
0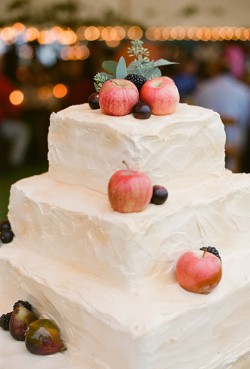 If there is one fruit that symbolizes fall it's the apple.
Living in the Midwest, no fall season is complete without a visit to the apple orchard where you buy a bushel of apples, some apple cider, and maybe an apple pie or two.
And so when I found this wedding cake that uses apples as a decoration I just had to share it!
This is the perfect fall cake with the apples, figs, dark berries, and succulents as the only decorations. Read More