Chocolate Wedding Cakes
Chocolate. Say it with me. CHOCOLATE. Who doesn't love chocolate? In the U.S., most wedding cakes, until recent years, were drab, white, and practically flavorless. Just sweet and more sweet. But more and more, we're seeing different flavors, and different combinations. And not to be left out, chocolate is a flavor in the forefront. A couple may choose plain chocolate, but more often than not, we see variations on the theme – mocha, chocolate espresso, red velvet. But should a couple cling steadfast to tradition, they can always relegate the chocolate to the groom's cake. Often a foil to the white, statuesque, center-stage wedding cake, a groom's cake is often whimsical, and frequently expresses some quirky aspect of the groom's or couple's personality. Sometimes the flavors vary, but quite often, the groom's cake is – you guessed it – chocolate. Dark to the wedding cake's light. Rich to the wedding cake's austere. The perfect yin and yang, the perfect foil, the perfect complement. If your couple-heart lies in the direction of chocolate – go for it! It's your wedding, after all.
2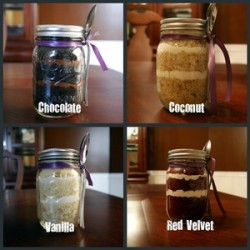 Oh yes..I have shown you cupcakes. I have shown you cake pops. I have shown you cake push-pops..and now I bring you cake jars.
Yes…yes. These delicious treats are made by Pickle's Bake Shop out of the Washington D.C. area. Have no fear if you aren't in the DC area because she has an online bakeshop right here. These little cakes come in a cute little glass jar with an adorable little spoon. They come in a variety of flavors..Red Velvet with Cream Cheese Icing, Chocolate with Chocolate/Vanilla/Marshmallow Butter Cream, Vanilla Read More
0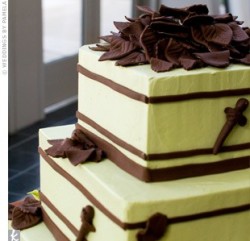 I picked this cake for one reason.
Thin. Mints.
That's what this cake reminds me of. The thin minty goodness that appears every March and then is unceremoniously ripped from the parking lots of grocery stores a few weeks later. I typically cry until June and then I forget about it again until February when my little friend comes around with her cookie selling sheet. Oh yes. I love Thin Mints.
I have no idea if this cake is actually mint flavored..but the light green and brown color combination remind me of them. Or perhaps it's the chocolate leaves as the topper that make me think mint. Either way it's a yummy looking cake!
0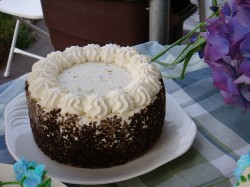 Two things that go together in my book..ice cream and cake. Oh yes.
While it may be next to impossible to have an ice cream wedding cake (frozen fondant..yuck) let's give the boys what they want and have an Ice Cream Groom's Cake. Check out this pretty Chocolate Ice Cream Groom's Cake. It's a simple cake, as most groom's cakes tend to be, but check out how it is garnished in whip cream and chocolate chips. Yummy. How could Read More
0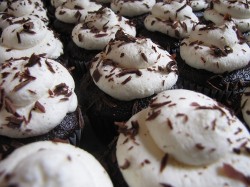 Oh my.
Did you know that you could make Black Forest Cupcakes? I didn't. But now I want one…right now.
These cupcakes…look amazing. Check this out. These are chocolate cupcakes filled with Bing cherries and topped with whipped Read More
1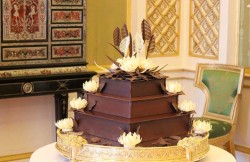 So…I know that we've talked about it.  But we haven't actually seen it.  Well, I hadn't, anyway.
Until now.
While everyone else was mooning over the giant, gorgeous, white behemoth of a cake created to mark the wedding of Read More
0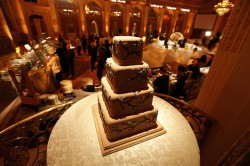 I have honestly been waiting to do two things on this blog since we started in December.
Say 'egads," and
Feature a cake by the goddess of weddings, Martha Stewart.
Today my dreams come true..because LOOK!  Read More
0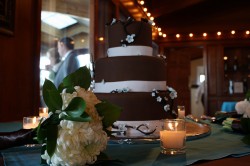 Recently, we showed you one of our favorite cakes, featuring a seriously hot color combination:  brown and blue.  Today, the color combo is back in a different, though no less stunning, iteration.
This cake features a rich robe of chocolate brown fondant, with each of the circular layers trimmed with a wide white ribbon.  Adorning the entire cake Read More
0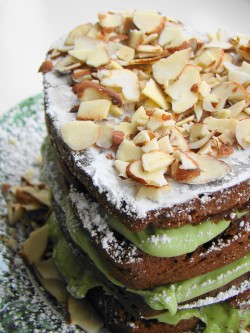 If you visit many trendy bakery sites and blogs (as I do), sooner or later, you are going to come across a whole list of "free" things – gluten-free, sugar-free, casein-free – and you might be tempted to say, "Hmmm, go ahead and add taste-free to that list, too."
Well, I will have to say, respectfully, that –free doesn't have to be devoid of culinary character.
Are you a bride – or a groom – looking to feature a vegan choice Read More
0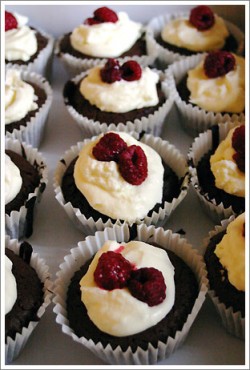 So..not exactly a wedding cake..but I saw this picture and I couldn't handle the loveliness of it all.  These cupcakes are zucchini and chocolate flavored (oh yes..who knew that something that sounds so wrong could be SO right?)  I would not mind eating my vegetables if they could always be ingested with chocolate.  The tiny cakes are topped with cream cheese icing Read More
0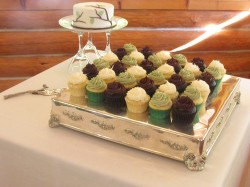 I think I have expressed once, or twice…or perhaps even three times my love for cupcakes.  Apparently, this cupcake combo comes with a back story.  The cupcake stand was lost en route to the wedding venue so the baker improvised and turned wine glasses upside down and placed a plate on top of them.  To tell you the truth..I kind of think it's classy.
The best part..please listen to the flavors of these bad boys: Read More