Chocolate Wedding Cakes
Chocolate. Say it with me. CHOCOLATE. Who doesn't love chocolate? In the U.S., most wedding cakes, until recent years, were drab, white, and practically flavorless. Just sweet and more sweet. But more and more, we're seeing different flavors, and different combinations. And not to be left out, chocolate is a flavor in the forefront. A couple may choose plain chocolate, but more often than not, we see variations on the theme – mocha, chocolate espresso, red velvet. But should a couple cling steadfast to tradition, they can always relegate the chocolate to the groom's cake. Often a foil to the white, statuesque, center-stage wedding cake, a groom's cake is often whimsical, and frequently expresses some quirky aspect of the groom's or couple's personality. Sometimes the flavors vary, but quite often, the groom's cake is – you guessed it – chocolate. Dark to the wedding cake's light. Rich to the wedding cake's austere. The perfect yin and yang, the perfect foil, the perfect complement. If your couple-heart lies in the direction of chocolate – go for it! It's your wedding, after all.
0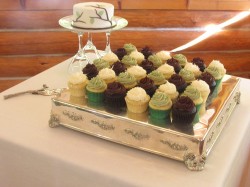 I think I have expressed once, or twice…or perhaps even three times my love for cupcakes.  Apparently, this cupcake combo comes with a back story.  The cupcake stand was lost en route to the wedding venue so the baker improvised and turned wine glasses upside down and placed a plate on top of them.  To tell you the truth..I kind of think it's classy.
The best part..please listen to the flavors of these bad boys: Read More
0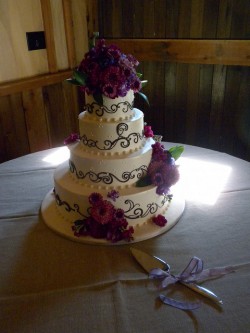 I love a good contrast, don't you?
Light and dark, old and new, bitter and sweet.  Give me opposites to bring out the beauty Read More
3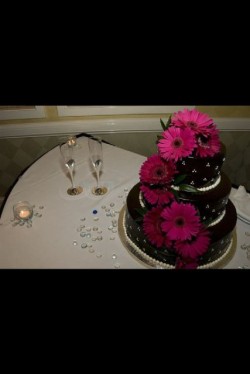 Do you remember a few weeks ago when I talked all about my friend who had a black wedding cake..and then I totally admitted defeat and told you I couldn't find a picture?
Well thank god for Twitter because I sent out a cry for help and Read More
0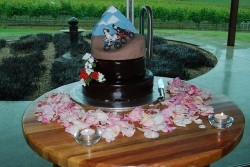 Your wedding day is generally considered one of the best days of your life. Yes?
Well, why not combine the best day of your life with the best time of your life. That's what this couple did. They chose a simple two tiered circle cake covered in chocolate ganache and added a fondant masterpiece to the top. The fondant bride and groom are riding Read More
0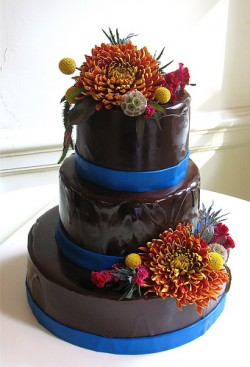 Does anyone else have the strong desire to just whip out your finger and dig it right into this cake until your knuckle deep in chocolate ganache or is that just me?
This three tiered circle cake is slathered in bittersweet ganache and beautiful blue fondant bands around each tier. The flowers on the top and the side just make the cake pop with color.  I have to admit I love the placement of the flowers as well.. kudos to Hana and Posy in Philadelphia, Pa.  Now that we have appropriately Read More
0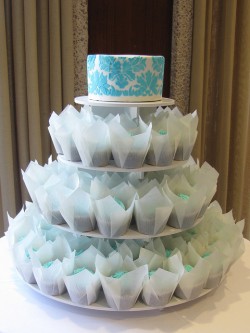 We think there is nothing new under the cupcake sun…but we would be wrong.  Because, while I love a good cupcake, I also love an original idea. 
Clever Cupcakes has brought us such a beautiful display of tiny treasures that I'd just like to stare at the picture for a minute.  Obviously, I think you will have the same reaction.
This tower of cupcakes is made up of no less than nine dozen of the tiny treasures!  The chocolate cupcakes – YUM – are frosted with Read More
0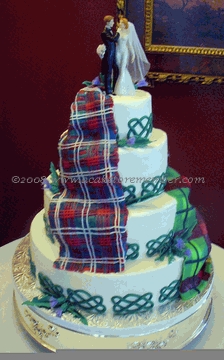 Kara Buntin of A Cake to Remember  of Richmond, Virginia, has created my Dream Wedding Cake.
What is it with me, wedding cake, and chick flicks featuring Julia Roberts?  But here we go again.
Remember that scene in "Steel Magnolias," where the ladies are discussing the wedding decorations in a Pepto-pink church?  And a demure – and very, very young – Julia Roberts remarks Read More
0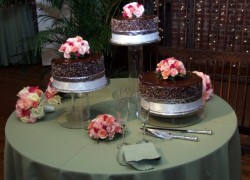 Happy New Year!
There is just something I love about a cake lathered in chocolate ganache! These three cakes are layered inside with chocolate cake and strawberry whipped cream. The whipped cream is so smooth and creamy that it tastes like ice cream! They are covered with chocolate ganache and adorned with Read More
0
Another gorgeous cake featuring chocolate covered strawberries!
This one makes the strawberries the focal point, letting them cascade down a rich, chocolate-frosted tiered cake like Read More
0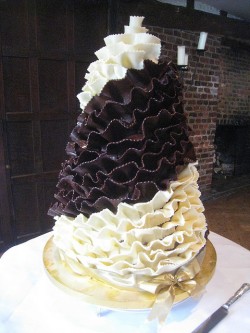 I had a hard time figuring out what to call this one; it's so unique! I love the "ribbon" texture of the shaped chocolate and keep wondering "how'd they do that?!"
The shaped edges really make the ribbons stand out, and I like Read More