Modern Wedding Cakes
The term "modern wedding cake" may mean different things to different people. Here at A Wedding Cake Blog, we take the term to mean anything with a contemporary feel; a cake that eschews the traditional white on white, piped and buttercreamed and trimmed with swags or roses. Modern may refer to a bold use of color, or a contemporary decor or shape. It may also refer to choosing something other than the grand, traditional tiered cake – a cake of macarons, for instance, or an assortment of individual cakes. Modern means that you are updating the tradition: perhaps you aren't entirely throwing it out. You're just giving it a breath of fresh air.
0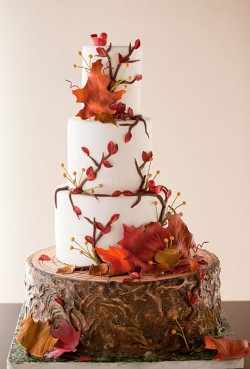 I think it's safe to say that fall is officially here.
There's a chill in the air, the leaves are changing color (at least around here), and I'm starting to see more fall decorations with a lot of orange and brown. So I figured it was a good time to feature a very fall wedding cake.
This is the perfect fall wedding cake – it has rustic colors, leaves, and even an edible tree stump as the cake's base.
The three-tier cake is iced with a beautiful white fondant that is embellished with gum paste leaves and branches in oranges, browns, reds, and greens. Read More
0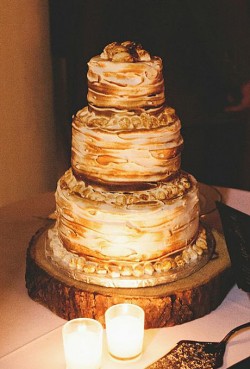 If there's one sweet treat that almost everyone loves it has to be s'mores.
The ooey, gooey marshmallow and melted chocolate sandwiched between graham crackers – well, it's heavenly.
So why wouldn't you want your wedding cake to be a s'mores wedding cake? I can't think of one reason.
This gorgeous wedding cake is that s'mores wedding cake we've all dreamed of and it looks delicious. Read More
0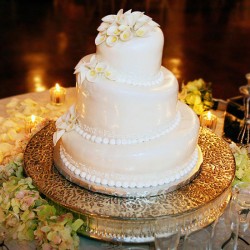 As much as I love wedding cakes with color – especially fall colors – there is something to be said for all-white wedding cakes.
An all-white wedding cake can be stunning and elegant and just downright beautiful when done properly.
Take this cake – the tilted white wedding cake. Read More
0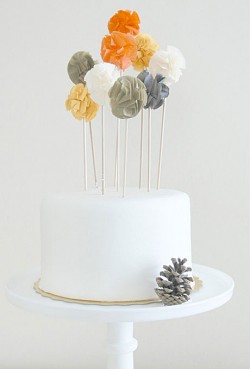 There is something to be said for a lovely one-tier wedding cake.
While I'm a fan of big wedding cake with many tiers and embellishments, I also think there's no reason to go overboard on cake if you're planning a small, intimate wedding reception.
If that's the kind of reception you're planning then you'll want the cake to match the small setting. And that's when you go for the single tier wedding cake.
But small wedding cakes don't have to be boring – in fact they should definitely stand out and make a statement.
Like this beautiful one-tier cake topped with colorful pom poms.
It's pretty. And simple. And perfect for a small reception.The silver pine cone is a pretty touch and gives the cake a nice fall feel. And of course you could personalize the pom poms with your wedding colors.
We found this cake here.
0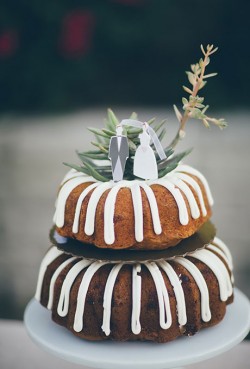 I'm always looking for great non-traditional wedding cakes – something out of the ordinary and unique.
I think today's cake fits that description.
I give you the "bundt cake wedding cake."
Now, when I think about bundt cakes I think about birthday cakes with chocolate glaze drizzled on the cake. I have never thought about a bundt wedding cake. Until now.
I love the simplicity of this cake – there's no muss, no fuss. It just a two-tier bundt cake frosted with simple white icing drizzled down the sides. Read More
0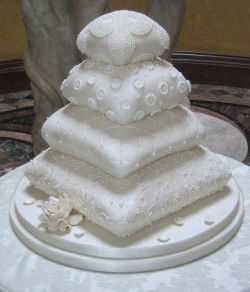 There are gorgeous, take-your-breath-away wedding cakes.
And then there's today's wedding cake which goes beyond leaving one breathless.
This cake is downright stunning.
The four-tier "novelty cushion wedding cake" is another amazing creation from our friends at Hockleys Cakes over in the United Kingdom.
The cake's intricate and delicate pattern was based on the bride's wedding dress Read More
0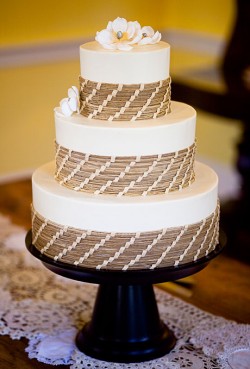 With Labor Day just around the corner, we're all trying to hold on to the last weeks of summer.
And while the heat and humidity outside might make you doubt fall's return in a few weeks, the calendar says it's coming. So it's time to transition into thinking about fall weddings and pumpkins and rustic wedding cakes.
Which brings us to today's cake.
I love the rustic simplicity of this cake and think it would be ideal for that late summer/early fall wedding. Read More
0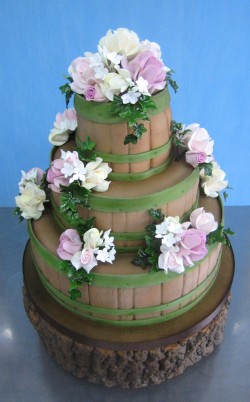 Now this is a fun wedding cake!
How often have you seen a wedding cake shaped like a barrel? Never, right?
Well now you can say that you've seen it all.
I absolutely love the charm and humor of this wedding cake from our friends at Hockleys Cakes over in the United Kingdom!
The story behind this cake is that the reception was held in a rustic, traditional English pub and the cake was created to reflect the venue. Now that's a pub I'd like to visit! Read More