Simple Wedding Cakes
Sometimes simple says it best. You might choose a simple wedding cake because you prefer a minimalist approach, or because you like you like to stick with the basics when it comes to cake, or even because you are interested in showcasing a particularly fancy flower or cake topper, simple wedding cakes never go out of style. The basic, stacked, white wedding cake, frosted in a smooth coating of buttercream or covered in a snowy blanket of fondant, may hide beautiful flavors and colors beneath its exterior – the best of both worlds. Or maybe you and your groom prefer the traditional "white cake, white frosting" approach – or "chocolate cake, chocolate frosting" – after all, simple doesn't necessarily mean traditional. On the other hand, a simple cake may be the perfect way to showcase a special caketopper or flower that has personal meaning for you. A topper that shows your style or a hobby that you and future hubby share becomes all the more visible when it doesn't need to compete with a fancy cake. Maybe you have a family heirloom that can nestle atop your cake. Alternatively, some dazzling orchids or floppy peonies may be all the statement that you need to make. A simple cake need not be boring, after all.
0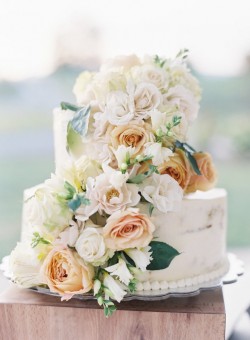 Now that we're officially in the midst of all things spring, it seems like a good time to showcase a classic floral wedding cake.
Today's cake is perfect for your spring wedding – it is elegant and classic and features a cascade of fresh roses and greenery. Read More
0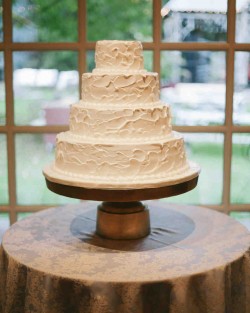 As much as I love flower-covered wedding cakes or cakes with colorful embellishments, sometimes it's really nice to see a simple yet elegant cake.
Take today's wedding cake – it's a lovely four-tier cake with gorgeous cream cheese icing and nothing else. Read More
0
I am loving the spring weather right now! It's sunny and warm and the flowers are blooming. It's perfection.
You know what else is perfection? Today's featured spring-themed wedding cake.
This "naked" cake might be lacking in the icing department but it makes up for it with its simple design and some gorgeous spring greens and flowers. Read More
0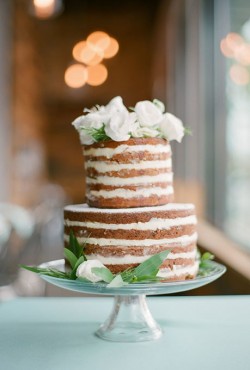 It's been a while since we talked about an unfrosted wedding cake.
The "naked" cake trend seems to still be going strong, and even though I prefer a cake with a lot more icing, today's naked cake is a perfect confection for your spring wedding. Read More
0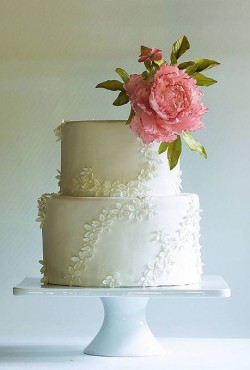 Spring is definitely in the air and that has me thinking about spring-inspired wedding cakes!
Take today's cake – it's delicate and elegant and even has a lovely fresh flower for some added beauty.
I love the delicate and romantic floral lace design on the cake. Read More
0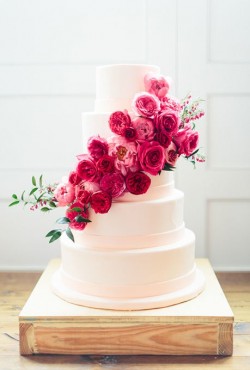 Growing up, pink was not my favorite color. But now, I will admit that I'm kind of partial to all things pink.
And I especially love the idea of having a pink wedding cake. My favorite hue – a light pink. Think, pastel.
It's the perfect color for spring or early summer and it has a very happy vibe to it. Read More
0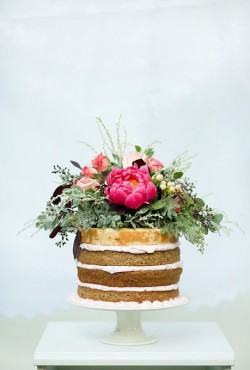 Can you feel it? We're getting SO close to the first day of spring! I want to celebrate with all kinds of fresh flowers!
Specifically, let's celebrate with today's gorgeous "naked" wedding cake topped with a huge bouquet of fresh flowers.
How lovely is this cake?
The single-tier vanilla cake with white icing is rather nondescript on its own. In fact without the flowers it would be kind of boring. Read More
0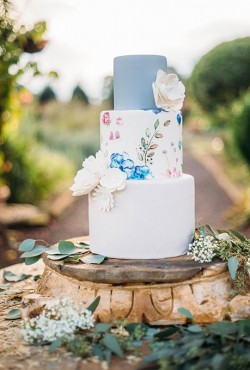 We're just a couple weeks away from the official start of spring so of course we're thinking about all the lovely spring flowers that will soon be blooming!
Today's cake reminds us of all things spring thanks to the lovely painted flowers on the middle tier and the use of sugar flowers.
This three-tier cake is stunning – the combination of blue and white on a wedding cake is a favorite here at A Wedding Cake Blog. Read More
0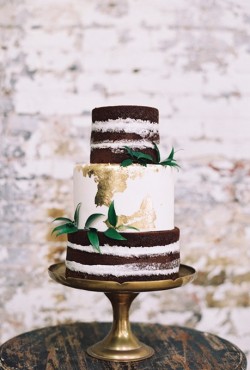 We're huge fans of chocolate cake here at A Wedding Cake Blog. We looove chocolate cake and we also love the idea of a chocolate wedding cake.
It's so fun and somewhat non-traditional to serve a chocolate wedding cake. (We're talking all chocolate, not just a tier or two).
And this nearly-naked chocolate cake with a rustic vibe is a perfect cake for your early spring wedding. Read More
0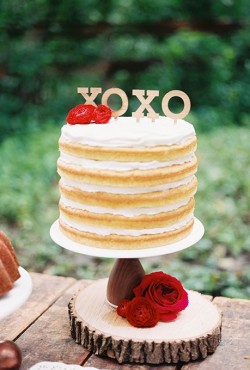 Happy day after Valentine's Day! Since we're all about celebrating all things loves, we're still celebrating today.
And today's featured cake is topped with hugs and kisses!
This simple yet elegant naked vanilla wedding cake is made even lovelier with the addition of the "xoxo" cake topper and a few bright blooms. Read More