Simple Wedding Cakes
Sometimes simple says it best. You might choose a simple wedding cake because you prefer a minimalist approach, or because you like you like to stick with the basics when it comes to cake, or even because you are interested in showcasing a particularly fancy flower or cake topper, simple wedding cakes never go out of style. The basic, stacked, white wedding cake, frosted in a smooth coating of buttercream or covered in a snowy blanket of fondant, may hide beautiful flavors and colors beneath its exterior – the best of both worlds. Or maybe you and your groom prefer the traditional "white cake, white frosting" approach – or "chocolate cake, chocolate frosting" – after all, simple doesn't necessarily mean traditional. On the other hand, a simple cake may be the perfect way to showcase a special caketopper or flower that has personal meaning for you. A topper that shows your style or a hobby that you and future hubby share becomes all the more visible when it doesn't need to compete with a fancy cake. Maybe you have a family heirloom that can nestle atop your cake. Alternatively, some dazzling orchids or floppy peonies may be all the statement that you need to make. A simple cake need not be boring, after all.
0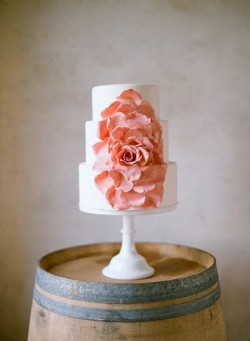 There's a new trend right now with wedding cake design – super flowers. No, these flowers can't leap over buildings in a single bound, they are just really big flowers on your wedding cake. It's certainly an eye-catcher, don't you think?
I have to say, I do love this Read More
Other Posts You May Enjoy:
0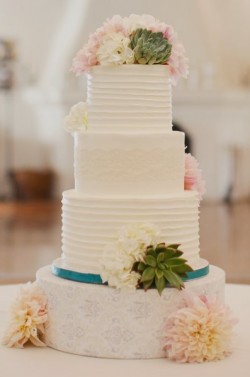 There is an easy beauty to this cake – it makes me think of an outdoor late spring or early summer wedding, maybe at a botanical garden, surrounded by bright colorful flowers. This cake would look amazing in a setting like that.
I am loving the simple frosting and the Read More
Other Posts You May Enjoy:
0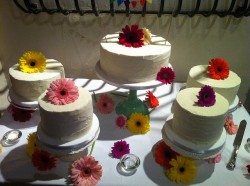 This cake reminded me so much of my friend Christen that I just had to share it with you.
Christen used to contribute regularly to A Wedding Cake Blog, and I know that she still loves to keep up with all the Sweet and Pretty that we feature here. And this cake actually reminds me of her for two reasons: Read More
Other Posts You May Enjoy:
0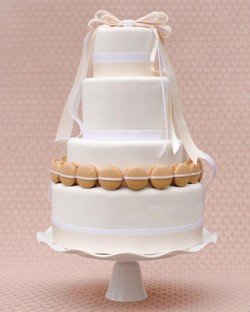 I don't think that I've mentioned in the last five minutes how much I love Paris.
The hubs and I honeymooned there.  Sounds like a no brainer, right? Honeymoon in the City of Love (or Lights, if you prefer.)  But it actually wasn't our first choice.
We wanted something domestic – in North America more or less – so we didn't have to hassle with passports and the like. But as we researched, we kept finding super affordable flights to Europe (ah, the good ole, pre-9/11 days…) — until suddenly, we looked at each other, and Read More
Other Posts You May Enjoy:
0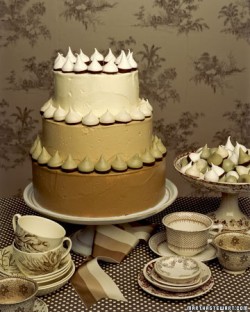 Today, I'm all about the coffee.
I may have overslept a bit.  The culprit?  Cold medicine.  Ugh.  No hangover ever made me forget to put the milk back in the fridge.
So coffee aplenty is in order this morning, and this cake is the perfect accompaniament.
Do you love coffee?  Is your fiance a Read More
Other Posts You May Enjoy:
0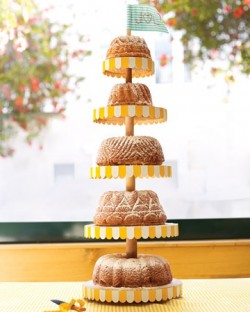 I can't see bundt cakes without thinking of My Big Fat Greek Wedding.  But perhaps that's a discussion for another post.
I don't know about you, but usually sometime during — or immediately following — the holidays, I seem to have a mini-burst of minimalism.  Usually, it comes in January, after the 12th day of Christmas has come and gone. But this year, I'm having one right now.  Maybe because of the Read More
Other Posts You May Enjoy:
0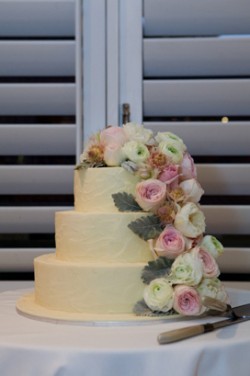 Hey Y'all!
We'll be heading out to Georgia in just a little bit to spend the holiday there.  Where will you be?  Why?  Are you happy about it?  Or just going 'cause you have to?
Well…where ever you find Read More
Other Posts You May Enjoy:
0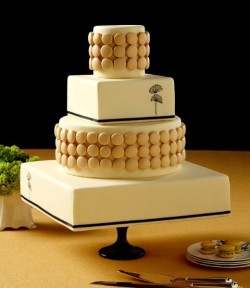 Happy Monday, Girls and Boys!
I wanted something a little minimalist today, and I found this lovely cake by Superfine Bakery on Wedding Wire.
There is nothing that Read More
Other Posts You May Enjoy:
0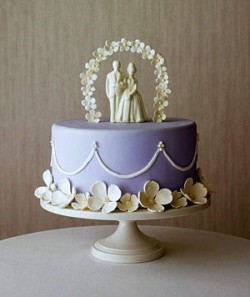 Love. This.
Maybe I'm speaking as a married woman of 11 years who doesn't need another single knick knack.  But girls, pay heed:  that cutesy cake topper will be gathering dust in a matter of years in the back of your china cabinet (or worse…in a box in the attic.)
My advice?  Go edible.
I think this is darling because it's both classic and practical.  Rather than have some chichi porcelain figures, why not Read More
Other Posts You May Enjoy: