Simple Wedding Cakes
Sometimes simple says it best. You might choose a simple wedding cake because you prefer a minimalist approach, or because you like you like to stick with the basics when it comes to cake, or even because you are interested in showcasing a particularly fancy flower or cake topper, simple wedding cakes never go out of style. The basic, stacked, white wedding cake, frosted in a smooth coating of buttercream or covered in a snowy blanket of fondant, may hide beautiful flavors and colors beneath its exterior – the best of both worlds. Or maybe you and your groom prefer the traditional "white cake, white frosting" approach – or "chocolate cake, chocolate frosting" – after all, simple doesn't necessarily mean traditional. On the other hand, a simple cake may be the perfect way to showcase a special caketopper or flower that has personal meaning for you. A topper that shows your style or a hobby that you and future hubby share becomes all the more visible when it doesn't need to compete with a fancy cake. Maybe you have a family heirloom that can nestle atop your cake. Alternatively, some dazzling orchids or floppy peonies may be all the statement that you need to make. A simple cake need not be boring, after all.
0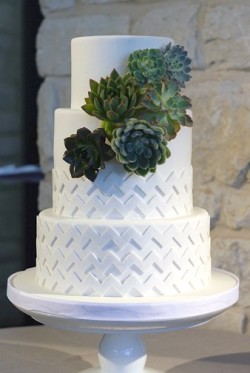 While brightly hued wedding cakes seem to be all the rage right now, there's something to be said for an elegant all-white cake.
Think of an all-white wedding cake as a blank canvas. You can add any kind of embellishment from fresh flowers to greenery, and even a peek of modern art in the icing.
Take today's featured cake fore example. Read More
0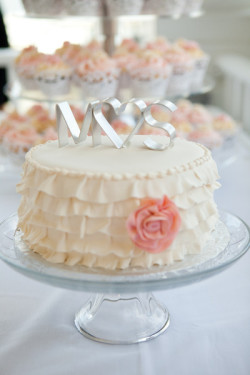 The other day we featured cupcakes as an alternative to a big wedding cake, and today we're talking about a smallish wedding cake as an alternative dessert.
Today's featured cake is the perfect size for a couple who wants to have a dessert buffet or cupcakes in lieu of a traditional wedding cake.
I love the vintage look of today's cake. Read More
0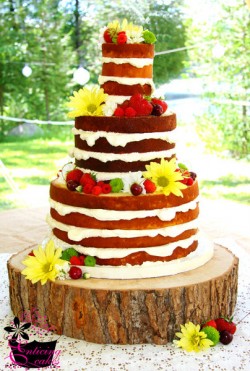 We're getting close to the dog days of summer and it's the perfect time to think about a wedding cake without icing.
And if you can showcase some lovely summertime blooms and fruit on that cake it'll be a perfect summer wedding cake.
Today's featured cake does just that.
This multi-tiered cake features gorgeous white icing between each layer, set off by brightly hued flowers and berries. Read More
0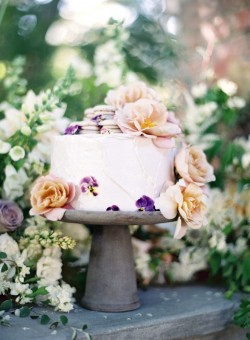 There is something to be said for an elegant one-tier wedding cake, especially if that one tier is elegant and whimsical and practically perfect in every way.
Take today's featured cake.
It might be small but it packs an elegant punch!
This one-tier cake features light lavender icing and is embellished with fresh flowers – including violets – and topped with macarons and more fresh blooms. Read More
0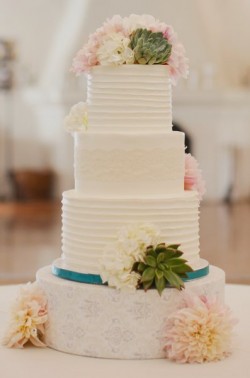 Some of the most beautiful wedding cakes are also the cakes with the simplest design.
There's no need to be over-the-top when it comes to your wedding cake, sometimes you just need a few strategically placed blooms and greenery to wow your guests. Read More
0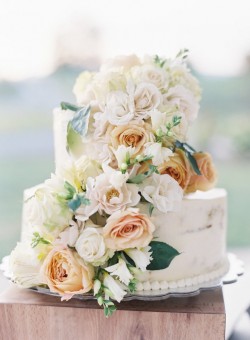 Now that we're officially in the midst of all things spring, it seems like a good time to showcase a classic floral wedding cake.
Today's cake is perfect for your spring wedding – it is elegant and classic and features a cascade of fresh roses and greenery. Read More
0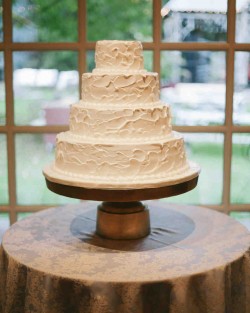 As much as I love flower-covered wedding cakes or cakes with colorful embellishments, sometimes it's really nice to see a simple yet elegant cake.
Take today's wedding cake – it's a lovely four-tier cake with gorgeous cream cheese icing and nothing else. Read More
0
I am loving the spring weather right now! It's sunny and warm and the flowers are blooming. It's perfection.
You know what else is perfection? Today's featured spring-themed wedding cake.
This "naked" cake might be lacking in the icing department but it makes up for it with its simple design and some gorgeous spring greens and flowers. Read More
0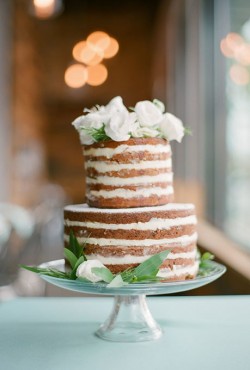 It's been a while since we talked about an unfrosted wedding cake.
The "naked" cake trend seems to still be going strong, and even though I prefer a cake with a lot more icing, today's naked cake is a perfect confection for your spring wedding. Read More
0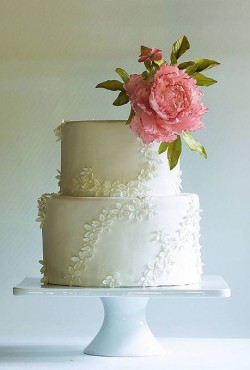 Spring is definitely in the air and that has me thinking about spring-inspired wedding cakes!
Take today's cake – it's delicate and elegant and even has a lovely fresh flower for some added beauty.
I love the delicate and romantic floral lace design on the cake. Read More