Unconventional Wedding Cakes
In today's wedding world, it seems that most wedding cakes are unconventional. It's almost unconventional to have a white on white wedding cake! But in an unconventional wedding cake might refer to the design, the topper, or the flavors featured. Regarding design, one popular unconventional style today is the topsy turvy, asymmetrical design. Stacked cake layers give the illusion that the cake could spill over any minute, when in fact, the cake is balanced and level. Unconventional toppers are another way that a couple may make their cake unique. The couple who loves Angry Birds, for instance, can feature the adorable characters perched atop their cake. Can't last a minute without your cell phone? There's a wedding topper for that, too. Prefer Goth to Victorian? No problem. A talented baker can help you realize your dream cake. But you might opt for traditional design and toppers, and still find ways to be unconventional with flavors – even savory alternatives to wedding cakes, like "cakes" made of wheels of cheese, or layers of savory meet pies, might stand in for a conventional cake. So, express yourselves! In cake! And send us pictures.
0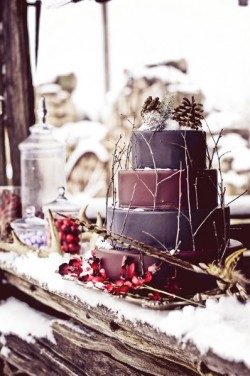 I thought I'd feature something a little different today.
You should know that I love the idea of a winter wedding. Actually, I think that for me, I prefer fall and winter over spring and summer anyday for a wedding. I think I love the minimalistic design elements of these seasons, and the rich, warm colors. And there's something about finding the beauty in a sparse landscape that really appeals to me.
This cake is like Read More
Other Posts You May Enjoy:
0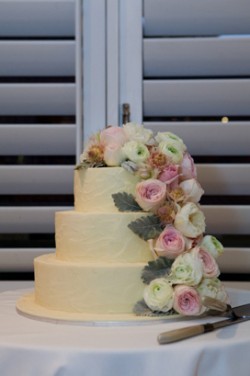 Hey Y'all!
We'll be heading out to Georgia in just a little bit to spend the holiday there.  Where will you be?  Why?  Are you happy about it?  Or just going 'cause you have to?
Well…where ever you find Read More
Other Posts You May Enjoy:
0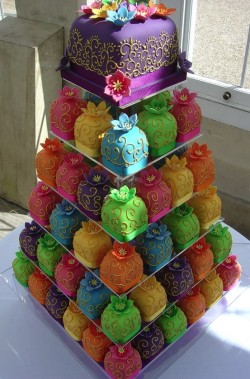 Happy Election Day, Everyone!  Isn't it comforting to know that the sun will go on rising and setting, regardless of who wins this election?
I thought we could all use some Read More
Other Posts You May Enjoy:
0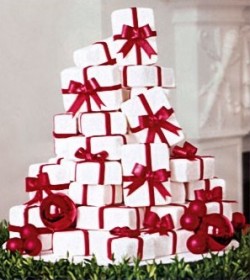 I figure if the big box stores are already advertising, and I'm already shopping, then it's okay for me to start the winter holiday/Christmas-inspired cake posting…yes?  I thought you'd agree.
This one had me at Red Ribbon.  Is this not completely, totally, utterly fabulous?  What appears to be a pile of presents is, in fact, a cake.  Or a pile of cakes.  I'm not sure.
At any rate, I totally Read More
Other Posts You May Enjoy:
0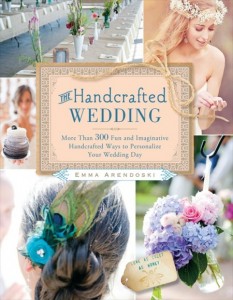 Hello Hello, my dear readers!  I hope you are having a fantastically fantastic day!  And I hope that threats of gargantuan storms aren't freaking you out too badly this weekend.
We bid adieu to Sandy here without too many worries…just a little wind and rain.  I sincerely hope and pray that all the weather folk out there are dead wrong, and that Sandy dissipates into the chilly Atlantic without so much as a whimper.  Hey – it could happen.
So, beyond weather, we have a Read More
Other Posts You May Enjoy:
0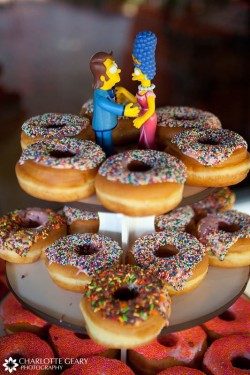 It's not that I think most guys are not interested in a serious groom's cake.  It's just…well…they aren't.
Ask the typical guy about any facet of a wedding ceremony or reception, and you probably will be greeted with a lukewarm response at best.  Sure…they might have their niche interests, like what music will be played or the like, but they probably aren't going to want to parse every detail to the nth degree.
So I think an  über Read More
Other Posts You May Enjoy:
0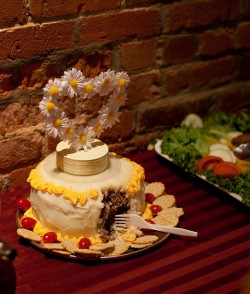 This, Gentle Readers, is not a cake that looks like a meat loaf.  This is, in fact, a cake made of meat loaf.
As the story goes, groom Todd was asked what flavor cake he wanted for "his" cake.  His sarcastic answer?  "MEAT!"
Well, someone took Todd very seriously, and this delightful (and reportedly delicious) meatloaf cake was born.
So, I wasn't at said wedding.  But I can make a fair guess here about the components. Read More
Other Posts You May Enjoy:
0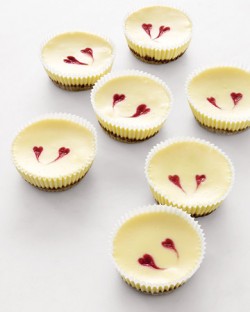 Aren't these darling?
You know, you think you've seen one cupcake, and you've seen them all.  Sher, the frosting colors change.  But the basic set up doesn't.  You have cake, you have frosting, voila.  Here's your cupcake.
But how awesomely awesome is this?  Cheesecake…instead of cupcakes.  Cheesecake as cupcakes.  And the precious little jam hearts baked right in make these uber perfect for any wedding – formal, casual, or anything in between.
Once again, it takes Read More
Other Posts You May Enjoy:
2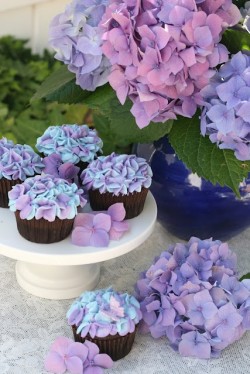 I haven't bumped into many people who say they don't like cake.  But apparently, they are out there.  And in the past, People Who Don't Like Cake would grin and bear their secret loathing (or their apathy…but that doesn't sound very dramatic) when it came to their wedding.  After all, you MUST have a ginormous wedding cake at your wedding, yes?  A towering confection, an architectural wonder, made with more butter and eggs and sugar than you've eaten EVER?
Well, if you are among the People Who Don't Like Cake, have I got news for you.  Time to come out of the cake closet and rejoice in your new found freedom, because you don't have to serve cake at your wedding. Well, not the big giant white white white kind, anyway.  You can – gasp! - serve what you'd like.
In the past ten years or so, couples have begun to question Read More
Other Posts You May Enjoy: