Chocolate Wedding Cakes
Chocolate. Say it with me. CHOCOLATE. Who doesn't love chocolate? In the U.S., most wedding cakes, until recent years, were drab, white, and practically flavorless. Just sweet and more sweet. But more and more, we're seeing different flavors, and different combinations. And not to be left out, chocolate is a flavor in the forefront. A couple may choose plain chocolate, but more often than not, we see variations on the theme – mocha, chocolate espresso, red velvet. But should a couple cling steadfast to tradition, they can always relegate the chocolate to the groom's cake. Often a foil to the white, statuesque, center-stage wedding cake, a groom's cake is often whimsical, and frequently expresses some quirky aspect of the groom's or couple's personality. Sometimes the flavors vary, but quite often, the groom's cake is – you guessed it – chocolate. Dark to the wedding cake's light. Rich to the wedding cake's austere. The perfect yin and yang, the perfect foil, the perfect complement. If your couple-heart lies in the direction of chocolate – go for it! It's your wedding, after all.
0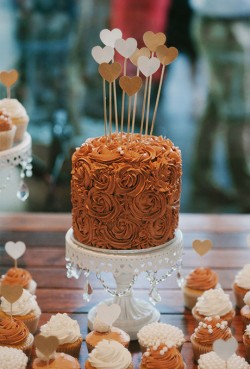 You ever have one of those days when you are craving chocolate?
Happens to me every day and today I decided to do something about it – I found the perfect one-tier chocolate wedding cake just for you!
I love the idea of serving a wedding cake iced with decadent chocolate icing. Why? Because your guests won't be expecting it. They'll be waiting for a cake with white icing and some pretty embellishments.
But chocolate cake? That'll keep your guests talking about your wedding for a very long time!
And this one-tier cake is so pretty! The chocolate icing looks like roses and the gold and silver hearts as cake toppers adds that perfect amount of whimsy to the cake.
Of course, it is just a one-tier cake so it might be enough for you and your new spouse. I think this cake would be ideal as the cake you cut and then you could serve a bigger wedding cake (or even cupcakes!) to your guests.
You can find this cake here. It was created by Tealicious House.
0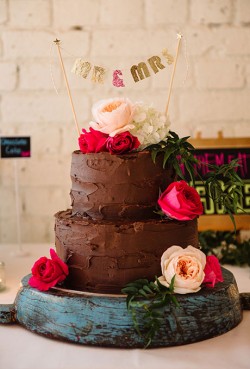 If there's one non-traditional wedding cake that I'll always be a fan of it's the chocolate wedding cake.
Everyone is expecting a cake with white icing, even if the cake inside is a variety of flavors. So why not wow your guests and surprise them with a chocolate frosted cake?
The cake flavors could vary – chocolate, marble, yellow – but to see a wedding cake frosted with gloriously delicious chocolate icing? That would be incredible! Read More
0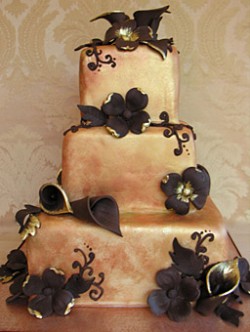 With Halloween only two days away I was searching for a wedding cake that would be the perfect centerpiece for an holiday wedding.
I think this orange and dark brown cake is the one.
After all, you can't go wrong with a cake that features the best Halloween colors, right?
I love that the orange glow of this cake is more of a golden orange hue, rather than a pumpkin orange. Read More
0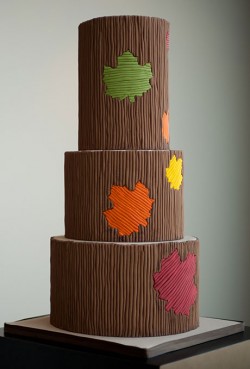 The leaves are falling from the trees in earnest around here and I have to admit I'd prefer if the leaves stayed on the trees for a bit longer. Because we all know that once the leaves have fallen the snow takes over.
But let's not get ahead of ourselves. Today we're talking about leaves. Bright colored fall leaves.
Just like the fondant leaves on this "tree trunk" wedding cake.
I just love the cool fall vibe of this cake. Read More
0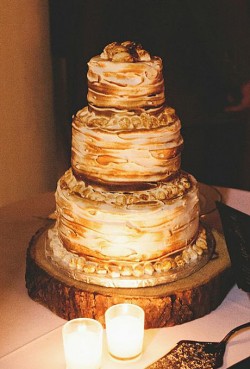 If there's one sweet treat that almost everyone loves it has to be s'mores.
The ooey, gooey marshmallow and melted chocolate sandwiched between graham crackers – well, it's heavenly.
So why wouldn't you want your wedding cake to be a s'mores wedding cake? I can't think of one reason.
This gorgeous wedding cake is that s'mores wedding cake we've all dreamed of and it looks delicious. Read More
0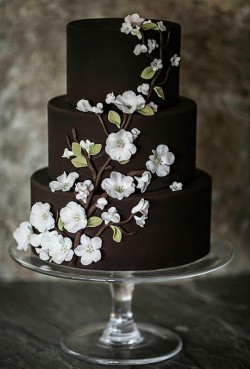 The first day of fall is about a week away so it's about time to start showcasing some gorgeous fall wedding cakes.
And while I'm not normally a fan of brown as a color, I do love brown wedding cakes. I think it's because they look so dramatic and they really lend themselves to the fall season.
This dark brown wedding cake with white flowers is stunning.
The three-tier cake features a dark espresso colored icing accented with delicate white flowers and it is beautiful. Read More
0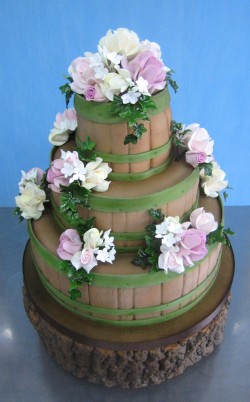 Now this is a fun wedding cake!
How often have you seen a wedding cake shaped like a barrel? Never, right?
Well now you can say that you've seen it all.
I absolutely love the charm and humor of this wedding cake from our friends at Hockleys Cakes over in the United Kingdom!
The story behind this cake is that the reception was held in a rustic, traditional English pub and the cake was created to reflect the venue. Now that's a pub I'd like to visit! Read More
0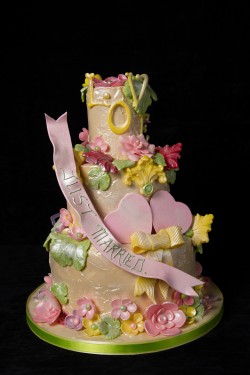 I'm always on the lookout for totally unique and somewhat out-of-this-world wedding cakes.
Why? Because sometimes that "traditional" wedding cake just won't do it.
Which is why I'm head over heels for today's cake. I present to you the "West End" cake from our friends at Hockleys Cakes over in the United Kingdom.
This stunning creation has so much going on, but it's not overwhelming in any way. In fact, it all just works. Read More
0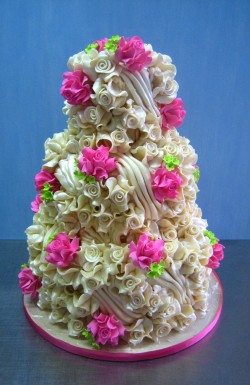 I love roses, which means this cake is quite possibly my favorite cake in a very long time.
This cake is another incredible creation by our friends at Hockleys Cakes in the United Kingdom and it's gorgeous!
Called the 'Aphrodite,' the cake is a vision of pink and white roses.
The three-tier cake is covered in 180 chocolate roses in addition to pink sugar roses. And it's all hand-crafted.
Not only is this cake a stunner, but…180 chocolate roses! That is a lot of chocolate. If you're a chocolate fan this is definitely the cake for you.
I love the subtly of the white chocolate roses and the bright color pop from the pink sugar roses. It  would be such a lovely cake at a spring or summer wedding, especially if you were incorporating roses into your floral theme.
Many thanks to our friends at Hockleys for sharing this creation with us.
Photo credit: Hockleys Cakes