Modern Wedding Cakes
The term "modern wedding cake" may mean different things to different people. Here at A Wedding Cake Blog, we take the term to mean anything with a contemporary feel; a cake that eschews the traditional white on white, piped and buttercreamed and trimmed with swags or roses. Modern may refer to a bold use of color, or a contemporary decor or shape. It may also refer to choosing something other than the grand, traditional tiered cake – a cake of macarons, for instance, or an assortment of individual cakes. Modern means that you are updating the tradition: perhaps you aren't entirely throwing it out. You're just giving it a breath of fresh air.
0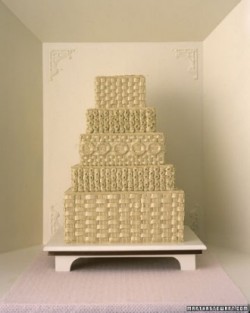 It sure feels like fall today so that got me thinking about all things fall, like trips to the apple orchard. And baskets full of apples.
Which brings me to today's wedding cake inspired by baskets.
I really like this five-tier cake for several reasons, including the fact that the icing color is rather non-traditional. It isn't often that you see a mocha-hued wedding cake. Read More
0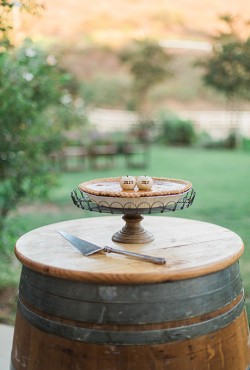 Let them eat…pumpkin pie!
OK, yes. There are still several weeks of summer left but I'm starting to spy fall decorations and pumpkin flavored treats all around. So I figured it was high time to start thinking about fall wedding cakes.
Or pies, like today's pumpkin pie.
Now this is a completely non-traditional "wedding cake" but I really love it! This would be perfect for a late fall wedding – or even a wedding during the Thanksgiving holiday weekend. Read More
0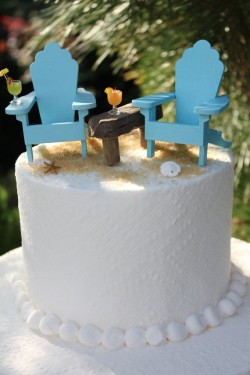 It seems almost official doesn't it?
Summer is just about over. Everything is back-to-school this and that…so it's time to fit in a few more beach-themed cakes and toppers before everything turns to pumpkins and fall.
Which brings me to today's cake topper. I am a huge fan of Adirondack chairs – they grace the deck of my favorite beach house.
And this "Jimmy Buffet" themed cake topper with chairs and miniature tropical drinks is exactly what every beach-themed wedding cake needs!
This cake topper is from Landscapes In Miniature which is a quirky shop on Etsy!
The two chairs with the mini drinks and sea shells would be perfect for your beach-y wedding cake. You can also choose to add two pairs of flip flops to the cake topper design.
You can find these and several other adorable and fun cake toppers on this Etsy page!
0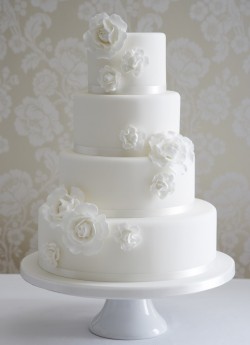 We've featured a lot of very bright and vibrant wedding cakes on this blog, but sometimes it's nice to get back to basics.
And today that means an all-white wedding cake creation.
This all-white cake would work in all seasons and with any color scheme making it versatile and very elegant.
I love the simple satin ribbon around each tier of the cake and the white flowers add to the overall elegance of the cake. Read More
0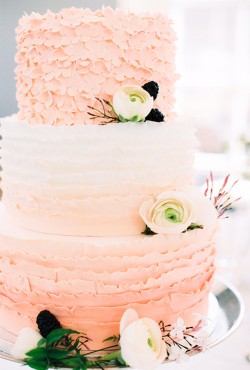 Sure the calendar says it is only the middle of August but we all know that fall is right around the corner. However, I'm still clinging to summer with all my might, which means we're still going to talk about summer wedding cakes.
Just like today's beautiful pink and white creation.
This gorgeous three-tiered cake features light pink and white icing with a ruffle design that really pops. Read More
0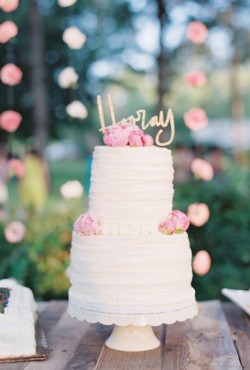 Gone are the days of the 'traditional' bride and groom cake topper. Now it's all about modern and "playful" decor for the top of your wedding cake.
I'm sure gonna miss those porcelain figurines atop a white wedding cake.
But seriously, all joking aside … I really do love seeing fun and whimsical cake topper on wedding cakes. Heck, I'm even a fan of just using fresh blooms to accent the top of your cake.
As long as the cake topper adds beauty to the cake I say go for it! Read More
0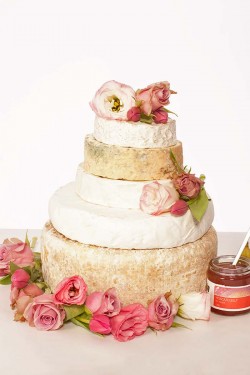 I love cheese.
I'm talking I could eat cheese at every meal if given the opportunity. Which is probably why I would love to be invited to a wedding reception where the cake was made entirely of cheese.
Just like today's wedding cheese cake.
This stunning cake was created using five wheels of cheese and it would be the perfect "cake" for a reception where there was also a dessert buffet. Read More
0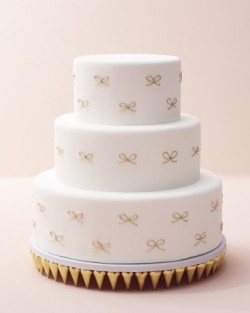 I like finding wedding cakes that are unique – something you aren't going to see at every other wedding.
Today's cake is that kind of cake. It's not every day that you see a wedding cake adorned with tiny gold bows, and that makes me love it even more.
This three-tier cake is perfect for an elegant reception with a small guest list. Read More
0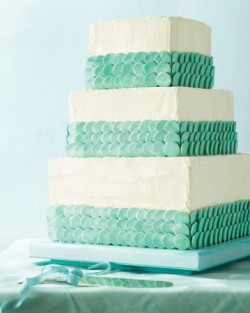 I love the beach. Specifically I love how the color of the ocean can change throughout a day from dark blue to greenish-blue and back again.
This wedding cake reminds me of my favorite ocean color – that sea green-blue when the water is clear and you can see to the bottom.
The three-tier cake features square cakes adorned with simple white icing and seafoam green Necco candy wafers. Read More
0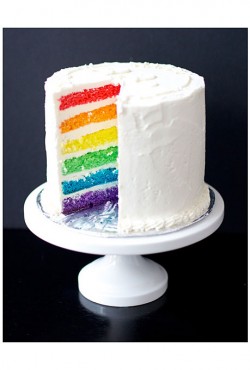 We've had a lot of rain around here lately. A lot. But one of the things I love about summertime rain showers is the possibility of a rainbow if the sun just happens to be peeking out during the deluge.
I'm also a big fan of rainbows in cake form – especially if we're talking wedding cakes.
Think about how fun a rainbow cake would be. Your guests see all these layers of cakes with simple white icing but when the cake is sliced…BAM! Rainbow! Read More