Modern Wedding Cakes
The term "modern wedding cake" may mean different things to different people. Here at A Wedding Cake Blog, we take the term to mean anything with a contemporary feel; a cake that eschews the traditional white on white, piped and buttercreamed and trimmed with swags or roses. Modern may refer to a bold use of color, or a contemporary decor or shape. It may also refer to choosing something other than the grand, traditional tiered cake – a cake of macarons, for instance, or an assortment of individual cakes. Modern means that you are updating the tradition: perhaps you aren't entirely throwing it out. You're just giving it a breath of fresh air.
0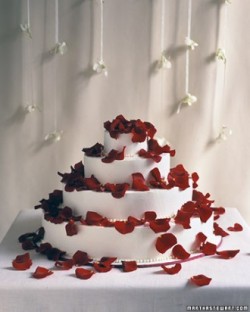 I've been writing a lot about the use of fresh flowers on wedding cakes and how much I love the trend.
Heck I even used fresh Black Magic Roses and greenery on my own wedding cake more than a decade ago.
Fresh flowers just never go out of style (in my humble opinion).
But, instead of using the whole flower, consider for a moment using just the petals from those fresh flowers – just like this cake. Read More
0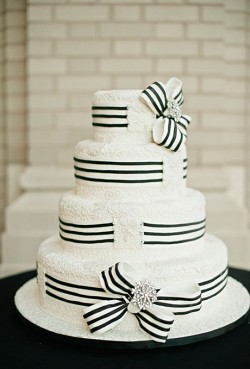 There's just something about a black and white wedding cake that (subtly) screams glamour and elegance.
I'm a fan of the traditional white wedding cake – even though I do love cakes with pops of color too – but when the only color added is black it takes the cake to a whole new level of awesome.
I love this wedding cake. The tiers are iced to resemble lace – perhaps just like the lace in your wedding dress. And then each tier is embellished with a gorgeous and modern black and white fondant ribbon. Read More
0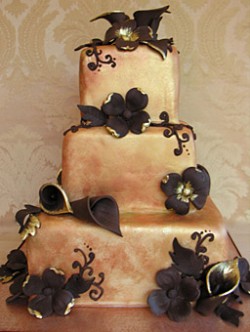 With Halloween only two days away I was searching for a wedding cake that would be the perfect centerpiece for an holiday wedding.
I think this orange and dark brown cake is the one.
After all, you can't go wrong with a cake that features the best Halloween colors, right?
I love that the orange glow of this cake is more of a golden orange hue, rather than a pumpkin orange. Read More
0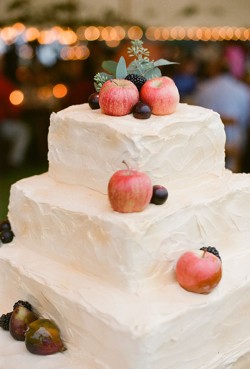 If there is one fruit that symbolizes fall it's the apple.
Living in the Midwest, no fall season is complete without a visit to the apple orchard where you buy a bushel of apples, some apple cider, and maybe an apple pie or two.
And so when I found this wedding cake that uses apples as a decoration I just had to share it!
This is the perfect fall cake with the apples, figs, dark berries, and succulents as the only decorations. Read More
0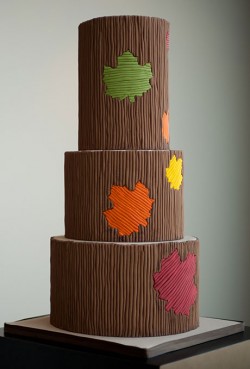 The leaves are falling from the trees in earnest around here and I have to admit I'd prefer if the leaves stayed on the trees for a bit longer. Because we all know that once the leaves have fallen the snow takes over.
But let's not get ahead of ourselves. Today we're talking about leaves. Bright colored fall leaves.
Just like the fondant leaves on this "tree trunk" wedding cake.
I just love the cool fall vibe of this cake. Read More
0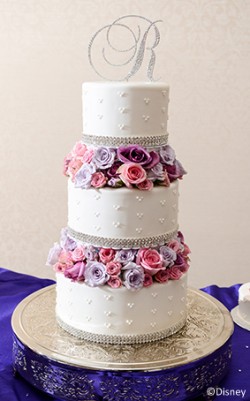 It's been a while since we featured a wedding cake from Disney's Fairytale Weddings and Honeymoons, so when I saw this cake I just had to share it!
My favorite aspect of this cake – the purple flowers. Sure there are also some pastel pink flowers in there but I am in love with the lilac roses!
I love wedding cakes with fresh flowers and when those flowers are roses I love it more. But when they're purple (and pink) roses? It's all over. I think this could be my new favorite wedding cake. Read More
0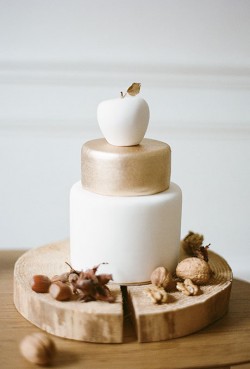 One of the best things about fall? Apples!
Picking apples, drinking apple cider, and of course wedding cakes with apples as the topper.
OK, so maybe that last one isn't so typical of fall but it should be.
Just look at this monochromatic white and gold cake – it is so perfect for fall. It is so elegant and yet simple at the same time. Read More
0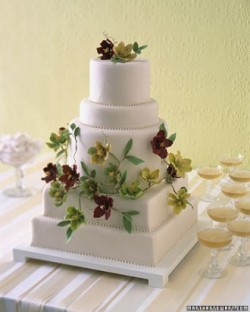 As much as I love seeing a wedding cake adorned with fresh flowers, there is something equally as gorgeous and elegant about sugar flowers.
Not only can sugar flower be beautiful but they're also edible – which is a win-win in my book.
This cake is both elegant and modern. I love that the bottom tiers are square while the top half of the cake features round tiers. It gives the cake just enough of an "edge" without being too over-the-top modern. Read More
0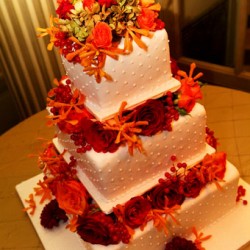 Just because there's a chill in the air doesn't mean you can't have a wedding cake that features beautiful fresh flowers.
As I think back to my own wedding cake (12 years ago!) the one element I loved most – other than the heart-shaped tiers – was the use of fresh black magic roses on the cake. Read More
0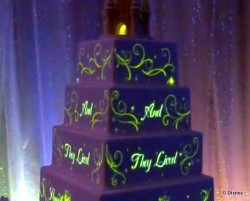 Normally I would be using this space today to showcase another fun wedding favor, but earlier this week I saw a story about the new technology being used by Disney Fairy Tale Weddings and I just had to share it with you!
Now, one doesn't usually think "technology" when talking about wedding cakes, but leave it to Disney to combine the two. Read More