Modern Wedding Cakes
The term "modern wedding cake" may mean different things to different people. Here at A Wedding Cake Blog, we take the term to mean anything with a contemporary feel; a cake that eschews the traditional white on white, piped and buttercreamed and trimmed with swags or roses. Modern may refer to a bold use of color, or a contemporary decor or shape. It may also refer to choosing something other than the grand, traditional tiered cake – a cake of macarons, for instance, or an assortment of individual cakes. Modern means that you are updating the tradition: perhaps you aren't entirely throwing it out. You're just giving it a breath of fresh air.
0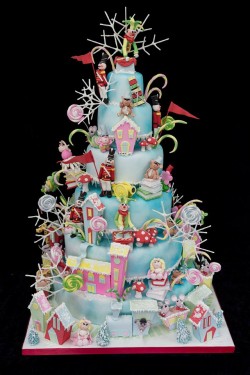 I recently saw someone post on Facebook that there are only 20 Fridays left until Christmas.
And while that seems a little bit crazy, I figured today was as good a day as any to feature this Winter Wonderland wedding cake.
Our good friends at Hockleys Cakes created this whimsical cake for a winter wedding. The cake reflects a "Toytown" theme.
The six tier cake features a blue sky background which enhances the colors of the toys, animals, and buildings that are on display. Read More
0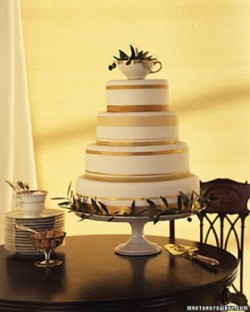 It used to be a tradition for a bride and groom to pick out a china pattern before they married.
Then, guests would purchase items from the china pattern and gift them to the new couple. I was one of those brides who registered for a china pattern. I've used it exactly once in the past 12 years.
But just because choosing a china pattern has fallen out of favor with some modern brides doesn't mean your cake can't be inspired by a china pattern. Read More
0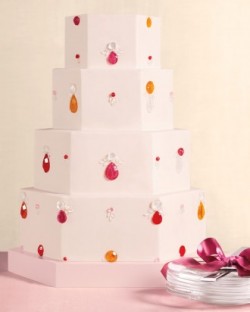 We all know that the bride's diamond ring is the one jewel that everyone will be staring at on the big day.
But what if your wedding cake was decked out in jewels too? That would definitely make it the center of attention for a while.
I love the idea of adding jewels to a wedding cake.
But what I love more is the idea of adding edible jewels to the wedding cake! Read More
0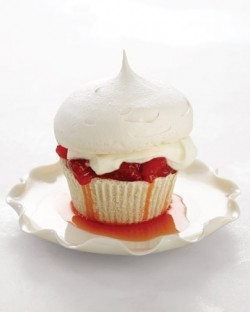 One of my favorite summer desserts is strawberry shortcake.
But I really just like the strawberries and whipped cream components of the dessert.
So when I saw this strawberry meringue cupcake I just knew I had to share it with you!
Your guests might think they're getting a strawberry cupcake, but they're in for a surprise. Read More
0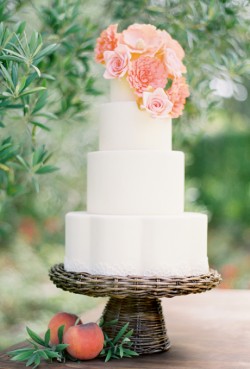 Sometimes all you need for a gorgeous wedding cake is a simple white cake topped with pretty flowers.
Like this cake.
It's so simple and so pretty and I would love to see this at a summer wedding.
I love wedding cakes with fresh flowers – it's such an easy and elegant way to add something special to your cake.
And you can personalize it by incorporating the flowers from your bouquet or what your bridesmaids are carrying. Read More
1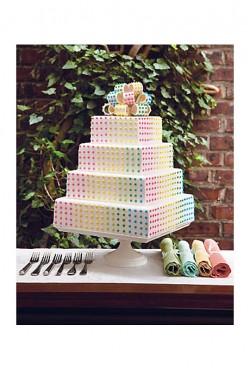 Do you remember those candy dots you used to eat as a kid?
You know, the ones that were stuck to strips of paper so you inevitably ended up eating paper AND candy?
How cool would those be on a wedding cake (minus the paper, of course)? Pretty cool if you ask me.
So imagine how happy I was to find this very modern take on the candy dot wedding cake.
It's bright and colorful and cheerful. And it will take your guests back to their childhood (assuming they're old enough to remember candy dots). Read More
0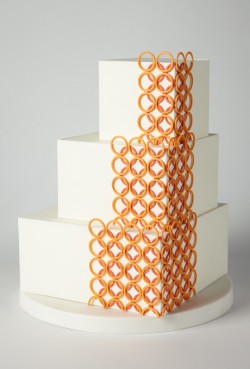 I'm a big fan of traditional wedding cakes – white frosting, flowers, cake topper.
But I'm also becoming a fan of the more non-traditional cakes we've been featuring here.
And every now and then I find an ultra modern wedding cake that knocks my socks off.
This is one of those cakes.
From the straight lines of the square tiers to the 3D illusion of the sugar paste rings, this cake has it going on! Read More
0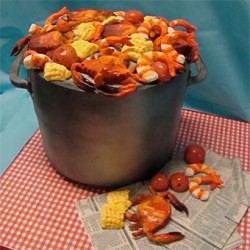 It's been a while since we featured a groom's cake, so I thought today was a good day to talk about them.
And I found a doozy of a groom's cake in my search for something unique and a little different.
I'm talking about this clambake-inspired cake. It is truly one of a kind.
And it's also perfect for your destination or beach-theme wedding.
Let's take a moment to really look at this cake. All of the items – the shrimp, crabs, vegetables – they're all made from sugar paste and white chocolate. Which means they're edible(and apparently the newspaper is also edible). I'm guessing the "bucket" is all cake too, and yes, that's silver-y frosting!
If you want a showstopper kind of cake – and one that your guests will remember for a very long time – this clambake groom's cake is perfect.
You can find this cake here.
The cake was designed by Debbie Does Cakes.
0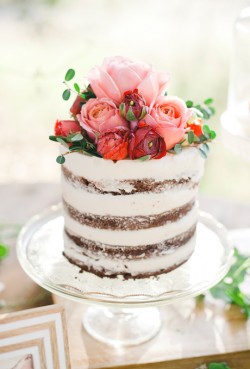 I have to admit, I find the unfrosted – or "naked" – wedding cakes a bit jarring.
I think that's because I want my cake to be overloaded with frosting. I'm the "corner of the cake" kind of girl because that's where the highest concentration of frosting hides.
So when I see a wedding cake sans frosting, it makes me wonder "why?"
However, I am always one to give cakes the benefit of the doubt (unless there's carrot cake involved) so let's go forth and explore the wonder that is the naked wedding cake. Read More
0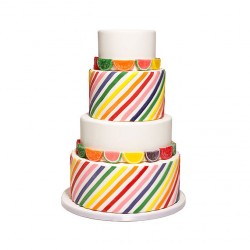 When thinking about a fun and festive wedding cake for your summer wedding, I say why limit yourself to just one or two colors?
Why not go for the entire rainbow?
Take this super fun cake for example – the four-tier cake would be real showstopper at your wedding. No one expects a wedding cake with rainbow stripes and fruit slice candy. Read More