Modern Wedding Cakes
The term "modern wedding cake" may mean different things to different people. Here at A Wedding Cake Blog, we take the term to mean anything with a contemporary feel; a cake that eschews the traditional white on white, piped and buttercreamed and trimmed with swags or roses. Modern may refer to a bold use of color, or a contemporary decor or shape. It may also refer to choosing something other than the grand, traditional tiered cake – a cake of macarons, for instance, or an assortment of individual cakes. Modern means that you are updating the tradition: perhaps you aren't entirely throwing it out. You're just giving it a breath of fresh air.
1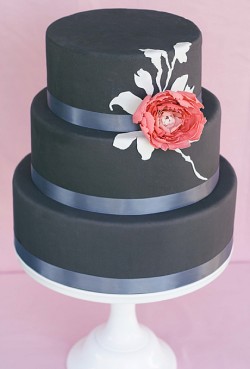 There's always drama during a wedding – whether it's the caterer, the limo, or something else entirely, drama of some sort is a guarantee on your big day.
Heck, they even make reality shows about it.
But what if the drama came in the form of something sweet and gorgeous – like this wedding cake with black fondant.
Look at this beauty! How often have you seen a black wedding cake? Sure we've featured black and white cakes here in the past, but nothing like this stunner. Read More
0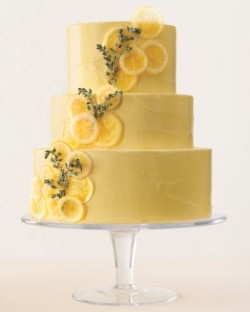 One of my all-time favorite summer flavors is lemon.
Whether it's lemonade or lemon meringue pie, you can't go wrong with lemon in summer.
Plus, their bright yellow color make everything more cheerful.
Perhaps this is why I'm loving this bright yellow lemon and thyme wedding cake.
The cake is a lemon-thyme base and in between the tiers are alternate layers of lemon curd and vanilla buttercream – two flavors that pair deliciously. Read More
0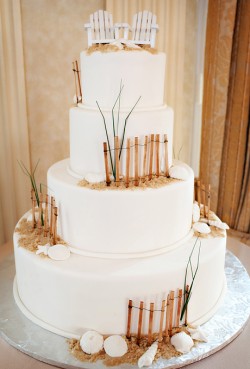 Now that we are officially celebrating all things summer, our thoughts turn to beaches and summer weddings.
Which brings me to today's beach-y wedding cake, complete with adorable mini Adirondak chairs as the cake topper.
I love the stark simplicity of the white fondant icing – it really creates a perfect palette to create lovely cake-scapes.
But what makes this cake perfect for your summer beach wedding are the incredible decorations. Read More
0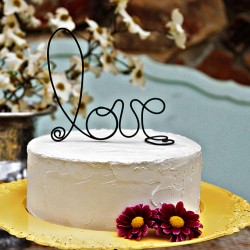 We don't often think about a simple one-tier wedding cake, but it's a trend that some brides are going with.
After all, if you're having a small reception there's no need for a huge multi-tier cake.
And if you're going to keep things simple, it's always a good idea to make it simply beautiful. Read More
0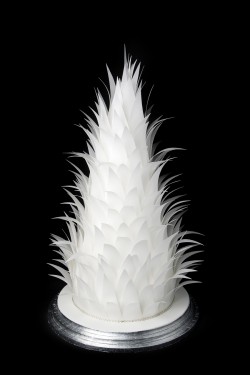 Sometimes you find a wedding cake that is so stunning you can only muster a "wow!"
This is that wedding cake.
The cake creators at Hockleys Cakes in the United Kingdom have once again wowed me with another beautiful and unconventional creation.
This cake, Mount Everest, is a six-tier cake that is covered with shards of edible wafer paper. Read More
0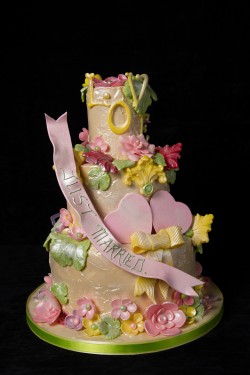 I'm always on the lookout for totally unique and somewhat out-of-this-world wedding cakes.
Why? Because sometimes that "traditional" wedding cake just won't do it.
Which is why I'm head over heels for today's cake. I present to you the "West End" cake from our friends at Hockleys Cakes over in the United Kingdom.
This stunning creation has so much going on, but it's not overwhelming in any way. In fact, it all just works. Read More
0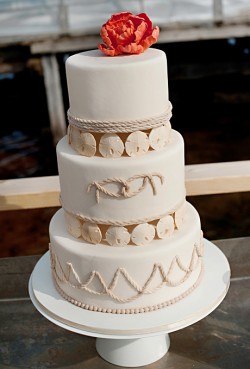 As we inch closer and closer to summer vacation I find myself dreaming of the beach.
I want to walk in the sand and listen to the waves crash…
But first I want to share this very modern and fun beach-themed wedding cake with you!
I absolutely love this cake and it's because of the sand dollars. I used to search for sand dollars on the beach as a kid and they've always been my favorite beach "treasure." Read More
0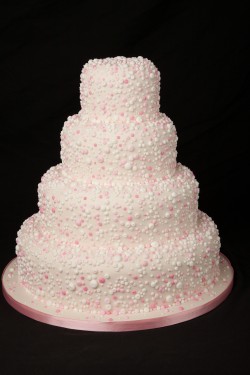 I'm quickly becoming a fan of pink wedding cakes, and this cake covered with tiny pink dots is one of my new favorites.
This four-tier cake is so pretty and delicate, but also fun and whimsical with all those tiny dots in varying shades.
Our friends at Hockleys Cakes in the United Kingdom created this lovely cake (called the "Carnaby") and it took them eight hours (yes, 8 hours!) to hand pipe the dots onto the icing. Read More
0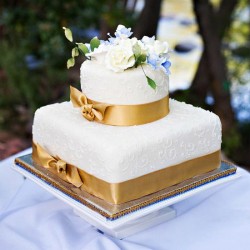 I've been showcasing quite a few showstopping (and rather large) wedding cakes lately, so today I wanted to go smaller.
Much smaller. Like a two-tier wedding cake for a small wedding.
I love this cake wrapped with gold ribbon. It's so pretty and elegant and if you're planning a small wedding, you still need to have a gorgeous cake. Read More
0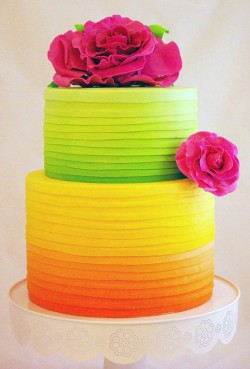 Since we are just days away from the "official" start of the summer season (Memorial Day!), I wanted to find a cake that featured bright and vibrant colors that remind me of summer.
I think this cake fits the bill.
Behold the neon wedding cake!
Can you imagine seeing this very bright and very cheery cake at a summer wedding? Can you imagine having a cake like this at your own summer wedding? Read More