Themed Wedding Cakes
A themed wedding cake may be just what you're looking for to set your cake and reception apart. While a themed cake would be a natural fit for a wedding that also invokes a theme – say an "Alice in Wonderland" wedding, or a renaissance wedding – a bride and groom may also choose a theme for their cake based upon the a favorite amusement park ride or a preferred hobby, a favorite location, or a season or holiday. For the couple enjoys the daring fun of an amusement park ride, we've seen cakes that immortalize attractions like Disney's Splash Mountain – fun! Likewise, the bicycling-enthusiast couple might prefer a cake that shows a mountain bike ride. Less specific would be the couple who incorporate images and items from the ocean into a beach cake, which might include gum paste shells and star fish, sand-like or pearly finish, and maybe a sand castle topper. Finally, if your wedding takes place near a beloved holiday or season, like the Fourth of July, or autumn, or Christmas time, consider incorporating themes that echo those holidays or times of the year. A July wedding cake might be decorated with stars and sparklers, while autumn might show off colorful marzipan leaves and chocolate twigs and acorns. Christmas might inspire the use of traditional garnets and greens, or cool and snowy blues and silvers. If there is a theme that you love, consider celebrating it with your wedding cake. It will make your day even more memorable, for both you and your guests.
0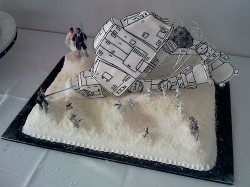 Well it took 11 months…but I am now proud to feature AWCB's first Star Wars wedding cake. At least my first Star Wars wedding cake. Brooke may have featured one but I don't think so.
Well…I'd love to tell you all about what exactly is going on here but sadly…I cannot. All I can tell you is that it appears to be snowy and Princess Leia and what I am assuming is Hans Solo (or this could be Natalie Portman and Hayden Christensen) are hanging out with a very large robot thingy. This Read More
0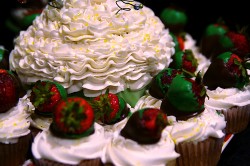 Yum.
Check. it. out. An extra large cupcake is ALWAYS okay with Christen. That's for sure. Pile it high with delicious buttercream icing. Yes please. Oh, what's that you say? You want to surround it with normal sized cupcakes and top them with chocolate covered strawberries?
Thump. That was me hitting the floor Read More
4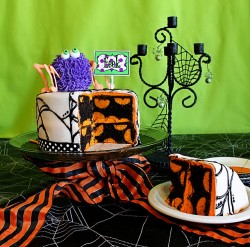 Halloween is my second favorite holiday of the year.  It's a close second to Christmas…but that's not really a fair comparison though.  I mean Christmas lasts from November 1st to January 1st…basically.  Halloween gets a good solid week of celebration but it's such a FUN celebration.  One day (or two or three if you happen to be extremely popular and get invited to multiple parties) a year you get to abandon yourself and pretend to be someone (or something) else for just a little while.  Did you know that Halloween weddings are actually more popular than Christmas weddings?  It's true.  I looked it up in this big book I have in my living room Read More
0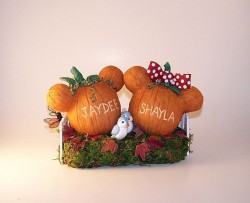 I'm writing to you from the wild, wonderful mountains of West Virginia.  We're up for our annual fall visit, to see the leaves, to eat favorite foods, to hug the necks of people we love.  Sadly, a wild, wonderful wind came through the night we got here after an ungodly long drive.  So the pretty leaves are all on the ground.
But we will try and soak up some fall, and delight in our surroundings.  It really is nice to wear a sweater and not get hot.
I keep noticing wedding cakes everywhere I go!  There's an adorable little coffee shop in Bridgeport that I'm dying to go over and Read More
2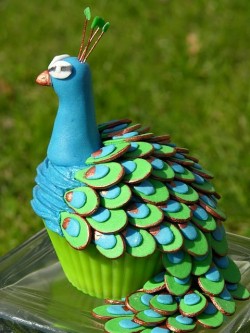 This is one of the the fanciest cupcake that I have ever laid my eyes upon.  I can't even imagine the work that went into this.  The amount of time it would take to make a slew of these for a wedding might be a little bit insane…however, I could totally see it as a big cupcake for the top of a cupcake tower…can't you?  Or maybe even a few of these peacock cupcakes amongst a bunch of teal cupcakes, like the one that makes up the body.
Either way I found this cupcake on Pinterest and I knew it must be blogged about.  The Read More
0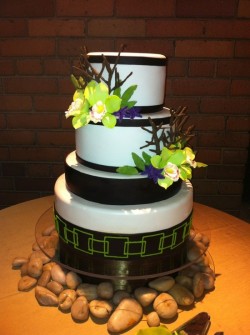 I super need some Zen today.
I am running a half marathon tonight – my first ever race, and I pick a half marathon – and I'm a little nervous about it.  My poor family.  I've been a little on the crabby side this week.
But then I remembered that I had this lovely, Zen-inspired cake tucked away in my "favorites" file for just the right time…and lo and behold, here it is.  Just the right time.
Just looking at this cake calms me the heck down. 
Isn't it elegant?  Four tiers, trimmed in black, Read More
0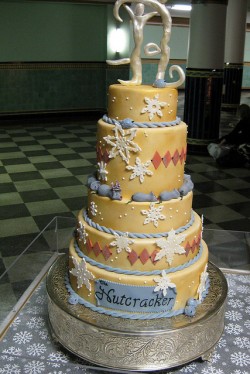 Okay, here are two things that I am painfully aware of.
1. It is not in any way shape or form winter.
2. I know that this cake is not exactly a wedding cake..but a Nutcracker-themed cake made in celebration of a production of The Nutcracker.
Yet, here I sit, ready to get my Nutcracker on in the middle of September.  Oh well.  Because I adore this-six tiered creation that pays homage to all things Snowflake, Gum Drop, Sugar Plum and oh yes, I believe those are little tiny purple mice.  True story, I was in The Nutcracker in the fourth Read More
0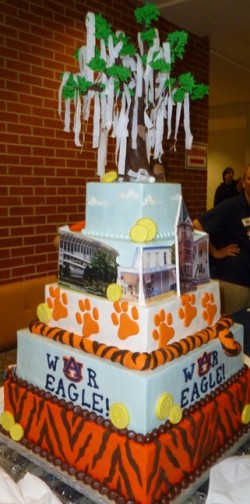 I am so torn about posting this because I have a shameful secret. I love Auburn.
I know, I know, this is SUCH a crisis because I also live and breath the South Carolina Gamecocks. Like a good South Carolina girl growing up I loved my Gamecocks. I even spent a year after college running the store inside the football stadium. Steve Spurrier knew who I was. Okay, let's Read More
0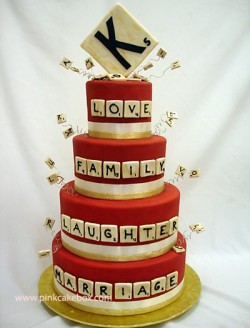 We've featured a Scrabble themed cake here before.  However, that cake was a literal representation of the game…representing the board and all.  This one is a little more subjective.  If you've been pinning away on Pinterest you have probably seen a high variety of Scrabble-themed stuff.  And stuff was literally the only word that could encompass the Scrabble-mania that has rocked the pinning world.  Scrabble art, Scrabble cookies, Scrabble blankets…it's amazing what you can do with those tiny letters.  I mean honestly…someone HAS to do something Read More
1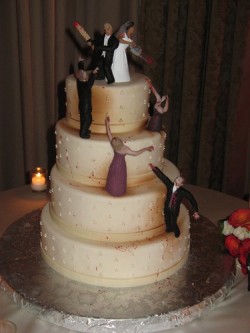 Yup.  What better way than to celebrate your day that have life-like replicas made of you and your groom armed with chainsaws and warding off zombies who happen to look exactly like your wedding party?
I can't think of any.  Truthfully when I found this cake on the interwebs I was a little, well, disturbed.  Then, after some research, I found out why exactly this sweet looking bride and groom would have such a cake.  The bride was proposed to while helping friends shoot this short movie for YouTube.  Be warned, it's not exactly the happiest video I've ever seen.  Well, the sweet proposal is happy, but the blood-sucking and tongue-ripping zombies aren't exactly my cup of tea.  If you do watch it please tell me that you agree that it is just pure luck that there is a guy dressed as a tree and he conveniently Read More