Wedding Cake Toppers
For many wedding cakes it is the topper that makes the cake. Since the topper generally represents the bride and groom themselves in some way they can be the most important part of the cake. These cakes have unusual, beautiful or simply novel toppers that are worth checking out.
0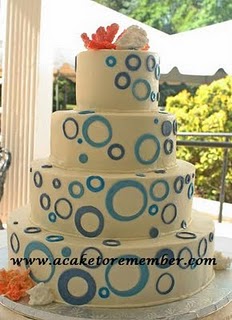 What a pretty week it has been!  While my BPIP (Blog Partner In Pretty), Christen, has been out and about, scouring the best and most delicious treats for the boys out there (HELLO – ice cream groom's cake! Brill!) I've been taking note of all the busy bakers that I have the pleasure to hobnob with.  And yesterday evening, I had a real treat, as I got a peak at the Waldorf Astoria Orlando's wedding salon.  Can you say opulence-to-die-for?  I'm hoping to have LOTS of pretty pictures and details to share with you about that experience soon!  But in the meantime, Read More
0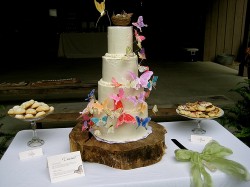 I'll admit I am totally into DIY house projects. I am always painting, sanding, or replacing something. It's something I totally enjoy and my husband tolerates. But nothing makes me want to throw things at him more than when we are working on tough project together.
Never…would I ever…be able to bake and construct Read More
0

Happy May!
Birds are in right now.  Much to my dismay.  Those little buggers terrify the crap out of me.  The real ones, anyway…not the pretty ones that live on my gorgeous duvet cover.
I stumbled upon these handmade bird cake toppers and Read More
0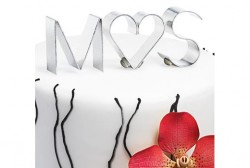 Carving your love's initials in a tree..that's a right of passage yes? Admit it, you doodled the initials of  your first crush plus your initials all over your diary. Or was that just me?
Perhaps that's why this particular cake topper jumped out at me. What better way to celebrate the first day of your marriage by paying tribute with a throw back to the golden days of your youth? This adorable topper is handmade and available from TheKnot.com.  The letters measure Read More
0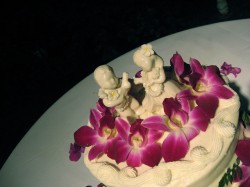 Alhoa and Happy Friday..or Mele kalikmaka. Wait, that means Merry Christmas. Nevermind.
Anyway, these adorable hula inspired cake toppers made my day. The white porcelain toppers include a hula girl shaking her hips complete with a Hawaiian Hibisucs in her hair. There is a whole tradition about Read More
0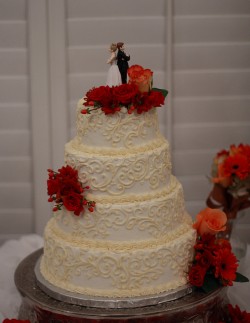 Beautiful white on white – one of my favorite decorating techniques – and pops of autumnal color.  And on top of it all stands a traditional-looking bride and groom – standing cross-armed, not speaking.
Methinks this does not bode well for the marriage.
What did they disagree about?  Did she want a ski honeymoon, and he wanted to snorkel off of Baja?  Did he want his gal pal as best man?  Did she insist on writing their vows, and he didn't want to mess with it?  Or was it something even more important – she wanted vanilla and he wanted chocolate…
Well, we'll probably never know.  But we hope that they worked it out with the same tongue in cheek sense of humor that led them to cast this cute cake topper in a starring role.
And let's say it all together:  Weddings last for a day.  Marriages (are supposed to) last for a lifetime.
1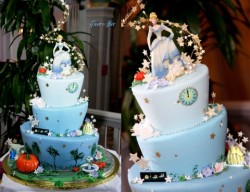 It's not secret. I love all things Disney. Sure this love has grown from countless trips to Disney World but it stems from one place.
Cinderella.
I remember the first time I saw the Disney version of Cinderella. It was the Christmas I was eight years old and it had just come out on VHS. I opened up the package and I was in love with the dark blue packaging and the princess in the sparkly dress on the cover. From that day on no other princess ever did it for me like Cinderella did.
When I went to prom..I wanted to look like Cinderella (only my dress was metallic purple..Oh the 90's!) and when I got married there was Read More
0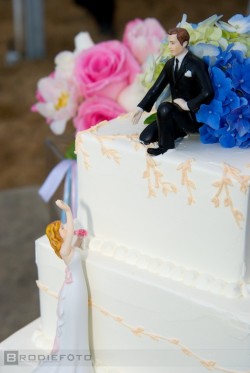 I have to admit..I have dislikes. You might not know that since I generally post about how amazing, gorgeous and yummy looking everything is.
Dislikes..I have them. I generally just don't blog about them until right now.
I tell you what I really don't love..those wedding cake toppers where the bride is Read More
0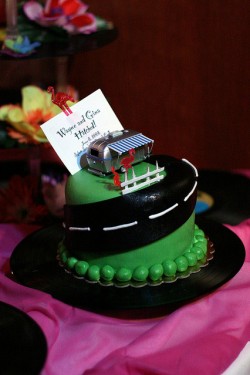 In one of my favorite theme weddings ever, this cake — and the whole wedding, actually — paid homage to all things fun and quirky. The bride wore a deep pink dress; the desserts included multicolored cupcakes sporting plastic butterflies, pinwheels, and kazoos; and the whole thing was done up in neon!
This cake, proclaiming that the couple is getting hitched, takes the pun a step further with a tiny Airstream trailer surrounded by — what else? Pink flamingos!
This is for the brides who don't take themselves too seriously 😉
1
Hey beach-theme brides! It's so cold out today that I wanted to feature a few seaside cake toppers that anticipate Spring and Summer! Which one is your favorite?
Beach Couple Wedding Cake Topper