Wedding Cake Toppers
For many wedding cakes it is the topper that makes the cake. Since the topper generally represents the bride and groom themselves in some way they can be the most important part of the cake. These cakes have unusual, beautiful or simply novel toppers that are worth checking out.
2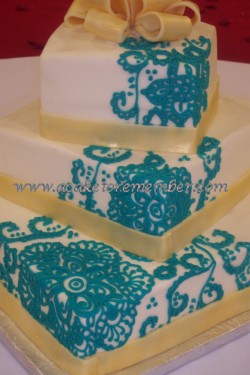 Welcome to A Wedding Cake Blog's first Sunday Round-Up ever!
Here, we plan to give you some interesting tidbits to snack on, as we review fun things that have happened in the world of wedding cakes this week.
If you know an awesome wedding blogger or bakery that you'd LOVE to see us feature on aWCB, please send us a comment!  We are ALL about making friends and learning what's new Read More
2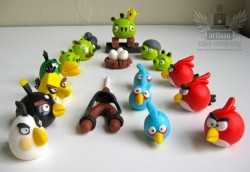 Over Christmas I became an iNerd. And my newest obsession? The Angry Birds. I have become one of those people who is constantly whipping out her iPhone to play this game. Ironically, real life birds are numero uno on the "List of Ridiculous Things Christen is Scared of". Number two, you ask? Hot Dogs.
Anyway…you better believe with my new iNerdom I flipped out when I saw Edible Angry Bird Cake Toppers. Oh yeah, I went there. You can buy the Read More
0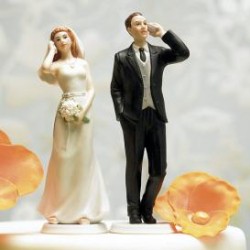 Let's face it — everyone's had that one dinner out where you're both caught up in an important call and paying little to no attention to each other! Especially if you're high-powered executives, socialites, or just friends with everyone, it's tough to put down the phone these days 😉
This "gift of gab" cake topper is perfect for the communicative and connected couple!
0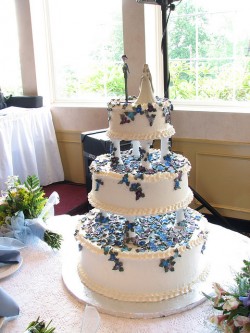 If there is one thing I love it's a cake with a story. While I don't know the bride and groom that this cake belonged to I feel that we are a kindred spirit. Why? Check out the subtle salute to Tim Burton's Corpse Bride as the toppers. Wedding?…check! Johnny Depp (ok, just his voice..but still)…check!
At first glance this looks like a lovely round three tired cake sprinkled with black and blue flowers. I'm not a overly flower girl and I think these flowers are just a perfect combination of cool with the dark colors and not too overwhelming with the random scatterings around the cake. Add the cake toppers and it adds a little bit of whimsy fun!
0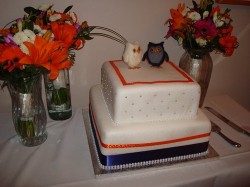 The more weddings and baby showers I go to lately (and that's a lot) the more I noticed Owls are hot year.  So appropriately I swooned over this adorable cake with an owl topper.
This yummy two tiered square cake gets a little pizazz by adding Read More
2
We're huge Disney fans here at A Wedding Cake Blog, so you'll be seeing a bit of Disney from time to time! I thought we'd start with some of my favorite toppers…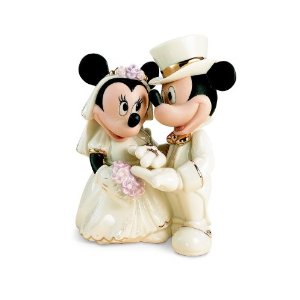 A stunning topper featuring everyone's favorite mice, the "Minnie's Dream Wedding" Cake Topper by Lenox is a fun way to bring a little Disney to the wedding! Colors won't be a problem in this one — straight white and gold will go with anything.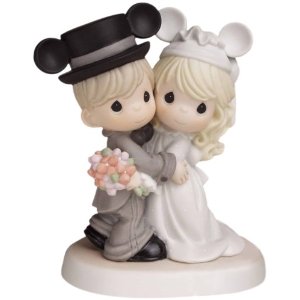 I love this Precious Moments Happily Ever After Figurine — while it appears at first glance to be simply a bride and groom figurine, the Mickey ear hats give away that whimsy of the Disney theme parks! So much fun for a couple who calls Disney their second home…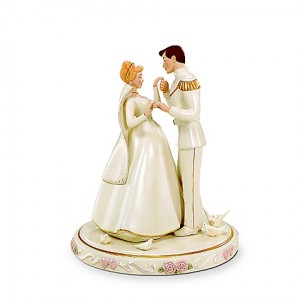 Perfect for any princess, the "Cinderella's Wedding Day" Cake Topper brings a sense of true romance to any celebration. Featuring Disney's quintessential princess, Cinderella, and her handsome Prince Charming — gazes locked together — it's the ideal harbinger of a life to be lived "happily ever after."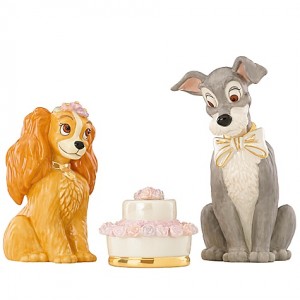 This has to be one of my favorite Disney cake toppers of all time. In the "Lady's Dream Wedding" Figurine by Lenox, beloved Disney characters Lady and the Tramp sit shyly eyeing each other — and their wedding cake between them! Don't forget to serve spaghetti at the reception! 😉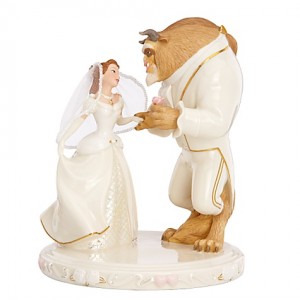 Love is in the air as Belle and the Beast discover their true feelings for one another in this "Wedding Dreams" Beauty and the Beast Cake Topper. The movement captured in this topper is what I think sets it apart — it looks like suspended animation, doesn't it? Perfect for any Belle fan.
0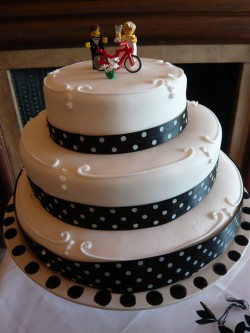 This 1920's inspired cake is simply ravishing. There are so many things to talk about here!
I really like the clean lines and whimsical feeling of this cake. A simple piping job creates a very classy design for the eye, and another bicycle cake topper — including a really fun Marilyn-Monroe-esque Lego bride and plastic Read More
0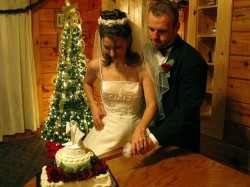 Happy Christmas from A Wedding Cake Blog!
We wanted to celebrate with you by sharing this gorgeous photo of a December wedding. I love the lit tree in the background and the simple, red Read More
0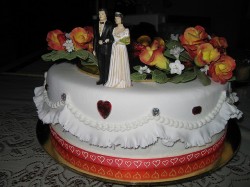 This is actually a 40th anniversary cake, not an official wedding cake, but the vintage topper speaks volumes Read More
3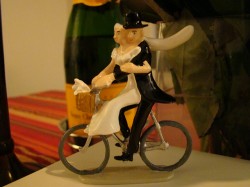 This vintage-looking cake topper just took my breath away. It's so simple, so unique, and so whimsical. The looks on their faces, the way she's reaching around to hold his arm — sharing the handlebars with him, her veil flying Read More