Groom's Cake
Once a rarity at weddings, groom's cakes have gained such popularity that now, it's rare to go to a wedding that doesn't feature this alternative to the main wedding cake. The tradition of groom's cakes in the United States has its roots in the South. Normally, a groom's cake is a gift from bride to groom, and acts as a foil to the often feminine, traditional wedding cake. Normally, groom's cakes do not feature anything flowery or feminine, and often take the shape of something with significance to the groom – a mascot for a favorite sports team, a college logo, a favorite hobby or beverage. Likewise, the flavors of the groom's cake will typically contrast with the wedding cake, and will often be something "dark," such as chocolate or a liquor-soaked cake of some sort. Another popular option for a groom's cake is a cheesecake, which typically does not lend itself well to being stacked in multiple tiers (although it can – and is – done.) Groom's cakes are usually served on a separate table from the wedding cake, and may sometimes even be served at the rehearsal dinner the night before. Want to represent your groom in some meaningful and whimsical way to your wedding guests? A groom's cake may be just the thing.
0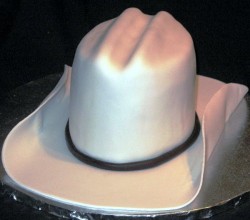 "When my ten-gallon hat is feelin' five gallons flat…"  Am I the only one who thinks of PSAs from childhood when I see huge Stetsons?
Isn't this cute?  Well, I suppose the cowboy who inspired it wouldn't appreciate me calling it that, but it is.  I'm assuming our groom – and maybe even our bride – does a fair amount of riding on the range, and needs something to Read More
0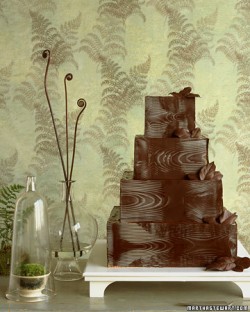 It's time for another installment in "Brooke Fancies Up Your Groom's Cake."
French for "fake wood" (so really, the French sounds ever so much better and we should probably stick with it), the term faux bois refers to a decorating motif.  Here it's made by pressing a wood graining tool into the shiny ganache glaze that coats the cake layers.  Since the tool is applied directly Read More
0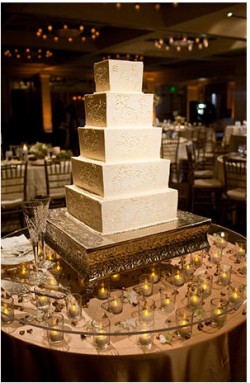 Hey There, Ho There, and Happy Solstice!  What did you do during the longest day of the year this week?  Anything special?  Nah, me neither.  But it's nice to know that, after I've been talking about it seemingly for weeks, summer is finally underway!
This week, I make my way up the East Coast, stopping in to a couple of beaches along the way, as I head to a wedding in Maryland next Saturday.  My, but we are hoping there's a crab cake at the reception somewhere.
But between packing and other prep, I've been looking at what's going on this week in the World of Read More
0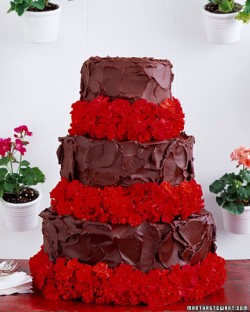 Ya know, when I started cleverly calling my groom's cake posts – normally on Saturdays –  "For the Guys," I was only half serious.  Sure, sometimes you have a groom that really wants a groom's cake that represents, and that's when you'll find a Star Wars or X Box, or sports team-themed cake.  Sometimes, you'll have a groom's cake that just represents a shared interest of the bride and groom.  And sometimes, the groom gets no say, or actually likes elegance (it happens!) – and that's when you end up with a cake like this.
Rustic Read More
0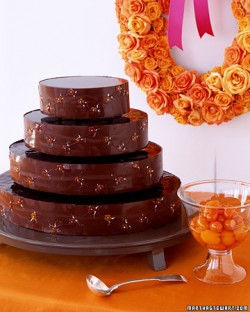 Boys, I'm goin' all fancy on ya today.
Oh, sure, I love themed groom's cakes just as much as the rest of you do. But sometimes, the inner pâtissier in me calls out for something with just a little more refinement, like this incredible Chocolate Kumquat Cake.
Featured on the pages of Martha Stewart Weddings, I don't figure this would be the grandest wish of your run-o'-the-mill groom.  But if you're looking for a winter-time showstopper with some panache, THIS is your cake.  Kumquats, which look like adorably Read More
0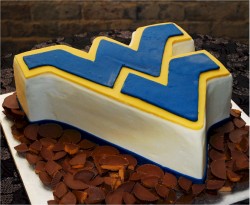 So…this one is a wee bit…self-serving.
Well, less self-serving than "Hey, y'all, I may live in fab-o Florida now, but I am a proud Mountaineer by birth, and once a West Virginian, always a West Virginian."
Ahem…too much info?
You see, we're kind of a little state, often Read More
0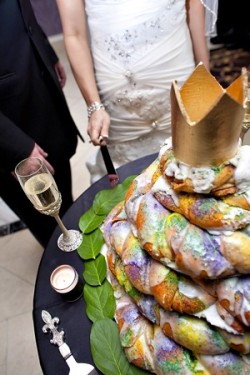 Ah, Mardi Gras.
I happen to live in a place where Mardi Gras lasts a lot longer than it should.  No, I don't live in New Orleans, or even Rio.  I live in Orlando, and thanks to Universal Studios Theme Park, I hear about Mardi Gras looooonnnnngggg into the Lenten Season.  But I digress.
I happen to love the tradition of the King Cake.  Do you know about this?  A king cake is a brioche-style cake, which may or may not have a filling, that's traditionally baked in a ring, and decorated with a glaze and the colors of Mardi Gras:  yellow, purple, and green.  Another fun part of the tradition?  There is usually Read More
4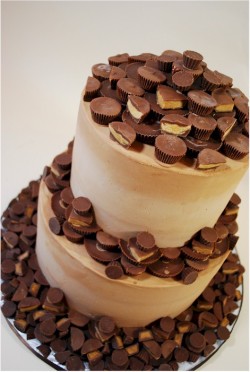 Peanut butter and chocolate…is there a more heavenly combination? But seriously I am full-fledged Reese's addict, and this cake is a dream come true!
I came across this blessed jewel on Pinterest but it originated from the lovely Cup A Dee Cakes. They classified it as a groom's cake but I happen to think that it would be a great non-traditional (and yet still traditional) wedding cake.
And if you didn't swoon over the copious amounts of Reese's cups on the cake get ready for the deliciousness inside! It is a dark chocolate cake covered in peanut butter buttercream frosting. I'm in heaven ya'll!
Now if you will excuse me I am off to satisfy my Reese's craving while you all contemplate the amazingness of this cake!
Source: Pinterest
0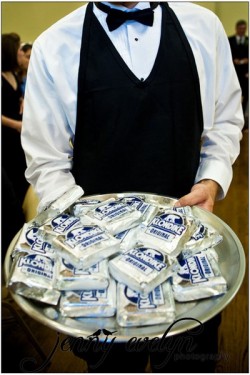 Hahahaha! YES.
Remember all the hullabaloo last year when Wills – sorry, the Duke of Cambridge – wanted his nursery tea favorite as his groom's cake?  Suddenly, there was a huge clamoring for McVitie's Biscuit Cake recipes.  (I have yet to make mine.  But I'm soooo gonna.  Someday.)  Well, in the spirit of "groom's favorite treat as groom's cake" – I give you…
A PLATTER FULL OF KLONDIKE BARS!
No seriously.  I love this.  I mean, it's brilliant in its simplicity (and you know I love simple brilliance) and I bet it perfectly captured the groom's tastes and personality.
Now, I know several bakers that TOTALLY could've made a giant Klondike-Bar-Groom's-Cake-looking-cake, and it would have been stunning.  But hey…if your guy just wants Klondike Bars, then give him Klondike Bars, you know?  Start the marriage off right 😉
This adorable photo was captured by Jenny Evelyn Photo.
3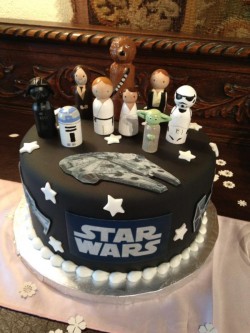 Oh. My. Star. Wars.  This cake by Anna Cakes of Winter Springs, FL is all kinds of amazing!
I grew up in a house filled with Star Wars.  My little brother was in elementary school when they released Episode I The Phantom Menace, and it played non-stop in our house for years. I swear I can probably still recite it to you. There may have also been a few epic light saber battles that went down in our kitchen (much to my mother's dismay).
So when I saw this cake I was Read More