Modern Wedding Cakes
The term "modern wedding cake" may mean different things to different people. Here at A Wedding Cake Blog, we take the term to mean anything with a contemporary feel; a cake that eschews the traditional white on white, piped and buttercreamed and trimmed with swags or roses. Modern may refer to a bold use of color, or a contemporary decor or shape. It may also refer to choosing something other than the grand, traditional tiered cake – a cake of macarons, for instance, or an assortment of individual cakes. Modern means that you are updating the tradition: perhaps you aren't entirely throwing it out. You're just giving it a breath of fresh air.
0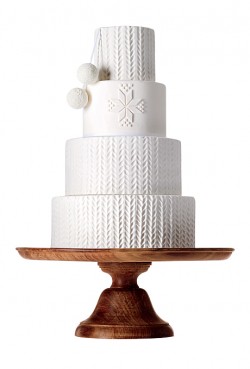 Baby it's cold outside!
So why not pick a cake for your winter wedding that reminds your guests of a warm – and very stylish – sweater?
OK, that doesn't sound very intriguing does it? But just look at this beautiful all-white wedding cake and tell me it's not stunning!
Aside from the whole all-white-cake vibe going on, just look at the design on this cake. It reminds me of one of those very cozy winter ski sweaters that are all the rage during the winter. Read More
0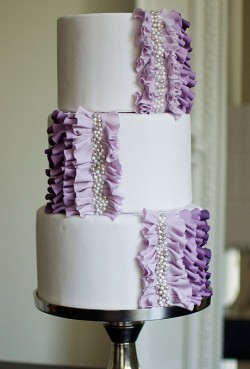 As much as I love all things purple, one would think that I would feature more purple cakes around here. But truth be told, I don't often find purple wedding cakes that wow me.
Until today.
I love this cake. I love it a lot.
This three-tier wedding cake is elegant and beautiful and I'd love to see it at a winter wedding.
I absolutely love the simplicity of the smooth white icing combined with the ombre purple gumpaste ribbons on the side of each tier.
The color combination is modern and not at all fussy or over-the-top. The purple shades are delicate and not garish in any way.
You don't even need to be a big fan of purple to love this cake. It's just that perfect.
The pearls add that perfect amount of old-world glamour to the cake.
I found this cake here. It was created by the Sofie Bifield Cake Company in Canada.
0
Just about everyone loves cake – and that's really true at a wedding reception. Guests normally can't wait for the happy couple to cut the cake so everyone can enjoy the sweet confection.
So I say – let them eat cake! Individual miniature wedding cakes to be exact.
How perfect are these for your wedding reception? Read More
0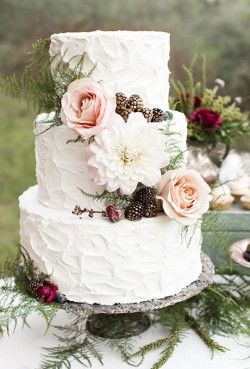 Happy December!
As we tread lightly into the winter season, I want to hold on tightly to any remnant of fall even when it comes to fall-inspired wedding cakes.
Today's cake evokes thoughts of late fall and early winter so it seemed perfect for the first day of December.
This three-tier cake features fluffy white icing and some gorgeous fresh flowers including a white dahlia and blush roses. Read More
1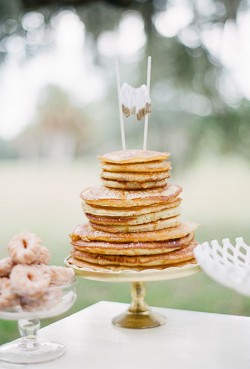 No, your eyes aren't playing tricks on you.
That headline really says "pancake wedding cake."
When I saw this "wedding cake" as I was searching for something fun and whimsical I knew it just had to be shared.
We've seen a lot of unconventional wedding cakes around here – OREO cookie cakes, chocolate chip cookie cakes, doughnut cakes, and even cakes made out of cheese. Read More
0
There are fancy wedding cakes and then there are cakes that are just out-of-this world.
This pink macaron wedding cake fits neatly in the second category.
There is so much going on with this cake that your eyes aren't sure where to look first – but that's a good thing!
The three tier square cake is covered in light pink fondant and then macarons – some pink and some playing into the abstract art of the peony cake topper. Read More
0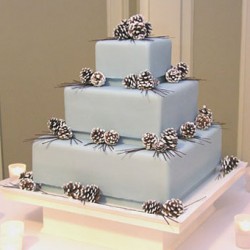 I heard on the news yesterday that all 50 states had a below freezing temperature this week, so it seems like winter is early and here to stay.
Which got me thinking – maybe it's time to feature a winter-themed wedding cake.
And I found this beauty – all square tiers, and icy blue frosting. Read More
0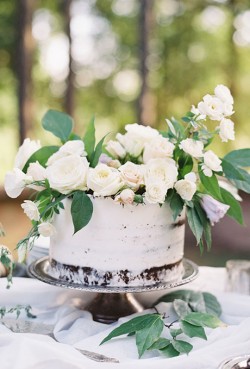 There's something to be said for an elegant, one-tier wedding cake.
With a smaller cake there's no muss, no fuss but the cake can still steal the show.
While I'm a fan of big, elegant and fancy wedding cakes I also like the smaller cakes.
Whether you're hosting a small, intimate reception and you don't need a big cake, or you're planning on serving other desserts (cupcakes, a dessert bar, or maybe a cheese wedding cake) – a one-tier cake can be perfect for so many reasons. Read More