Modern Wedding Cakes
The term "modern wedding cake" may mean different things to different people. Here at A Wedding Cake Blog, we take the term to mean anything with a contemporary feel; a cake that eschews the traditional white on white, piped and buttercreamed and trimmed with swags or roses. Modern may refer to a bold use of color, or a contemporary decor or shape. It may also refer to choosing something other than the grand, traditional tiered cake – a cake of macarons, for instance, or an assortment of individual cakes. Modern means that you are updating the tradition: perhaps you aren't entirely throwing it out. You're just giving it a breath of fresh air.
0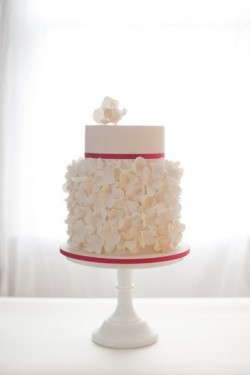 Hello, Dears!
Today, I'm starting to turn away from the sparse winterishness of January, and toward the ardent blush of Valentine's Day, which is just around the corner.
Do you celebrate?  We don't do much with it around these parts, but I love the sentiment of being sweet to everyone on V Day. It can be about romance, or you can expand the scope and make it a day to show love to all or those close to you.  Remember those fun Read More
0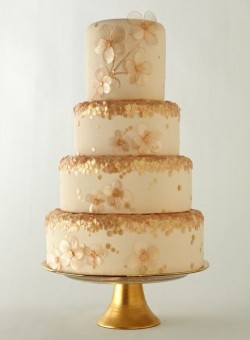 Does anything glitter quite like gold?
This cake is, in a nutshell, drop-dead gorgeous.  It's so luxurious, and just completely fantastic. For possibly the first time, I am saying this silly sentence: it's too pretty to cut.
It's not often that I'm Read More
0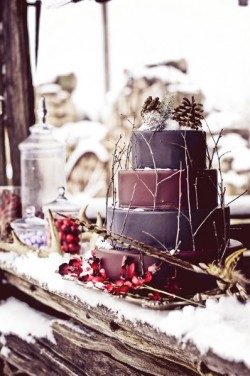 I thought I'd feature something a little different today.
You should know that I love the idea of a winter wedding. Actually, I think that for me, I prefer fall and winter over spring and summer anyday for a wedding. I think I love the minimalistic design elements of these seasons, and the rich, warm colors. And there's something about finding the beauty in a sparse landscape that really appeals to me.
This cake is like Read More
0
Today, I'm posting my final cake from the wedding that I've been showing you all week from Martha Stewart weddings.
The bride and groom featured a bevy of beautiful cakes, ranging from a three-tiered classic design trimmed with branches and love birds, to several single layer cakes celebrating widely divergent motifs. The theme that united the table was autumnal flavors and colors, with a rustic yet refined vibe.
We Read More
0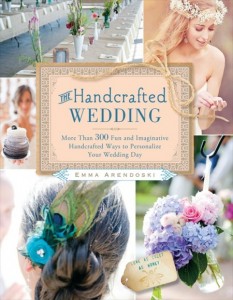 Hello Hello, my dear readers!  I hope you are having a fantastically fantastic day!  And I hope that threats of gargantuan storms aren't freaking you out too badly this weekend.
We bid adieu to Sandy here without too many worries…just a little wind and rain.  I sincerely hope and pray that all the weather folk out there are dead wrong, and that Sandy dissipates into the chilly Atlantic without so much as a whimper.  Hey – it could happen.
So, beyond weather, we have a Read More
0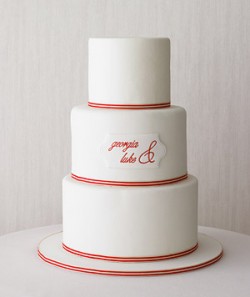 Remember when I wanted preppy yesterday? Well, I wanted it today, too, but I thought it would be fun to go in search of horizontal lines instead of vertical ones.
I adore the simplicity of the this cake.  And it's really no shock that it's simple, since it's featured on Real Simple Magazine's website!  Plain white fondant on tall tiers, trimmed with a border of thin red and white striped ribbon.  The cake's only Read More
0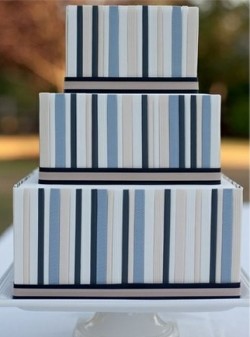 I went in search of preppy today. And preppy I found.
You may not believe this, but I'm not so much a froufrou girl.  My favorite colors?  Khaki and navy blue.  In fact, I'll give you a $100 if you can spy me one day out of my life without khaki on my person somewhere.
I really love tailored and unfussy stuff.  And today, I wanted to declutter a bit, cakewise.
I love this approach to cakery, don't you?  Sure, we've seen Read More
0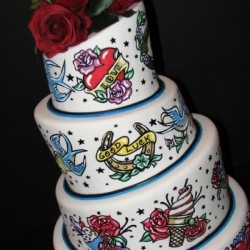 Is your guy inked?  Are you?  Well, then I've found your cake.  You're welcome.
Isn't this cake fab?  The tattoo designs are so retro awesome that I couldn't resist.  And the motifs are darling, from "Love" to "Luck."  And extra points for ice cream and cupcake tattoos!  The topsy-turvy asymmetrical layers are so fun, with red, red roses topping the whole thing in a nod to tradition.  And the hand-drawn designs on fondant are incredible.
We don't know who made this lovely cake, but if you do, we'd love to hear!  We found it on Pinterest.  And even though you'd never want to copy a cake exactly, this is a great cake for taking a stellar concept and making it your own.
Love the idea of a tattoo wedding cake?  See this one we featured earlier this year.
0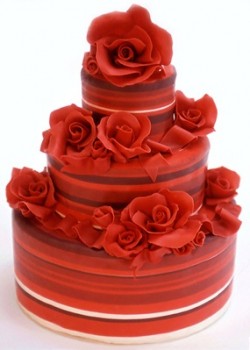 I'm not feeling very subtle today. So I went in search of a cake that would set Brooke convention (you know, beachy, classic, pearls, blah blah blah) on its head.  And this is what I found.
Isn't this stunning?  Bands of different red hues encircle an otherwise simple three-tiered round cake.  A band of white is added on the top and bottom layers for contrast, and the whole thing is trimmed out in Read More
0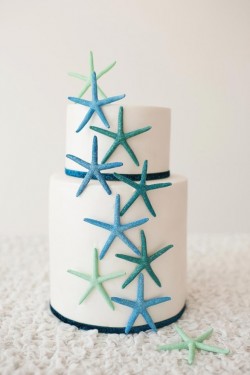 It's beachy, and it's sea glass blue and green.  That makes it perfect.
Now, while I wouldn't put actual starfish on a wedding cake, these gumpaste buddies are just the thing.  The cool colors – all greens and blues and hues in between – are some of my favorite, evoking water and calm…two things that speak to me in soft, soothing tones. The wonky ginormous bottom layer – is triple height the new Read More