Modern Wedding Cakes
The term "modern wedding cake" may mean different things to different people. Here at A Wedding Cake Blog, we take the term to mean anything with a contemporary feel; a cake that eschews the traditional white on white, piped and buttercreamed and trimmed with swags or roses. Modern may refer to a bold use of color, or a contemporary decor or shape. It may also refer to choosing something other than the grand, traditional tiered cake – a cake of macarons, for instance, or an assortment of individual cakes. Modern means that you are updating the tradition: perhaps you aren't entirely throwing it out. You're just giving it a breath of fresh air.
0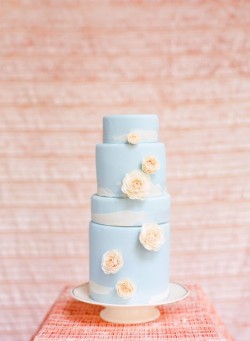 I love when I see a cake that I never, ever would have thought of, but when I see it, it's like….YESSSSS.
Isn't this just darling?  Barely different sized layers on the bottom – is there a difference in size? – and the slight diameter difference continues up the cake.  The on-purposeness of it is just enchanting.  It's like the baker said, Read More
0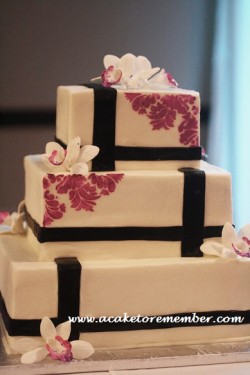 As much as I love a traditional wedding cake, I really dig when I run into something totally different that I haven't seen before, anywhere.  The other day, I ran across this example of just such a cake.
Kara Buntin of A Cake to Remember in Richmond, Virginia, has created some of my favorite cakes, to be sure.  This orchid and black wedding cake just may join the ranks.  I really appreciate the strong structure of the almost geometric black lines juxtaposed with the ultra feminine stencilling in a beautiful shade of orchid.  That Kara chose to Read More
0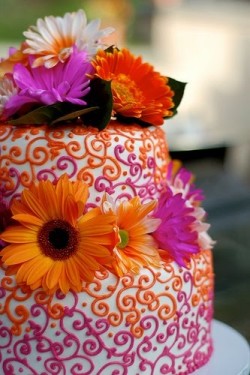 This wedding cake is like coffee!  Isn't it?
What do I mean?  It's an instant wake up!
I love it.  Really really REALLY.  Not only is it replete with the world's happiest flower, the DAISY, but the perfect scrollwork in two of the poppiest of colors, bright orange and magenta, make me want to dance.  Or twirl.  Or hula hoop.  Or maybe all of the above.  It's kinda like a really fun twist on the hot trend of ombre, don't you think?
I have no idea who made this cake, sadly, so if you do, please, speak up and let us know.  In the meantime, enjoy it.  Enjoy it like you enjoy a good summer party in your prettiest dress.
0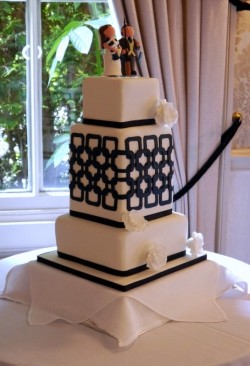 I leapt at the chance to feature this beautiful cake by Cakes By Beth in Manchester, UK.  Isn't it gorgeous?
When Beth originally met with the bride and groom, they had very few specific ideas about how they wanted their cake to look.  They knew they wanted four tiers and something simple in design that incorporated navy blue ribbon, but that was the extent of their input.  Enter Beth and her brilliance!  She suggested this geometric design of overlapping squares, reminiscent (to me, anyway) of a Chippendale motif.  And though she was prepared for the couple not to love the idea…they did!  Two of the original four layers became Read More
0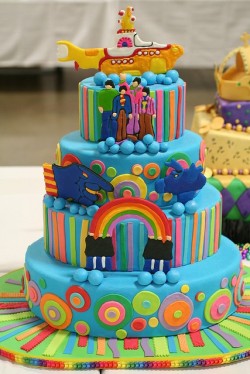 And we live
A life of ease.
Everyone of us
Has all we need.
Sigh.  Love LOVE The Beatles.  Always have, always will.  And what better homage to their idealistic work, than to immortalize their songs in your wedding cake?
So, I adore Yellow Submarine.  You can totally catch me bobbing my head back and forth, driving my Honda, and singing along.  And I think you do, too, and that is why I had to show you this cake.  Originally, it was posted on Read More
0
Some days I like my job, and somedays, I really love it.
What makes the difference?  Usually, it's interacting with the fun, friendly, vibrant community of bakers from all over the world that I'm getting to know through my work here on A Wedding Cake Blog.  Seriously, y'all.  I never would have dreamed 10 years ago that I would be chatting with gifted bakers from England and Australia.  Thank you, social media!
I asked for opinions on cakes that feature feathers a couple of weeks back, and Read More
0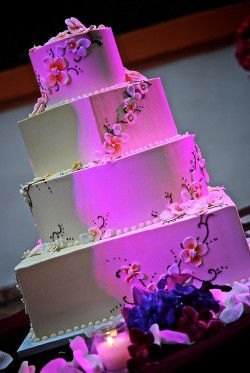 I know, I know.  The angle and lighting are a little funky on this one.  But it's sooooo still worth posting.
I love dogwood blossoms.  We awaited with such joy the blooming of the dogwoods back home, when we knew spring was finally on its way.  And this cake features beautiful versions of the lovely flower, used sparingly and asymmetrically on the various layers.
And speaking of the layers, I love a cake that has alternating shapes.  This one features both squares and rounds, and the second layer from the top is both square AND Read More
0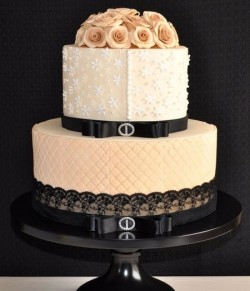 G'day mate! Today's cake comes to you all the way from Australia! No, I'm not there on vacation (although I really wish I were!) but Melania's Exquisite Cakes is located in Sydney and they are responsible for this gorgeous cake!
Vintage, Elegance, Gorgeous, Sexy, Romantic…these are all of the words that come to my mind when I think about this cake. I love how a cake can Read More
0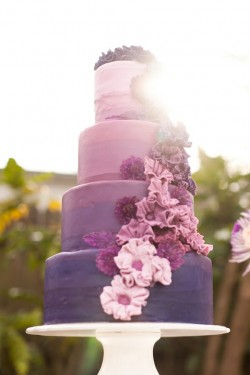 Hello, Beautiful! Today's featured cake is a purple ombre wedding cake. And I L-O-V-E it!
This incredible cake was designed for a fun Pinterest-inspired wedding shoot in Virginia, and was featured on Ruffled Blog.  AND – one of our favoritest bakers, Kara from A Cake to Remember in Richmond, Virginia, created the gorgeousness!
I love how Kara moved from a deep purple on the bottom tier up to a pale lavender on the top. And I absolutely love Read More
0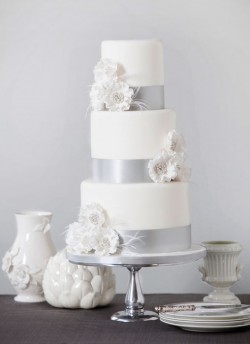 Feathers are not usually my cup of tea. I don't really know why other than I'm just not too fond of them but I kind of love the way Bobbette and Belle incorporated them into the design of today's cake!
People tend to fear having a simple all white cake because it may not be memorable or it may look boring to the guest (I vehemently disagree!)…but with a touch of floral and other accessories you can kick up your wedding cake to the level of unforgettable! Bobbette and Belle, based out of Toronto, have Read More