Real Life Objects Cakes
The sky is the limit when it comes to cake sculpture. If you can describe it, or produce a photograph of it, then chances are your talented baker can turn it into cake. More and more, we are seeing real life objects cakes, or sculpted cakes as they are sometimes called, served in tandem with a traditional wedding cake. Normally, the sculpted cake is the groom's cake, and can be fashioned into any number of objects: a beer bottle, a football helmet, a movie theatre. Gun case with a semi-automatic nestled in the foam-made-of-cake? No problem. Crab cake that looks like a crab? Easy peasy. Caffeine addict you're baking for? Well then, why not a giant coffee cup? Sand castle? Child's play. If you can dream it, it's likely that your baker can do it. So free your mind. And your cake will follow.
0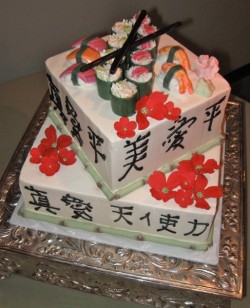 Time for another fabulous themed cake. This one falls in the "juxtaposition of things that definitely don't remind you of cake, but it's so pretty you can't help yourself" category.
I think this cake is absolutely beautiful. The Japanese characters are flawless, and the gumpaste flowers are incredibly lifelike. But the star of the show is the assortment of gumpaste sushi that adorns the top of the cake.
Wrapped in Read More
Other Posts You May Enjoy:
0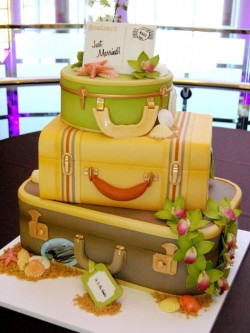 Hola, Everyone! And Happy New Year!
I know we've been a little…well…MIA of late.  There was sickness involved.  And perhaps an impromptu in law visit (don't worry; it was a pleasure.)  And there might be a thing or two besides writing about pretty cakes that I do to bring in the dollars here.
There.  I said it.
But anyway! I'm back!  And Read More
Other Posts You May Enjoy:
0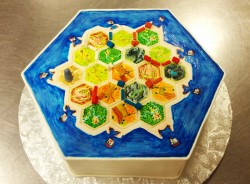 Recently, our friends at For Goodness Cakes, located in Atlanta, Georgia, shared with us one of their most unique groom's cakes to date: a cake depicting the game board from the uber popular board game The Settlers of Catan.
Christina from For Goodness Cakes told us the story behind the cake:
Nothing excites us more than a challenge and groom's cakes are almost always the ones that get our hearts (and minds) racing! This particular cake was a surprise from the bride to her game-loving groom. We had never heard of The Settlers of Catan game before, but the bride surely enlightened us! We soon found out just how many people are fanatical about this game and so we knew we had to do her and her groom justice.

In order for us to get the proper game set-up on the cake, the bride taught us exactly how to play the game – down to what pieces can move where and what tiles can be next to others! We were quite nervous in the beginning, but once she sent us pictures of game pieces in progress, this helped tremendously.

Of course, we could have printed out the board game graphics and merely laid them on top of a cake. But we knew that the whole point of the surprise was to truly recreate the game, by hand. And so we did just that! Each tile is a hand-painted hexagon made out of fondant, as is the board game layout itself. We did our absolute best to recreate the terrain illustrations in the actual game and so we felt a little bit like we were art students, re-creating a master work.

We couldn't have been happier with the results. And the groom, of course, was absolutely stunned and enthralled by it. As you can imagine, it was hard for them to cut into it and ruin a perfectly good game!
I love the story of how the team at For Goodness Cakes painstakingly recreated this board game with TLC for their clients, without taking any shortcuts.  And, as you can see from the photos, the finished product is completely awesome.
Other Posts You May Enjoy:
0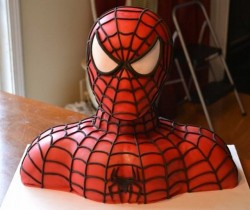 Hola!
We are still away for family Thanksgiving, but I didn't want to neglect the guys. So I'll just leave this right here.
How's your Christmas shopping going, by the way? I'll let you know about mine when I get back.

Other Posts You May Enjoy:
0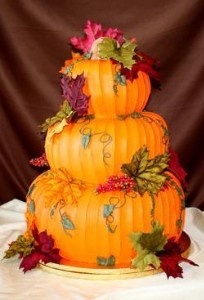 I'm a little late today, Guys and Girls. Front loading your week workwise and an 8+ hour roadtrip (with two little kids – :-O ) will tend to do that to you.
But I'm super happy to be settled into my temporary digs, and ready to share with you some Sweet and Pretty over the next few days, starting with this adorable cake.
Don't you just love fall and pumpkins?  And while we're all Read More
Other Posts You May Enjoy:
0
Today, I'm posting my final cake from the wedding that I've been showing you all week from Martha Stewart weddings.
The bride and groom featured a bevy of beautiful cakes, ranging from a three-tiered classic design trimmed with branches and love birds, to several single layer cakes celebrating widely divergent motifs. The theme that united the table was autumnal flavors and colors, with a rustic yet refined vibe.
We Read More
Other Posts You May Enjoy:
0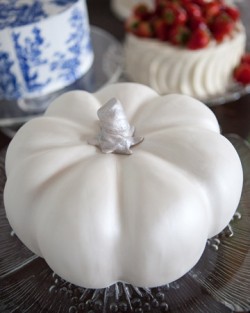 Remember the Toile the Jouy cake that I oohed and aaahed about yesterday? Well, as I flipped through the rest of the wedding, I realized that the dessert buffet for this particular real wedding, featured on Martha Stewart's website, was like nothing I had ever seen. The cake artist, Cheryl Kleinman of Cheryl Kleinman Cakes, created six single-tiered cakes with various themes to create the one-of-a-kind cake table for this precious couple. All of the pictures are so captivating that we are just gonna camp out here for the week, K?
Today, Read More
Other Posts You May Enjoy:
0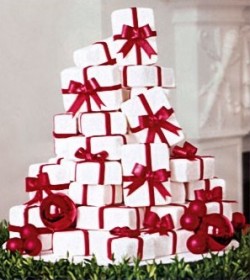 I figure if the big box stores are already advertising, and I'm already shopping, then it's okay for me to start the winter holiday/Christmas-inspired cake posting…yes?  I thought you'd agree.
This one had me at Red Ribbon.  Is this not completely, totally, utterly fabulous?  What appears to be a pile of presents is, in fact, a cake.  Or a pile of cakes.  I'm not sure.
At any rate, I totally Read More
Other Posts You May Enjoy:
0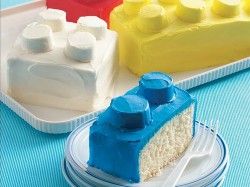 Did your guy play with Legos as a kid? Does he still?
WELL…we think that's pretty adorable.  And if you'd like to Read More
Other Posts You May Enjoy:
0
Oh, how I love chocolate.  And how I love pirates (well.  Johnny Depp and Orlando Bloom, anyway.) So this cake is pretty dreamy, don't you think?
I love that it's a cake – and I'm gonna go ahead and assume chocolate – filled with – YES! – Read More
Other Posts You May Enjoy: