Simple Wedding Cakes
Sometimes simple says it best. You might choose a simple wedding cake because you prefer a minimalist approach, or because you like you like to stick with the basics when it comes to cake, or even because you are interested in showcasing a particularly fancy flower or cake topper, simple wedding cakes never go out of style. The basic, stacked, white wedding cake, frosted in a smooth coating of buttercream or covered in a snowy blanket of fondant, may hide beautiful flavors and colors beneath its exterior – the best of both worlds. Or maybe you and your groom prefer the traditional "white cake, white frosting" approach – or "chocolate cake, chocolate frosting" – after all, simple doesn't necessarily mean traditional. On the other hand, a simple cake may be the perfect way to showcase a special caketopper or flower that has personal meaning for you. A topper that shows your style or a hobby that you and future hubby share becomes all the more visible when it doesn't need to compete with a fancy cake. Maybe you have a family heirloom that can nestle atop your cake. Alternatively, some dazzling orchids or floppy peonies may be all the statement that you need to make. A simple cake need not be boring, after all.
0
Naked wedding cakes are one of those wedding cake trends that I'm not sure I can fully support.
I mean, c'mon. These cakes are seriously lacking in one very important ingredient – FROSTING! But, as the saying goes, it's what in the inside that counts.
And if you're going to go with a naked wedding cake for your reception just make sure it has a lot of icing inside. Then I'll be OK with it. Read More
0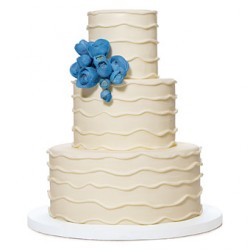 Lately I've been daydreaming about the beach. A lot.
This is likely due to the fact that very soon I'll be lounging on a beach in the Caribbean without a care in the world.
But it also got me thinking about beach-themed wedding cakes since it is the perfect time of year for a beach wedding.
And then I found this cake and fell in love. Read More
0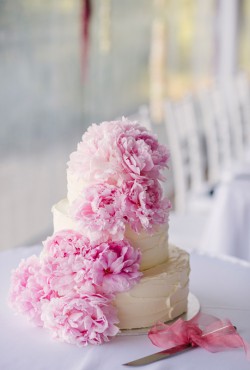 The more wedding cakes I look at the more I love seeing fresh pink flowers on cakes!
I never used to enjoy the color pink but I have to admit it really is starting to grow on me.
And today's cake is such a pretty-in-pink cake! It really is a perfect cake for a spring or summer reception. Read More
0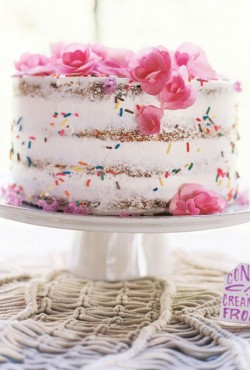 I prefer my wedding cakes to have a lot of icing. After all, is a cake really a cake without icing?
But sometimes I find a "naked" wedding cake (sans icing) that really intrigues me.
Take for example today's nearly naked caked that is adorned with some colorful and whimsical sprinkles. Read More
0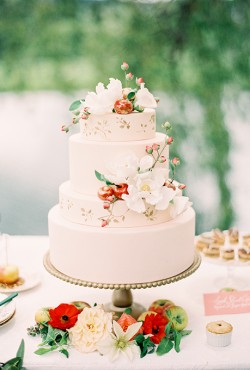 Ah, spring is in the air! The flowers are blooming the grass is getting greener. And it's lovely!
If you're looking for a spring-worthy cake that feature fresh flowers (and even a little bit of fruit), today's cake is that cake.
I'm loving the subtle blush color of this cake – it's just slightly pink and it's perfect. Read More
0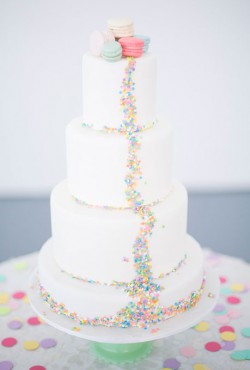 Happy spring!
The birds are chirping, the flowers are blooming, and this gorgeous cake is perfect for a spring wedding.
I'm a big fan of whimsical wedding cakes – you know, the cakes that don't take life too seriously. After all, your wedding should be full of fun and whimsy.
And nothing says fun like a cake covered in sprinkles! Read More
0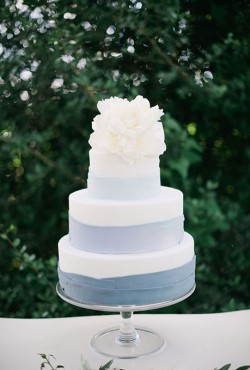 Today is the second day of March, which means we are daydreaming about springtime and flowers and warmer weather.
However, it is also currently snowing outside so we are also thinking about snow and ice and cold – all the wintry things that look like the colors of this cake.
We love this gorgeous cake. The three tiers each feature a different shade of blue and it gives it an elegant ombre look. Read More
0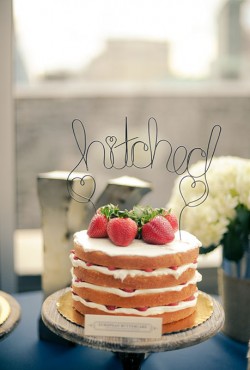 Happy Leap Day!
I wanted to find something unique for today – since we only get to celebrate Leap Day every four years.
I think this wire "Hitched" cake topper is the perfect unique thing. I love this cake topper.
It's more fun than the standard "Mr. & Mrs." cake toppers I've seen and it'll add a bit of whimsy to your wedding cake. Read More
0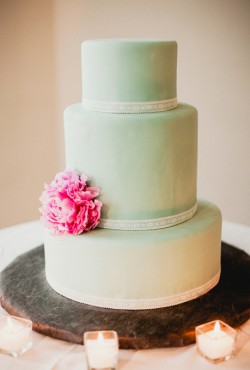 I'm all about thinking spring right now!
Sure it's been a mild winter here in the Midwest but with a potential snowstorm in tonight's forecast I've decided that I'm done with winter and just want to focus on spring.
And spring means all things green! It's the one time of year that I really, really like the color green.
Green grass. Green leaves. Shamrock Shakes. You know, all things spring. Read More
0
Red and white is one of my favorite color combinations. There is such a stark contrast between the two colors, I just can't get enough of red and white.
Take today's featured cake – featuring bright white icing and bright red fondant ribbons – it's elegant and simple and quite perfect. Read More