Themed Wedding Cakes
A themed wedding cake may be just what you're looking for to set your cake and reception apart. While a themed cake would be a natural fit for a wedding that also invokes a theme – say an "Alice in Wonderland" wedding, or a renaissance wedding – a bride and groom may also choose a theme for their cake based upon the a favorite amusement park ride or a preferred hobby, a favorite location, or a season or holiday. For the couple enjoys the daring fun of an amusement park ride, we've seen cakes that immortalize attractions like Disney's Splash Mountain – fun! Likewise, the bicycling-enthusiast couple might prefer a cake that shows a mountain bike ride. Less specific would be the couple who incorporate images and items from the ocean into a beach cake, which might include gum paste shells and star fish, sand-like or pearly finish, and maybe a sand castle topper. Finally, if your wedding takes place near a beloved holiday or season, like the Fourth of July, or autumn, or Christmas time, consider incorporating themes that echo those holidays or times of the year. A July wedding cake might be decorated with stars and sparklers, while autumn might show off colorful marzipan leaves and chocolate twigs and acorns. Christmas might inspire the use of traditional garnets and greens, or cool and snowy blues and silvers. If there is a theme that you love, consider celebrating it with your wedding cake. It will make your day even more memorable, for both you and your guests.
0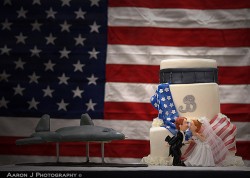 Happy July 4th to my fellow Americans! If you are not American..well..then Happy Monday!
Let's start this 4th of July off right with a little bit of patriotism..in the form of edible baked goods.
It may surprise you to know that I did not go digging for this cake. I was looking for something theme-y but did not think that I would be able to find a wedding cake that was classy and patriotic. My friends it can be done..as seen here. This couple took a traditional round cake and gave it a little American flare by draping a fondant American flag around the cake. What is that to the left you ask? Well I do believe it is some sort of Read More
1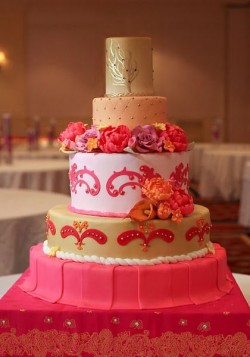 There are cakes.  And then there are cakes.
The first time I saw this cake, I immediately became a convert to all things bright and colorful.
Jasmine Clouser of The Couture Cakery is truly an artist.  Her cakes are detailed beyond belief and perfectly capture the mood of the moment.  In this case, the bride and groom were married in a traditional Indian wedding ceremony at the Hershey Lodge in Hershey, Pennsylvania.  The room where the ceremony was held was transformed into the reception spot as well.
After the ceremony, the bride, Meera, changed Read More
0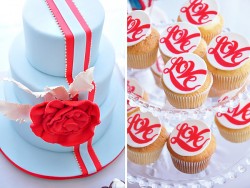 Oh, are you having summer attacks, too?  I don't know if it's the cruise I'm about to take, or the vacay that's coming up in a few weeks, or my close proximity to the beach, but I have a wicked case of the Summers!  Right now's the right time to be relaxing by the pool, icy cold drink in hand.  Makes for a difficult work week.  Well.  Except that I work with, you know, Read More
0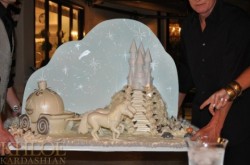 So this wasn't the post I intended for today but on my daily visit to all my Disney, Wedding Cake and Hollywood Gossip Blogs I saw one common theme.  Ms. Kim Kardashian's Cinderella inspired Engagement Party Cake that was reportedly made by Hansen's Cakes in Los Angeles.  The same bakery that Tori Spelling buys all her cakes from as well.  I guess if you are a reality television star you buy your cakes here.  The edible part of this cake is the hill with the castle topper. I have a love of all things Disney.  Especially Cinderella.  I would love to see a Cinderella wedding done Kim Kardashian style.  Wouldn't you?
According to her sister Khloe (who posted the picture of her gorgeous cake on her blog) the family gathered together for a "normal family dinner" and Kim walked in and announced her engagement.  I know all of my "normal family dinners" include live ponies.  Don't yours?
0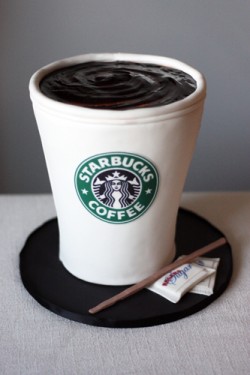 Raise your hand out there if you can make any sense whatsoever in the morning without first ingesting coffee.
Well, aren't you the lucky ones.
For the rest of us, who balk, nay, cry at the thought of not starting our morning with a cup of coffee, I give you the ultimate coffee tribute.  The Coffee Cake. 
The Starbucks Coffee Cake.
So, disclaimer:  Starbucks isn't paying me a single cent to tell you that their coffee courses through my veins!  And so, when I saw this incredible cake Read More
0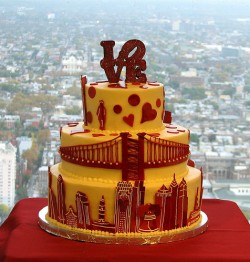 I'll admit I don't know much about Philadelphia. Rocky, cheese steak sandwiches, and that it's where the Fresh Prince was born and raised. (And spent most of his days on the playground from what I hear).
Another thing I know about Philadelphia is that is home to the LOVE statue. You know the one.I learned something new about Philadelphia today. Robert Indiana's LOVE sculpture and the city of Philadelphia inspired this gorgeous wedding cake. This three tiered Read More
0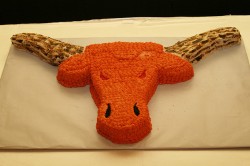 You mess with the bull..you get the horns.
True story in this case. I am not from Texas…so I am going to try my best to get this story right.
The couple who featured this University of Texas Longhorn Read More
0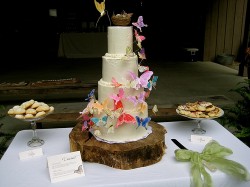 I'll admit I am totally into DIY house projects. I am always painting, sanding, or replacing something. It's something I totally enjoy and my husband tolerates. But nothing makes me want to throw things at him more than when we are working on tough project together.
Never…would I ever…be able to bake and construct Read More
0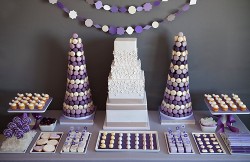 Purple, purple, purple!
So here is a fact.  Devoting an entire table to lollipops, cookies, cupcakes, macaroons, and cake at your wedding may in fact send one into a sugar shock.  Luckily, this particular photo is just a table set up by the talented Shauna Young for the Minneapolis/St. Paul Weddings Magazine Bridal Party.  The cake in the center is gorgeous with fun fondant flowers decorating the tiers.  I'm not even sure Read More
0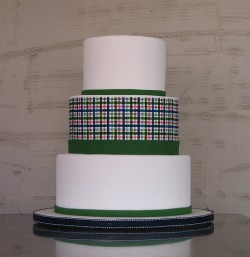 Remember a few months ago when Brooke admitted her deepest darkest secret about her love of all things plaid and we all just nodded and smiled and hoped the men in white coats would be nice to her?  Well Brooke, and other plaid lovers, this cake is for you.
Another spin on a tartan inspired cake made by the Whipped Bakeshop in Philadelphia, Pennsylvania.  I love how this cake takes the time honored tradition of a family tartan and combines it with a clean and modern crisp Read More