Wedding Cake Toppers
For many wedding cakes it is the topper that makes the cake. Since the topper generally represents the bride and groom themselves in some way they can be the most important part of the cake. These cakes have unusual, beautiful or simply novel toppers that are worth checking out.
0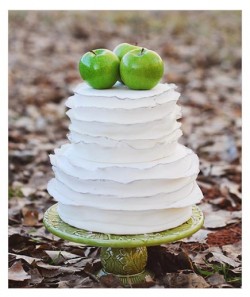 As I drove around town today I noticed some leaves starting to change color. This can only mean one thing – fall is right around the corner!
Fall is the best season in my humble opinion because fall means apples. Lots and lots of juicy and delicious apples.
So take a peek at this cake and tell me how perfect it would look at a fall wedding. It's just amazingly simple and gorgeous. Read More
0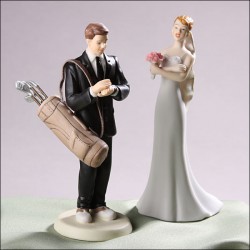 I love a cute wedding cake topper as much as the next girl and when one catches my eye, you can bet I'm going to share it with all of you!
If your groom-to-be is a golf fanatic and you want to surprise him with a nod to his hobby, this is the perfect cake topper for your wedding cake.
The groom figurine is dressed to the nines in his wedding day tux, but is carrying his golf bag, wearing his golf shoes, and checking his watch Read More
0
There's cheesecake and then there's cheese cake. Yes, that's right. Today we're talking about "cakes" made out of wheels of cheese. Is there anything more glorious really?
We have featured cheese cakes here Read More
0
The minute I saw this cake it took my breath away! It's so stunning and visual and there's so much going on with it, but in a good way.
If I were planning a shabby chic wedding or even a wedding with a vintage, early 1900s vibe, I would do anything to get this beauty.
Take a few minutes to digest it. The cake itself is Read More
0

As we head full-steam into summer, this week's wedding cake flashback is the super colorful and fun seven-foot-tall cake served at the 2004 wedding of Mariska Hargitay and Peter Hermann.
I love this cake because it has a Read More
0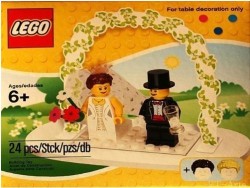 This could possibly be the most hilarious (and fun) wedding cake topper.
Ever.
Not only will it look adorable on top of the cake – and give guests a great laugh – but as an added bonus, you and the groom-t0-be get to put it together. All 24 pieces of it. And, just in case you aren't a brunette, the Lego bride also comes with blonde and black hair. The bride also comes with a veil and a Lego flower bouquet. Personally, I love that the little Lego groom is holding what appears to be a glass of champagne!
So what do you think? Would you put a Lego cake topper on top of your cake?
0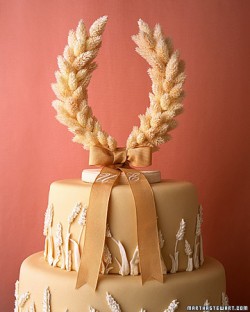 Here is another beautiful cake topper from Martha Stewart. I know. I can't get enough of them!
A couple of things to point out here. First, I adore this simple palette of wheat colors in various shades, inspired by the topper. It's so understated and elegant.  The topper itself is Read More
0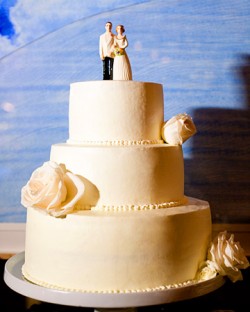 I'm feeling a little — okay, a whole lot — classic today. And so my cake choice reflects that.
I love the elegant simplicity of the white buttercream wedding cake that's trimmed with roses and topped with an uber traditional bride and groom.  It would seem that the wedding was an affair with lots of "glitzy ambiance" so this cake struck the balance between the indulgence and the simple.  And when you go with the classics, you don't really need birds flying around the top or fireworks shooting off the sides, do you?
At the end of the day, after Read More
0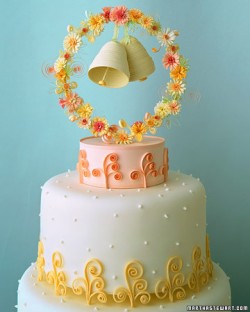 Doesn't this cake just say spring wedding to you?
If you're a bride looking forward to spring or summer nuptials, I super think you need this cake. I adore the nod to tradition with the wedding bells. And the whimsy of the daisies makes Read More