Circle Wedding Cakes
Think of a traditional wedding cake, and chances are, you will immediately envision a tiered white cake with round layers. Round, or circle, wedding cakes are the standard for tradition. Whether the layers are separated by columns, or rest one upon another, it is safe to say that the majority of tiered cakes favor layers that are round in shape. In recent years, bakers have added interest to the otherwise traditional (and sometimes unexciting) profile of a round cake by stacking layers that are very similar in size, or by varying the height of various layers. But regardless of the size and height, circle wedding cakes are here to stay. And what could be more appropriate to signify and celebrate unending love, than the circle?
0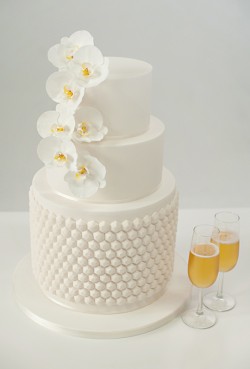 As I look outside the window today it's a sea of white. A fresh layer of snow covers the ground which (of course) made me start thinking about the traditional all white wedding cake.
I do love all the non-traditional wedding cakes I feature here – the bright colored cakes, the black fondant cakes, the whimsical cakes. But in the end, nothing beats that all-white wedding cake in all its elegance and charm. Read More
0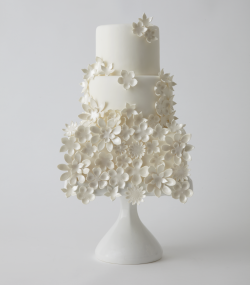 It might still be the middle of January, but that doesn't mean we can't start thinking about spring. Because believe it or not, the month of January will eventually end. Really.
So with that in mind – and thoughts of spring sneaking in to these cold winter days – let's talk about this all-white stunner of a wedding cake. Read More
0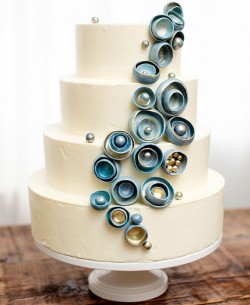 As winter continues its relentless grip on most of the country I have decided it's time to dream about summer and beach weddings.
Which brings me to today's nautical, beach-inspired wedding cake.
Don't you feel warmer just looking at this cake? I can almost imagine the beach wedding, right on the sand, with the sun shining down.
OK, enough daydreaming. Back to this cake. Read More
0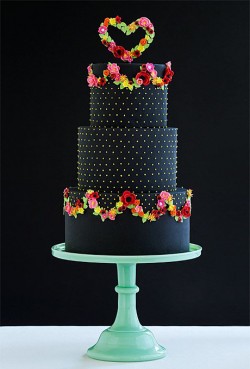 This cake is so non-traditional and it's not for everyone.
But I love it!
Now you'll probably need to be a rather modern, edgy bride to choose black fondant as the icing on your wedding cake. But if this is what you're looking for in a wedding cake I say go for it!
I love the modern vibe of this cake. I love the bright colors. It could be my new favorite cake. Read More
0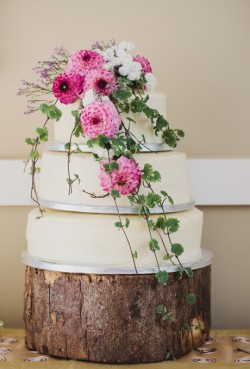 As we trudge headlong into the cold, brutal months of winter it only seemed fitting that I would showcase a cake that made me think of warmer temperatures and bright sunny days.
This lovely white cake with fresh blooms is that cake!
I love the rustic charm of the cake, sitting atop a small tree stump. Of course, if tree stumps as decor aren't your cup of tea the cake would also look lovely on a more traditional cake stand. Read More
0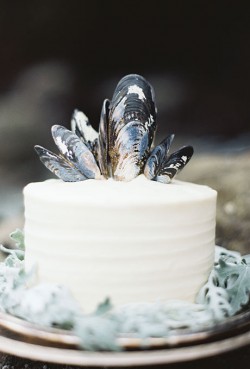 Baby it's cold outside!
So, let's dream about a destination wedding in a warm, tropical, and beach-y location. And at this wedding your theme is seashells.
Lots and lots of seashells.
And this gorgeous one-tier cake is your beach-inspired, seashell-topped wedding cake.
I love this cake. Maybe it's because I love the beach and collecting shells. Or maybe it's because it reminds me of summer. Either way, I think this would be a lovely cake at your beach wedding. Read More
0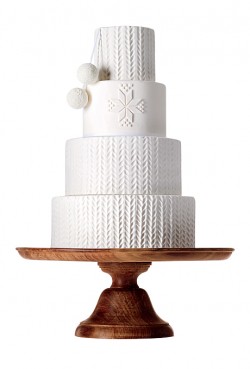 Baby it's cold outside!
So why not pick a cake for your winter wedding that reminds your guests of a warm – and very stylish – sweater?
OK, that doesn't sound very intriguing does it? But just look at this beautiful all-white wedding cake and tell me it's not stunning!
Aside from the whole all-white-cake vibe going on, just look at the design on this cake. It reminds me of one of those very cozy winter ski sweaters that are all the rage during the winter. Read More
0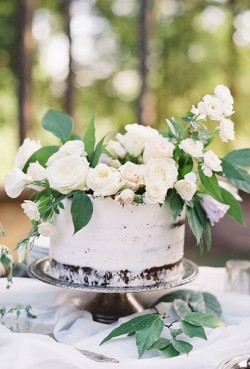 There's something to be said for an elegant, one-tier wedding cake.
With a smaller cake there's no muss, no fuss but the cake can still steal the show.
While I'm a fan of big, elegant and fancy wedding cakes I also like the smaller cakes.
Whether you're hosting a small, intimate reception and you don't need a big cake, or you're planning on serving other desserts (cupcakes, a dessert bar, or maybe a cheese wedding cake) – a one-tier cake can be perfect for so many reasons. Read More