Circle Wedding Cakes
Think of a traditional wedding cake, and chances are, you will immediately envision a tiered white cake with round layers. Round, or circle, wedding cakes are the standard for tradition. Whether the layers are separated by columns, or rest one upon another, it is safe to say that the majority of tiered cakes favor layers that are round in shape. In recent years, bakers have added interest to the otherwise traditional (and sometimes unexciting) profile of a round cake by stacking layers that are very similar in size, or by varying the height of various layers. But regardless of the size and height, circle wedding cakes are here to stay. And what could be more appropriate to signify and celebrate unending love, than the circle?
0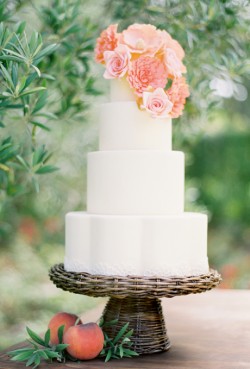 Sometimes all you need for a gorgeous wedding cake is a simple white cake topped with pretty flowers.
Like this cake.
It's so simple and so pretty and I would love to see this at a summer wedding.
I love wedding cakes with fresh flowers – it's such an easy and elegant way to add something special to your cake.
And you can personalize it by incorporating the flowers from your bouquet or what your bridesmaids are carrying. Read More
0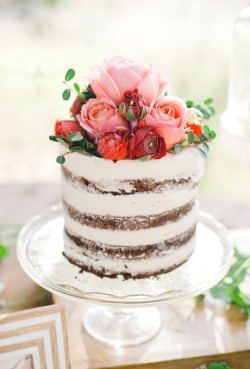 I have to admit, I find the unfrosted – or "naked" – wedding cakes a bit jarring.
I think that's because I want my cake to be overloaded with frosting. I'm the "corner of the cake" kind of girl because that's where the highest concentration of frosting hides.
So when I see a wedding cake sans frosting, it makes me wonder "why?"
However, I am always one to give cakes the benefit of the doubt (unless there's carrot cake involved) so let's go forth and explore the wonder that is the naked wedding cake. Read More
0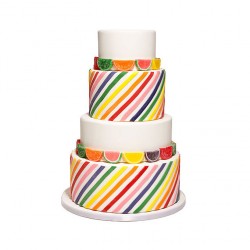 When thinking about a fun and festive wedding cake for your summer wedding, I say why limit yourself to just one or two colors?
Why not go for the entire rainbow?
Take this super fun cake for example – the four-tier cake would be real showstopper at your wedding. No one expects a wedding cake with rainbow stripes and fruit slice candy. Read More
1
There's always drama during a wedding – whether it's the caterer, the limo, or something else entirely, drama of some sort is a guarantee on your big day.
Heck, they even make reality shows about it.
But what if the drama came in the form of something sweet and gorgeous – like this wedding cake with black fondant.
Look at this beauty! How often have you seen a black wedding cake? Sure we've featured black and white cakes here in the past, but nothing like this stunner. Read More
0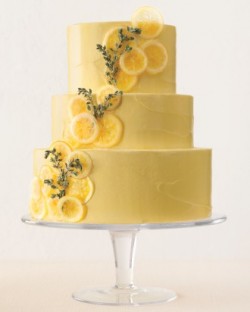 One of my all-time favorite summer flavors is lemon.
Whether it's lemonade or lemon meringue pie, you can't go wrong with lemon in summer.
Plus, their bright yellow color make everything more cheerful.
Perhaps this is why I'm loving this bright yellow lemon and thyme wedding cake.
The cake is a lemon-thyme base and in between the tiers are alternate layers of lemon curd and vanilla buttercream – two flavors that pair deliciously. Read More
0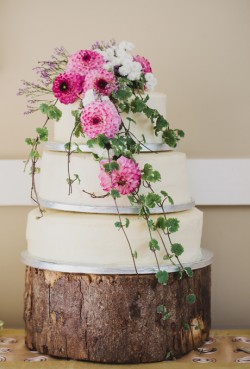 Sometimes a simple wedding cake is exactly what a bride wants for her summer wedding.
Maybe you don't want all the frills and tiers. Maybe you just want something simple and pretty.
And maybe you even want a DIY cake.
If that description sounds like you, then we have found your cake!
This homemade (as in, made at your home!) white wedding cake is a lovely three-tier cake with zinnias and ivy. Read More
0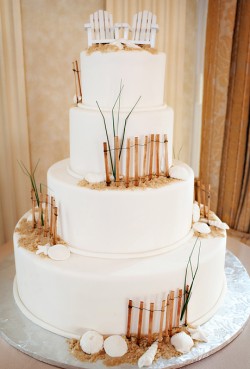 Now that we are officially celebrating all things summer, our thoughts turn to beaches and summer weddings.
Which brings me to today's beach-y wedding cake, complete with adorable mini Adirondak chairs as the cake topper.
I love the stark simplicity of the white fondant icing – it really creates a perfect palette to create lovely cake-scapes.
But what makes this cake perfect for your summer beach wedding are the incredible decorations. Read More
0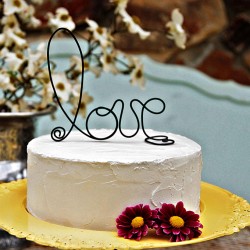 We don't often think about a simple one-tier wedding cake, but it's a trend that some brides are going with.
After all, if you're having a small reception there's no need for a huge multi-tier cake.
And if you're going to keep things simple, it's always a good idea to make it simply beautiful. Read More
0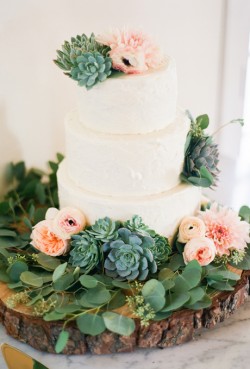 As much as I love wedding cakes with sugar flowers, I also love wedding cakes that feature real flowers and plants.
Just like this cake with succulents.
I love the understated elegance of the cake and the use of succulents just adds to that elegance.
I have to admit as much as I love bright flowers on cake I also love when brides forgo that bright pop of color for something a bit more understated. Read More
0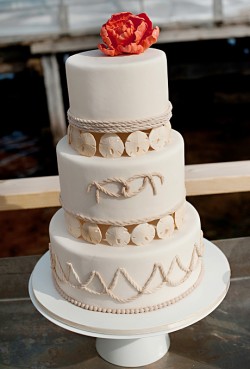 As we inch closer and closer to summer vacation I find myself dreaming of the beach.
I want to walk in the sand and listen to the waves crash…
But first I want to share this very modern and fun beach-themed wedding cake with you!
I absolutely love this cake and it's because of the sand dollars. I used to search for sand dollars on the beach as a kid and they've always been my favorite beach "treasure." Read More