Circle Wedding Cakes
Think of a traditional wedding cake, and chances are, you will immediately envision a tiered white cake with round layers. Round, or circle, wedding cakes are the standard for tradition. Whether the layers are separated by columns, or rest one upon another, it is safe to say that the majority of tiered cakes favor layers that are round in shape. In recent years, bakers have added interest to the otherwise traditional (and sometimes unexciting) profile of a round cake by stacking layers that are very similar in size, or by varying the height of various layers. But regardless of the size and height, circle wedding cakes are here to stay. And what could be more appropriate to signify and celebrate unending love, than the circle?
0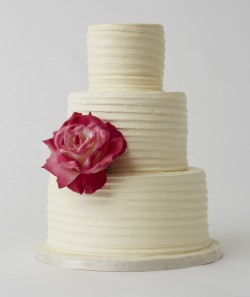 Sometimes the simplest wedding cakes are the ones that stop you in your tracks.
That just about sums up today's wedding cake. It's pretty. And simple. And elegant.
And it is adorned by one very lovely rose but it doesn't need anything else.
I love wedding cakes with fresh flowers – and usually that means a lot of fresh flowers. Read More
0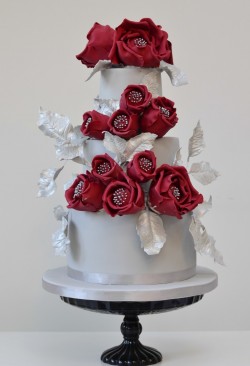 Everything is coming up roses!
OK, there aren't any real roses blooming around here yet, but I'm a total pushover when it comes to roses. They're easily my favorite flower – for weddings, for Valentine's Day, just because.
Hand me a rose and I'm a pile of mush.
Give me a wedding cake topped with roses – real or not – and I'm an instant fan.
And this cake is gorgeous. It's almost beyond gorgeous – if there was a word for that. Read More
0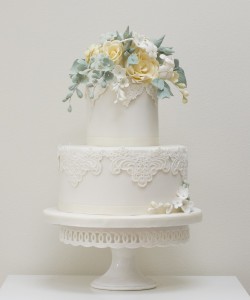 As I walked a very long trail at the park today I was surrounded by thousands of blooming trees, plants, flowers, and probably some weeds too.
It's been sunny and a little warm and combined with the rain earlier in the week everything is blooming!
Sure this means a lot of pollen but it also means I'm dreaming about wedding cakes with gorgeous flowers. Yes, I do dream about wedding cakes. Don't you? Read More
0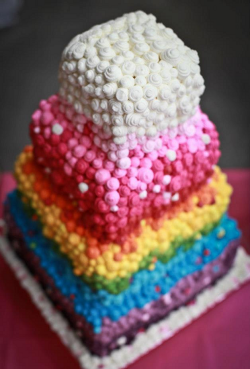 I saw a news report this week about a rare quadruple rainbow that was spotted over New York State. As a big fan of rainbows I thought that would be pretty cool to see.
And then I found this rainbow dot wedding cake and my week was made!
I love this wedding cake so very much. It's fun and whimsical and pretty much screams "spring!" in a refined way, of course. Read More
0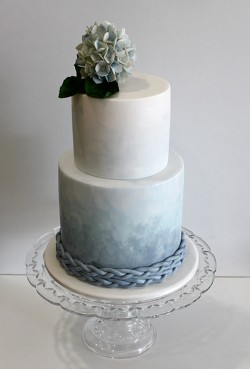 As we slowly inch closer and closer to summer it means we're getting that much closer to beach season too.
And that means beach weddings and wedding cakes the remind us of the beach.
Like today's wedding cake. It's a subtle reminder of the things we love most about the beach – the surf and the sand. Read More
0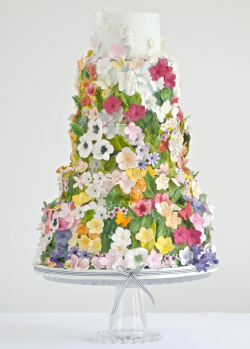 April showers bring May flowers and at the rate it's raining around these parts there is going to be an explosion of beautiful blooms in a few weeks.
In fact, it might look a lot like today's wedding cake – but that's OK because I am loving this blooming springtime cake!
If you're want a cake that screams SPRING!…this is that cake. Read More
0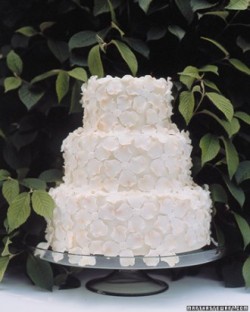 Spring is in the air which means it is the perfect time to start sharing gorgeous spring-inspired wedding cakes.
Today's cake is lovely and spring-y and adorned with flower petals. Sugar flower petals to be exact.
And we all know sugar flowers are better than real flowers because you can eat them. Read More
0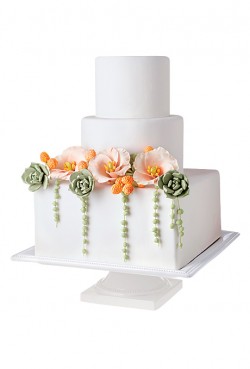 It's the first day of April and spring is in the air and that's no joke!
As I look outside I'm spying buds on the trees and tulips popping out of the ground and I'm convinced that the warmer weather is here to stay.
Which means I just had to find a gorgeous wedding cake today with springtime flowers!
This cake is that perfect springtime confection. Read More
0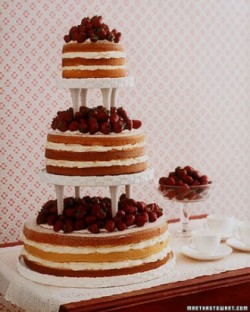 One of my favorite summertime fruits is the strawberry! They're sweet and perfect and can be used in so many ways, even on a wedding cake!
I love strawberry shortcake and today's naked wedding cake reminds of that sweet treat.
This wedding cake was created with pound cake (of course!) and layers of mascarpone cream and strawberries. I think it might be my new favorite spring or summer wedding cake. Read More
0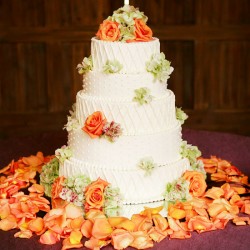 There's something to be said for a traditional white wedding cake.
While I do love the non-traditional, oddly shaped, bright colored cakes that I often feature here sometimes it is nice to just find a lovely white wedding cake.
This four tier cake is simple and elegant and practically perfect in every way. There's nothing boring about it either. The tiers are are iced with traditional butter cream icing.
But instead of leaving them plain the icing is decorated with Swiss dots and diamonds that were piped onto the icing – giving it just the right amount of elegance and pop!
To add even more to the cake – without going overboard – fresh flowers are used to adorn the cake. This is a fun idea because you can use any flower you like. Smaller buds would be ideal for the cake but larger blooms would work for the cake topper.
And, a traditional white cake is perfect in any season.
You can find this cake here.