Chocolate Wedding Cakes
Chocolate. Say it with me. CHOCOLATE. Who doesn't love chocolate? In the U.S., most wedding cakes, until recent years, were drab, white, and practically flavorless. Just sweet and more sweet. But more and more, we're seeing different flavors, and different combinations. And not to be left out, chocolate is a flavor in the forefront. A couple may choose plain chocolate, but more often than not, we see variations on the theme – mocha, chocolate espresso, red velvet. But should a couple cling steadfast to tradition, they can always relegate the chocolate to the groom's cake. Often a foil to the white, statuesque, center-stage wedding cake, a groom's cake is often whimsical, and frequently expresses some quirky aspect of the groom's or couple's personality. Sometimes the flavors vary, but quite often, the groom's cake is – you guessed it – chocolate. Dark to the wedding cake's light. Rich to the wedding cake's austere. The perfect yin and yang, the perfect foil, the perfect complement. If your couple-heart lies in the direction of chocolate – go for it! It's your wedding, after all.
0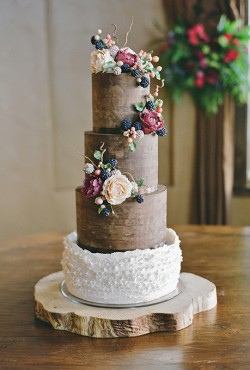 It's November! There is no denying it now – we are celebrating all things fall!
For me, a fall-inspired wedding cake features dark hues with some pops of dark colors.
Take today's cake for example.
I love the rustic vibe of this cake from the chocolate ganache icing that gives the cake a "woodsy" feel to the dark fruit and flowers used as accents. Read More
0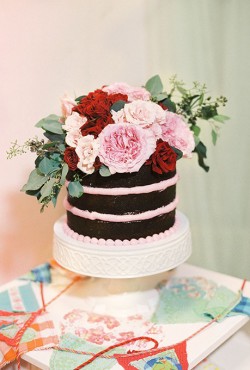 As we inch closer and closer to Halloween I love finding cakes that fit in the season!
Today's naked chocolate cake is perfect for fall (and even a Halloween-themed reception).
I'm normally not a huge fan of "naked" cakes – I love icing too much to serve a cake that is seriously lacking in that department.
But this cake is too pretty to dislike! I love the dark chocolate cake and the hint of light pink icing peeking out from between the tiers. Read More
0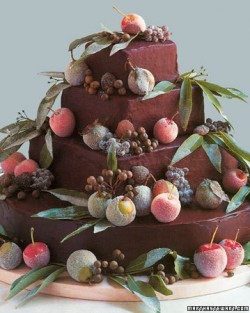 Once again we're talking about chocolate! I can't help myself – with all the Halloween candy at the stores my brain immediately thinks "chocolate."
I think chocolate cakes are perfect for fall and winter weddings – they're dark and decadent and seem to fit in with the colors and themes at this time of the year.
A chocolate cake in the summer would just be too much. But in the fall, when it's cold and blustery outside, it's perfect. Read More
0
Ah, fall.
The temperatures are turning cooler. Everyone is busting out sweaters. The leaves are falling.
It's pretty much the most wonderful time of year.
And if you're planning a fall wedding there are so many amazing ways to incorporate fall into your reception.
Take today's wedding cake as an example. This tree-inspired cake would be perfect at your fall wedding, especially if you're hosting a rustic party. Read More
0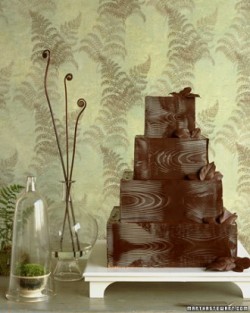 We're getting closer to Halloween which means the store shelves are stocked with all kinds of chocolate. And that's not a bad thing in my opinion!
Fall seems like the perfect time to have a chocolate wedding cake – especially one that is frosted with deep, rich chocolate icing.
I'm particularly fond of today's chocolate cake thanks to the rustic vibe the icing gives off. Read More
0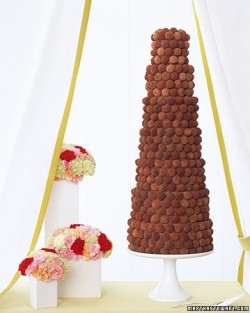 If I'm being totally honest, I have chocolate on the mind this week.
The other day I gave props to the gorgeous chocolate crepe wedding cake and today I'm talking about this amazing chocolate truffle tower cake.
Look at this cake. It is almost too amazing to eat.
Almost.
The cake is inspired by the corquembouche, a traditional French wedding cake. Each of the truffles is rolled in assorted cocoa powders which give the cake layers of color and flavor.
And if the truffles aren't enough to grab you, underneath the chocolate goodness is a yellow butter cake that is filled and frosted with more chocolate – chocolate ganache to be exact.
This is basically the most perfect chocolate wedding cake ever.
And if you're feeling particularly ambitious, you could actually make this cake. You know, as a DIY project. Check out the details here.
You'll find this truffle cake here.
0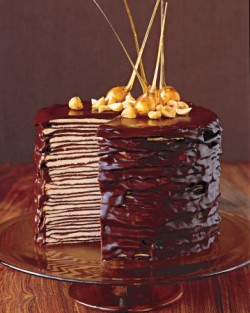 I love chocolate cake.
And when we're talking about wedding cakes I love unique chocolate cakes.
Like this crepe wedding cake, for example.
Look at how gorgeous this cake is! Layers of thin crepes sandwiched between dark chocolate glaze and hazelnut filling. It is pure chocolate bliss.
And the crepe cake is embellished with candied hazelnuts so you just know it'll be delicious. Read More
0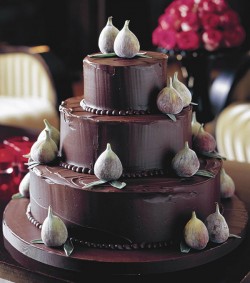 If there's one thing I wish I could do over from my wedding so many years ago it would be to include chocolate in my wedding cake.
Back in the day it was all about the white wedding cake – sure the flavors under the icing could vary, but standard white icing was all the rage.
But now I love the idea of serving a chocolate cake with chocolate icing because your guests will never expect it! Read More
0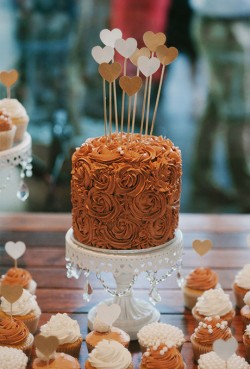 You ever have one of those days when you are craving chocolate?
Happens to me every day and today I decided to do something about it – I found the perfect one-tier chocolate wedding cake just for you!
I love the idea of serving a wedding cake iced with decadent chocolate icing. Why? Because your guests won't be expecting it. They'll be waiting for a cake with white icing and some pretty embellishments.
But chocolate cake? That'll keep your guests talking about your wedding for a very long time!
And this one-tier cake is so pretty! The chocolate icing looks like roses and the gold and silver hearts as cake toppers adds that perfect amount of whimsy to the cake.
Of course, it is just a one-tier cake so it might be enough for you and your new spouse. I think this cake would be ideal as the cake you cut and then you could serve a bigger wedding cake (or even cupcakes!) to your guests.
You can find this cake here. It was created by Tealicious House.