Chocolate Wedding Cakes
Chocolate. Say it with me. CHOCOLATE. Who doesn't love chocolate? In the U.S., most wedding cakes, until recent years, were drab, white, and practically flavorless. Just sweet and more sweet. But more and more, we're seeing different flavors, and different combinations. And not to be left out, chocolate is a flavor in the forefront. A couple may choose plain chocolate, but more often than not, we see variations on the theme – mocha, chocolate espresso, red velvet. But should a couple cling steadfast to tradition, they can always relegate the chocolate to the groom's cake. Often a foil to the white, statuesque, center-stage wedding cake, a groom's cake is often whimsical, and frequently expresses some quirky aspect of the groom's or couple's personality. Sometimes the flavors vary, but quite often, the groom's cake is – you guessed it – chocolate. Dark to the wedding cake's light. Rich to the wedding cake's austere. The perfect yin and yang, the perfect foil, the perfect complement. If your couple-heart lies in the direction of chocolate – go for it! It's your wedding, after all.
0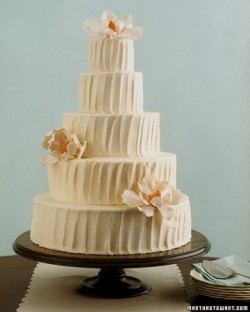 I was in the mood for simple today. Maybe it's because life seems so fast and so complicated. So I went in search of simplicity, and this is what I found. If life can't be simple today, my choice of cake sure can be!
Remember all those times that you helped to frost those cakes, and Mom or Grandma took extra care to make the frosting all loopy and swoopy before calling it a done deal for the Read More
0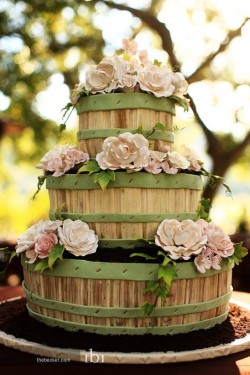 I wanted to feature a cake today that was sort of an homage to summer's last big hurrah.  After all, it's still summer. It's too hot to call it fall yet, and besides, we haven't hit the equinox.

So what signals the end of summer better than gathering an overgrown bounty?  This Flower Basket Wedding Cake was the perfect fit.
Look closely, because those baskets are, in fact, cakes.  The sugar paste flowers appear to be the star of the show when really, they're just garnish.
Isn't the detail Read More
0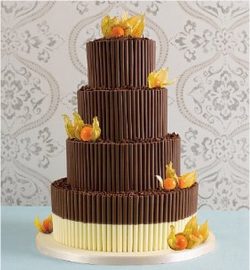 Hey Y'all!  Happy Labor Day Weekend!
I hope you're taking a break from your labor, actually, and having a good time on this, the unofficial last weekend of summer.  And if you, like me, live in a place where school has been back for a few weeks, it probably feels like this milestone came awhile back.
But we can still get out and enjoy each other, yes?
We are off to Read More
0
How about some late love on this lovely Thursday?
Sure, the day has kicked my fanny, and I'm just posting.  So I thought I'd extend myself a little chocolate grace.  So here is a cupcake. For you.  And for me.
Isn't this lovely?  And get a load of the ab fab flav – it's a chocolate chili cupcake with Mexican hot chocolate buttercream.  ¡Ay, caramba!
And as if that weren't enough, the fondant placket on top shows Read More
0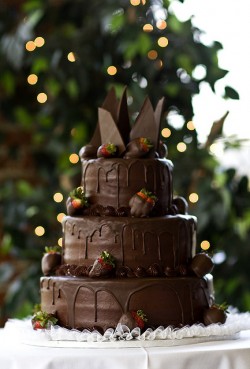 Sometimes, you just need a LOT of chocolate. This would be one of those times.
Oh, but how I wish I were going to a wedding where this cake was being served today! How about you?
Something deliciously drippy and decadent, like this Read More
0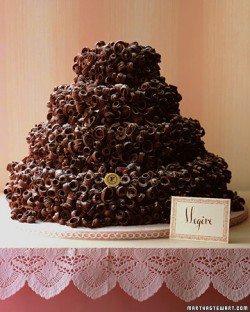 For the boy who is a man and is getting married, and loves France, or chocolate, or skiing, or all of the above, I give you the Megeve Chocolate Groom's Cake.
Named for the French ski resort town of the same name, this kinda looks like a big, delicious, chocolate mountain, doesn't it?  With its dusting of icing sugar, I'd like to swish my way down the side of it with a fork right about now.  Beneath all those chocolate curls you'll find discs of vanilla meringue sandwiched together with chocolate mousse.  Yum and more Yum.
I found this deliciousness on Martha Stewart, but I spy a little "F" insignia in the front, and I'm wondering if it stands for Fauchon, a food emporium in Paris…also known as HEAVEN ON EARTH.  (No.  Seriously.  Go there.  Now.)
0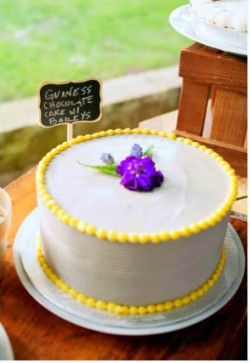 Happy Sunday!  I am soooo about to check out for a few days while my ab bestie is here visiting.  I can't wait!  It's been WAY too long.  But before I go get my beach on for the week (with a little Dark & Stormy action sprinkled in for giggles), I had to show you what I've been seeing this week.  Gosh, but it's been a pretty summer wedding-wise, with lots of homespun and lace.
But before we take our weekly peek at the interwebs, let's see what we've been up to right here at A Wedding Cake Blog.
On Monday, we featured the most DARLING Read More
0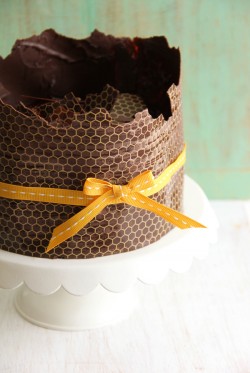 This cake has two of my favorite flavors – chocolate and honey, Honey – so you were going to see it at some point.  Add to it the fabulous design and the gorgeous pop of color from the grosgrain ribbon, and you have cake perfection.
I have a little girl crush on Heather from Sprinkle Bakes anyway, because she makes the most delightful and scrumptious-sounding treats.  But isn't this just the bees knees, quite literally, y'all?  Rich chocolate cake, glazed with a Read More
0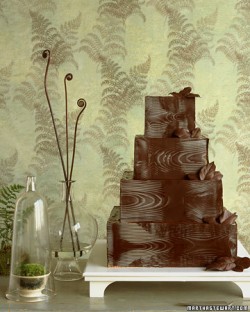 It's time for another installment in "Brooke Fancies Up Your Groom's Cake."
French for "fake wood" (so really, the French sounds ever so much better and we should probably stick with it), the term faux bois refers to a decorating motif.  Here it's made by pressing a wood graining tool into the shiny ganache glaze that coats the cake layers.  Since the tool is applied directly Read More
0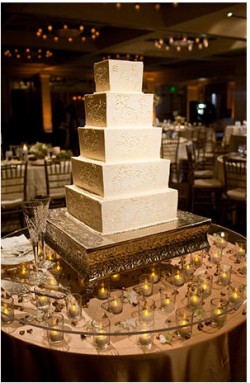 Hey There, Ho There, and Happy Solstice!  What did you do during the longest day of the year this week?  Anything special?  Nah, me neither.  But it's nice to know that, after I've been talking about it seemingly for weeks, summer is finally underway!
This week, I make my way up the East Coast, stopping in to a couple of beaches along the way, as I head to a wedding in Maryland next Saturday.  My, but we are hoping there's a crab cake at the reception somewhere.
But between packing and other prep, I've been looking at what's going on this week in the World of Read More