Modern Wedding Cakes
The term "modern wedding cake" may mean different things to different people. Here at A Wedding Cake Blog, we take the term to mean anything with a contemporary feel; a cake that eschews the traditional white on white, piped and buttercreamed and trimmed with swags or roses. Modern may refer to a bold use of color, or a contemporary decor or shape. It may also refer to choosing something other than the grand, traditional tiered cake – a cake of macarons, for instance, or an assortment of individual cakes. Modern means that you are updating the tradition: perhaps you aren't entirely throwing it out. You're just giving it a breath of fresh air.
0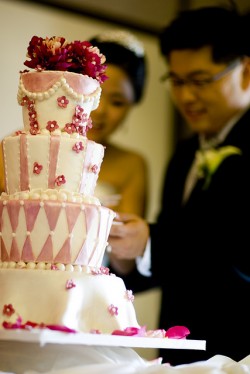 Just when I thought my cake resources where running a bit dry this beauty pops up!
First and foremost…is this not a beautiful picture?
Anyway, on with the cake!  I adore pink.  It's my absolute favorite color on the planet.  However, I personally think that pink wedding cakes can be…well…let's be honest…tacky.  I don't know why, but baby pink on a cake just doesn't do it for me.  This cake strikes my fancy though.  The first tier has a sophisticated pink and cream diamond pattern.  The second has pink fondant stripes.  But what really sets it apart are the adorable tiny dark pink fondant flowers that are scattered across the cake.  To. Die. For.  Instead of a cake topper, this couple decided to play with the dark pink color and add some dark pink gerbera daises.
Read More
0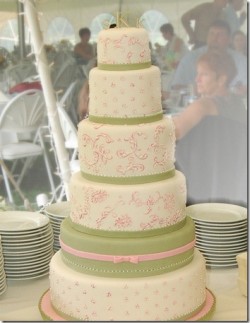 Happy Easter, Everyone!  On this most spring-y of days, we're excited to look around and see all the beauty that is popping up everywhere.  As we shed our winter coats for sun dresses, and trade in those fashionable boots for comfy flip flops, we're excited to see what will be new for spring and summer in the world of Read More
0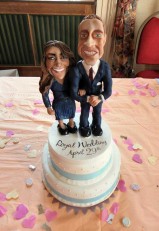 A royal wedding calls for a royal cake baking contest.
Tate & Lyle Sugars, a UK-based sugar refinery, recently hosted a contest, "Let Them Eat Cake," in which the winners would create a wedding cake fit for, well, a Royal Wedding.  They received over 120 entries, and the judges awarded two winners.  My personal favorite is this winner created by Cassie Lawrence and Gemma Peat from Truro, Cornwall, featuring an edible Read More
0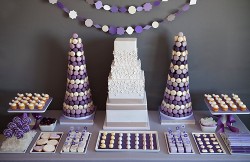 Purple, purple, purple!
So here is a fact.  Devoting an entire table to lollipops, cookies, cupcakes, macaroons, and cake at your wedding may in fact send one into a sugar shock.  Luckily, this particular photo is just a table set up by the talented Shauna Young for the Minneapolis/St. Paul Weddings Magazine Bridal Party.  The cake in the center is gorgeous with fun fondant flowers decorating the tiers.  I'm not even sure Read More
0
Hello..my name is Christen and I would like to introduce you to my new boyfriend.  Or girlfriend..it seems like this cake has a little too much class to be a boy.  Either way I'm sure it's delicious.  At least it looks delicious, that is.
Black and green usually isn't a color combination that jumps out at me.  It actually sort of reminds me of bruising…but I digress, because in this instance it makes perfect sense.  The four-tiered cake has alternate Read More
0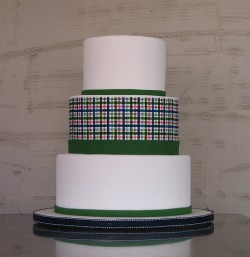 Remember a few months ago when Brooke admitted her deepest darkest secret about her love of all things plaid and we all just nodded and smiled and hoped the men in white coats would be nice to her?  Well Brooke, and other plaid lovers, this cake is for you.
Another spin on a tartan inspired cake made by the Whipped Bakeshop in Philadelphia, Pennsylvania.  I love how this cake takes the time honored tradition of a family tartan and combines it with a clean and modern crisp Read More
0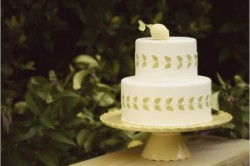 We're getting word from all over the country of April Showers…and a few April Flowers.  Friends in the Southeast are telling us of cold and rainy weather, while pals in the Midwest are crowing about the first irises of the season.  Here in the South, we continue to enjoy lots of sunshine and an early summer as usual.
As our thoughts turn to family traditions and springtime rituals of Easter egg hunts and beautiful bunnies, we are dreaming of Read More
0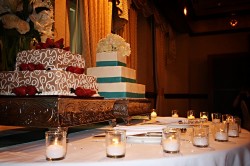 Are you a soon- to-be-bride?  Will your soon-to-be-groom have a groom's cake – and, if so, will it share the cake spotlight?
Let me explain.
We here at aWCB see lots and LOTS of groom's cakes, and they come in every shape and size – Read More
2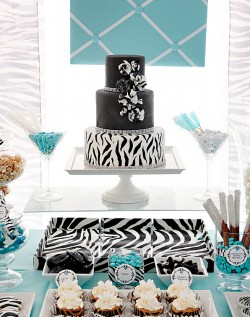 You know, "bold" is very difficult to pull off, because if you aren't careful…if you're too heavy-handed…"bold" can easily become…well… gauche.
Not so with this stunning zebra-striped cake, courtesy of The Couture Cakery in Camp Hill, Pennsylvania.  Jasmine, Couture's owner and cake artist, created the confection as a centerpiece for a sweets table, and brought in the Tiffany Blue as an accent color.
The cake is covered in fondant, and is trimmed Read More
0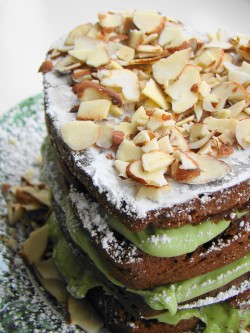 If you visit many trendy bakery sites and blogs (as I do), sooner or later, you are going to come across a whole list of "free" things – gluten-free, sugar-free, casein-free – and you might be tempted to say, "Hmmm, go ahead and add taste-free to that list, too."
Well, I will have to say, respectfully, that –free doesn't have to be devoid of culinary character.
Are you a bride – or a groom – looking to feature a vegan choice Read More