Square Wedding Cakes
Square wedding cakes have gained in popularity over the last few years. While they still trail their round counterparts significantly, they are the second most popular shape that cakes take in today's wedding cake world. The couple who chooses a square cake may have a myriad of reasons for doing so. Maybe they just want something a little different. Or maybe a particular design feature that they have chosen works better with a square cake, such as a monogram. Perhaps the couple (or the bride, or the wedding planner or caterer) has a lovely old cake stand to feature, and it just so happens to be square in shape. Whatever reason, square cakes, whether separated by columns, or stacked with tiers directly on top of one another, emphasize the couple's attention to detail. Round cakes are the default; square cakes must be requested, and for that reason, seem just a little more special.
0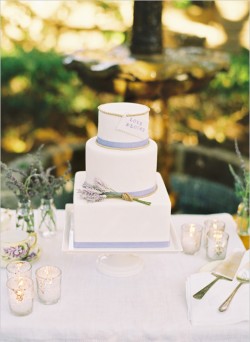 Hello, Fellow Wedding Cake Lovers!  This week, we have sprung forward, the moon appears a full 14% bigger than normal, and we're about to step into spring officially.  You could say that we're a little excited about what's going on around us.  And with pre-Spring Fever in the air (and maybe a touch of the Irish cheer leftover from earlier in the week) Read More
0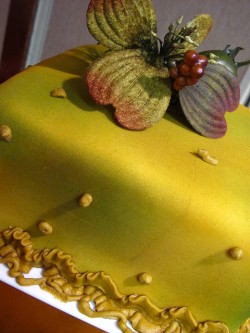 Top 'o the mornin! Erin go braugh! Eat yer Lucky Charms!
As you can tell by my greetings it must be St. Patrick's Day. So pull up your potatoes and let's have a green beer & talk cake shall we?
I must admit..I searched high and low for a St. Patrick's Day themed wedding cake. Wouldn't you know that St. Patrick's Day themed weddings are not entirely popular? By the way, if you've had one please e-mail me pictures for SPD '12. Thanks.
The best I could come up with was this lovely green(ish yellow) cake. While it may not scream "St. Patrick's Day" it does fit in with the theme I am going with here and will allow me not to get e-pinched..right? A green wedding cake is hard to pull off..but I love the way this cake looks! The icing is a cool yellow-green and topped with a gorgeous flower. To me the flower almost looks edible. I can't be sure but a girl can dream. The cool thing about this cake is that it is a smaller sized version of a much larger layered cake. Check out the rest of the Flickr Photo Stream to see the picture cake!
0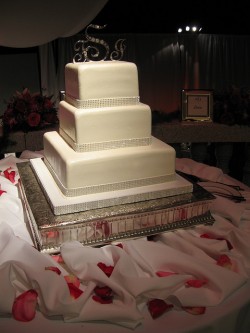 Nine days out of ten, you'll find me reaching for my pearls.  And on day ten, you ask?  Well, diamonds are a girl's best friend, after all.
Isn't this divine?  A cake…that sparkles.  Well, of course!
The combination of bling Read More
0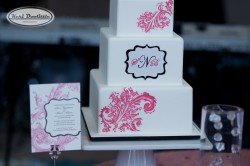 Can you feel it?  That crackle of excitement in the air.  Any minute, that first crocus is going to burst forth through the snow.  Any day now, that first jonquil will peep its sunny little head skyward.
Maybe it's the anticipation of a Royal Wedding.  Maybe it's a touch of premature spring fever.  Read More
0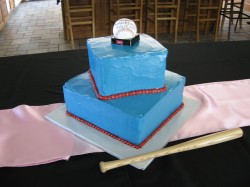 My husband really loves baseball. In a throw down featuring Christen vs. The Atlanta Braves, I am not sure who would win. With the Braves' first Spring Game with their new coach Alan Butts at the reigns coming up, my husband has been counting the minutes this week.
So in honor of baseball fans everywhere..I bring you..the Baseball Grooms Cake! I actually don't know if the bride and groom who own this cake are Braves fans, but I like to think so since the colors are blue and red. I like how this is a simple, two tiered square cake topped with a baseball. The ball is Read More
0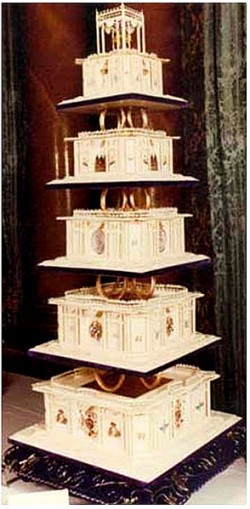 I have a secret to admit.
I am obsessed with the upcoming royal wedding for a lot of reasons. I love Kate Middleton..as her doppelganger (albeit she is way skinnier and much better dressed than I..but that Doppelganger week on Facebook I was totally her..) Mostly I am obsessed because I know that this wedding is going to set the tone for so many weddings in the next few years. Every girl dreams of being a princess on her wedding day..but becoming an ACTUAL princess on your wedding day..it kind of takes my breath away.
With all the chatter of the upcoming wedding I wanted to do some research on the LAST big royal wedding. Read More
0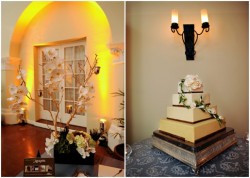 Greetings, Cake Lovers!  I trust that your Valentine's Day was all that you hoped it would be and more.  Around here, we're desperately looking forward to spring and all that beautiful warm weather.  It's even distracting us a little, we confess… Read More
0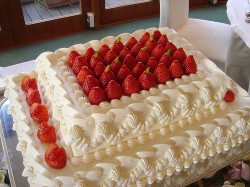 "Okay, campers, rise and shine, and don't forget your booties 'cause it's cooooold out there today….It's Groundhog Day!!"
Name that movie..go..
Got it. Groundhog Day with Bill Murray. A favorite of mine that I had never seen until a few years ago. Another fun Groundhog day fact…it's not called "Groundhog's Day" which I called it oh..my entire life. It's singular as in one wee groundhog. Since Punxsatawney Phil did not see his shadow today (he must of gotten Read More
1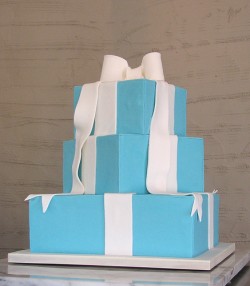 After a long weekend filled with work, work and oh..more work I want to start this week off right. With a little quote of inspiration from one Holly Golightly.

"Well, when I get it the only thing that does any good is to jump in a cab and go to Tiffany's. Calms me down right away. The quietness and the proud look of it; nothing very bad could happen to you there. If I could find a real-life place that'd make me feel like Tiffany's, then – then I'd buy some furniture and give the cat a name!"
I have to agree. There is something about Tiffany's and their signature Robin's Read More
0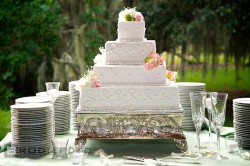 I want you to picture in your mind the most gorgeous summer wedding you can imagine. Now picture in your head the most gorgeous cake to go along with the most gorgeous summer wedding.
Did you picture this cake? Because I sure did! This cake actually belongs to my friend Kristen and her husband Ricky. They were married last June and this cake is just gorgeous. I love that from far away it's a classic cake..but when you get closer you notice that it has a lot of personality..just like Kristen! You guys know that I am a fan of mixing square Read More