Square Wedding Cakes
Square wedding cakes have gained in popularity over the last few years. While they still trail their round counterparts significantly, they are the second most popular shape that cakes take in today's wedding cake world. The couple who chooses a square cake may have a myriad of reasons for doing so. Maybe they just want something a little different. Or maybe a particular design feature that they have chosen works better with a square cake, such as a monogram. Perhaps the couple (or the bride, or the wedding planner or caterer) has a lovely old cake stand to feature, and it just so happens to be square in shape. Whatever reason, square cakes, whether separated by columns, or stacked with tiers directly on top of one another, emphasize the couple's attention to detail. Round cakes are the default; square cakes must be requested, and for that reason, seem just a little more special.
0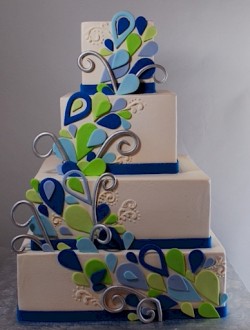 Jenniffer at Cup a Dee Cakes has done it again.  Bloomed out all genius on us.
I know that peacock motifs are hot hot hot right now.  Jenniffer wonders if it has anything to do with Katy Perry.  I wonder if it has to do with the resurgence of Edwardian love we've got goin' on right now. (Vintage once again means something other than 1982.  And I for one am thankful.)
But Read More
0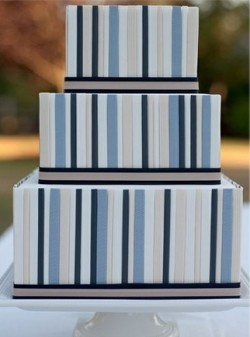 I went in search of preppy today. And preppy I found.
You may not believe this, but I'm not so much a froufrou girl.  My favorite colors?  Khaki and navy blue.  In fact, I'll give you a $100 if you can spy me one day out of my life without khaki on my person somewhere.
I really love tailored and unfussy stuff.  And today, I wanted to declutter a bit, cakewise.
I love this approach to cakery, don't you?  Sure, we've seen Read More
0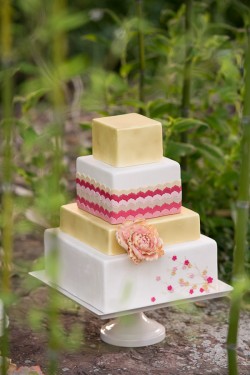 Erica of  Erica O'Brien Cake Design takes us in a decidedly unexpected direction with today's Thai-inspired cake.
I have seen some really beautiful cakes that pull from Asian inspiration, but most of the time, they featured deep, bright colors. But with this cake, which was featured in a stylized shoot, we see beautiful Thai design elements approached with the light, deft touch of pastel.  And it works beautifully.  I absolutely love the stacked fondant Thai arches, and the way that Erica alternates a couple of gold layers into the mix.  And the sweet flower blossoms, as well as the gold-tinged peony, are breathtaking.  She even plays with Read More
0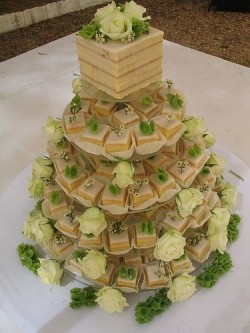 I heart petits fours in the biggest, old-fashioned way imaginable.
They're so darling and so delicious, and you can look at their meticulousness and just tell that they took oodles of time and care to put together.  I love them so much that they keep being featured at my big events, like my wedding shower (and later at my baby showers – both of them!)
Had it occurred to me all those years ago, Read More
0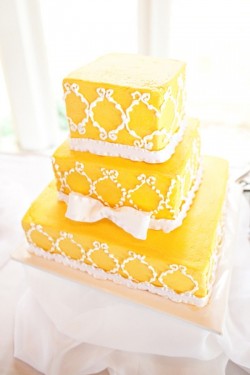 Have you noticed how hot ruffles are right now?
I mean, they've been hot on our blouses and peep toes (and flip flops) for a while, but in the last year, we've seen an abundance (some of my cake artist friends might plead an over abundance) of ruffles on wedding cakes.  From buttercream to fondant, I'd say that ruffles have been one of the hottest wedding cake trends of 2012.  So when you see a LOT of something, it's always fun to see it applied in a new way.
Enter this lovely cake.
Notice the almost Read More
0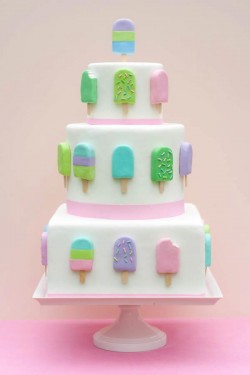 And so, it is upon us.  That time of year that Floridians hate the most.  While the rest of you are flaunting your about-to-dip-into-crispness temperature, we continue to swelter. And since making hay while the sun shines sounds incredibly boring, I'll embrace my lot, Sunshine State Style – with a trip to the beach and an ice cream treat.
I've said it before:  Erica O'Brien is a cake goddess. Check out this simply, stunningly adorable Ice Cream Pop Cake that she came up with.  Her inspiration? Read More
0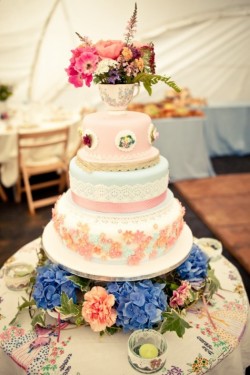 Greetings and salutations!
I have a question for you:  why, oh why, does it take going back to school for kiddoes to make life suddenly make sense and seem orderly again?  I think that's hitting the nail on the head.  It's a sense of order.  A sense of order that my household has been sorely lacking since the Great Homeschool Experiment of '11.
Homeschooling parents?  God bless 'em.  We found out that a) this career girl may not be cut out for that kinda thing; b) my daughter may not be, either.  So maybe we'll revisit in a few years.  Or maybe not.  You don't know until you try it, and for now, we're gonna throw the towel in.
What does this have to do with weddings?  Oh, Read More
0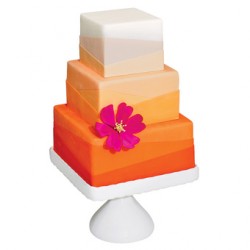 I'm feeling a little tropical-y today, girls.
Isn't this lovely?  It's like a sunset, you know?  The structured bands of orange range from palest to deepest with a lovely ombre effect, and the contrasting hot pink posy is, well, perfection.  It makes me Read More
0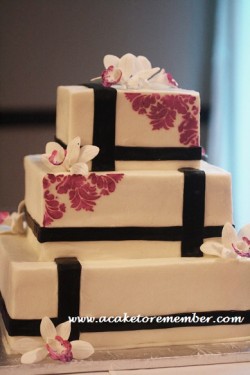 As much as I love a traditional wedding cake, I really dig when I run into something totally different that I haven't seen before, anywhere.  The other day, I ran across this example of just such a cake.
Kara Buntin of A Cake to Remember in Richmond, Virginia, has created some of my favorite cakes, to be sure.  This orchid and black wedding cake just may join the ranks.  I really appreciate the strong structure of the almost geometric black lines juxtaposed with the ultra feminine stencilling in a beautiful shade of orchid.  That Kara chose to Read More
0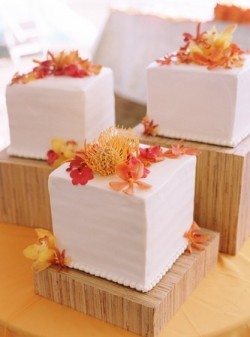 If you're a foodie, or enjoy watching any of the foodie shows on Bravo or Food Network (etc., etc., etc., infinity), then you've heard the term "deconstructed" applied to food.  It's been around for quite a while now, but you know, I don't really mind it.  It usually means that the chef is focusing far more on the sum of the parts than he normally would.
This cake caught my eye because it was a "deconstructed" wedding cake.  Now, that's not really all that new.  There was a mini-trend of separated tier cakes in the 80s, and it seems to continue to this day (you might remember Christen's Read More