Square Wedding Cakes
Square wedding cakes have gained in popularity over the last few years. While they still trail their round counterparts significantly, they are the second most popular shape that cakes take in today's wedding cake world. The couple who chooses a square cake may have a myriad of reasons for doing so. Maybe they just want something a little different. Or maybe a particular design feature that they have chosen works better with a square cake, such as a monogram. Perhaps the couple (or the bride, or the wedding planner or caterer) has a lovely old cake stand to feature, and it just so happens to be square in shape. Whatever reason, square cakes, whether separated by columns, or stacked with tiers directly on top of one another, emphasize the couple's attention to detail. Round cakes are the default; square cakes must be requested, and for that reason, seem just a little more special.
0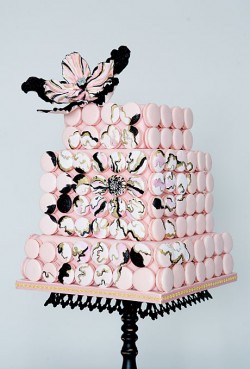 There are fancy wedding cakes and then there are cakes that are just out-of-this world.
This pink macaron wedding cake fits neatly in the second category.
There is so much going on with this cake that your eyes aren't sure where to look first – but that's a good thing!
The three tier square cake is covered in light pink fondant and then macarons – some pink and some playing into the abstract art of the peony cake topper. Read More
0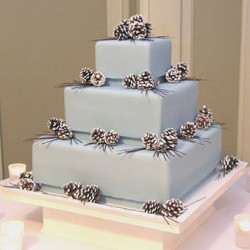 I heard on the news yesterday that all 50 states had a below freezing temperature this week, so it seems like winter is early and here to stay.
Which got me thinking – maybe it's time to feature a winter-themed wedding cake.
And I found this beauty – all square tiers, and icy blue frosting. Read More
0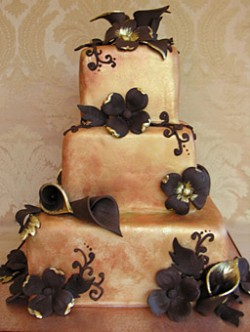 With Halloween only two days away I was searching for a wedding cake that would be the perfect centerpiece for an holiday wedding.
I think this orange and dark brown cake is the one.
After all, you can't go wrong with a cake that features the best Halloween colors, right?
I love that the orange glow of this cake is more of a golden orange hue, rather than a pumpkin orange. Read More
0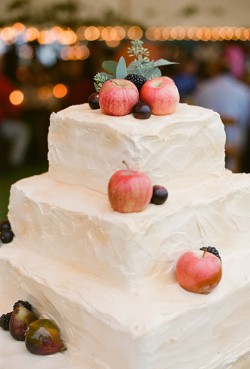 If there is one fruit that symbolizes fall it's the apple.
Living in the Midwest, no fall season is complete without a visit to the apple orchard where you buy a bushel of apples, some apple cider, and maybe an apple pie or two.
And so when I found this wedding cake that uses apples as a decoration I just had to share it!
This is the perfect fall cake with the apples, figs, dark berries, and succulents as the only decorations. Read More
0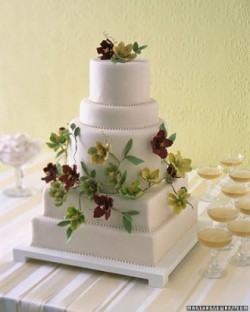 As much as I love seeing a wedding cake adorned with fresh flowers, there is something equally as gorgeous and elegant about sugar flowers.
Not only can sugar flower be beautiful but they're also edible – which is a win-win in my book.
This cake is both elegant and modern. I love that the bottom tiers are square while the top half of the cake features round tiers. It gives the cake just enough of an "edge" without being too over-the-top modern. Read More
0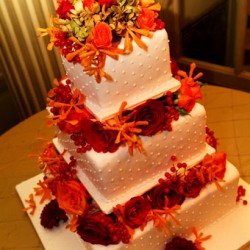 Just because there's a chill in the air doesn't mean you can't have a wedding cake that features beautiful fresh flowers.
As I think back to my own wedding cake (12 years ago!) the one element I loved most – other than the heart-shaped tiers – was the use of fresh black magic roses on the cake. Read More
1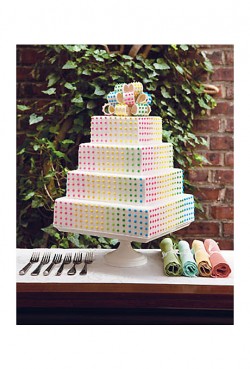 Do you remember those candy dots you used to eat as a kid?
You know, the ones that were stuck to strips of paper so you inevitably ended up eating paper AND candy?
How cool would those be on a wedding cake (minus the paper, of course)? Pretty cool if you ask me.
So imagine how happy I was to find this very modern take on the candy dot wedding cake.
It's bright and colorful and cheerful. And it will take your guests back to their childhood (assuming they're old enough to remember candy dots). Read More
0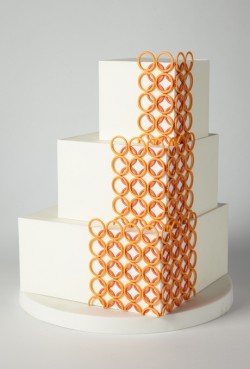 I'm a big fan of traditional wedding cakes – white frosting, flowers, cake topper.
But I'm also becoming a fan of the more non-traditional cakes we've been featuring here.
And every now and then I find an ultra modern wedding cake that knocks my socks off.
This is one of those cakes.
From the straight lines of the square tiers to the 3D illusion of the sugar paste rings, this cake has it going on! Read More
0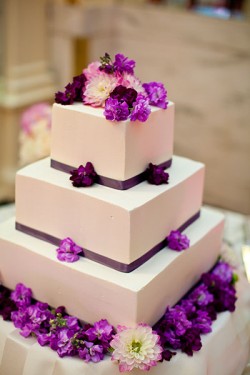 I am a huge fan of all things purple. I think the color is vibrant and cheerful and it's also the color of royalty according to some sources, so it has that going for it.
But as much as I love purple I had not found many cakes featuring the color until now.
And I have to tell you, I'm loving this cake and its understated elegance.
The cake itself is simple and pretty with the square tiers (such a fan of this shape!) and smooth white icing. But the ribbon around each tier takes the cake to another level of beauty, adding to the clean lines of the design. Read More
0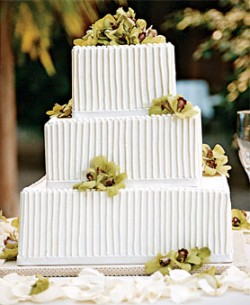 As much as I love the trend of colorful cakes that are anything but traditional, sometimes I like to go back to the basics and find a lovely white wedding cake with minimal embellishments.
Today, that is this white wedding cake adorned with fresh orchids.
What I love most about this cake is the simplicity of the design. Read More