Square Wedding Cakes
Square wedding cakes have gained in popularity over the last few years. While they still trail their round counterparts significantly, they are the second most popular shape that cakes take in today's wedding cake world. The couple who chooses a square cake may have a myriad of reasons for doing so. Maybe they just want something a little different. Or maybe a particular design feature that they have chosen works better with a square cake, such as a monogram. Perhaps the couple (or the bride, or the wedding planner or caterer) has a lovely old cake stand to feature, and it just so happens to be square in shape. Whatever reason, square cakes, whether separated by columns, or stacked with tiers directly on top of one another, emphasize the couple's attention to detail. Round cakes are the default; square cakes must be requested, and for that reason, seem just a little more special.
0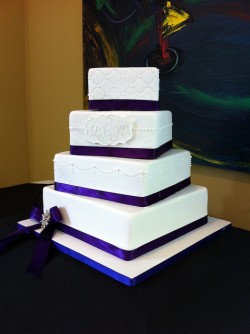 My love of monograms is well documented, as is my love of white on white cakes.  And actually, come to think of it, so is my love of Renay Zamora and Sweet Face Cakes.
But I never tire of any of these elements, or of Renay and her beautiful work.
Renay tells me a lovely story about this cake.  She and the mother of the bride had a rather random connection.  They had served on their church's worship team, but hadn't seen each other in years; however, they recognized one another immediately when they met at Read More
0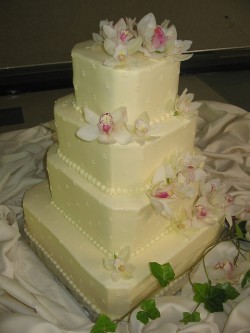 I wanted to show you this cake specifically because of the shape. The orchids are pretty, and the simple design is flawlessly executed, but what I really love is the shape.
So many brides and cake artists are looking to all kinds of embellishments to set their wedding cake apart, that sometimes we forget something as simple as the shape of the cake can make it unique.  One of my very favorite cakes ever was featured in the cookbook Baking with Julia, and was made by Martha Stewart.  It was such a simple cake really, ivory Read More
0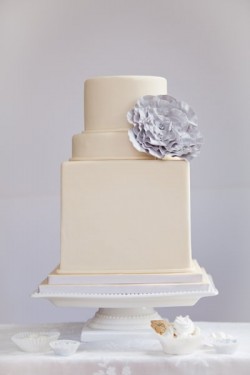 Isn't this pretty?
There is nothing that I like better than taking a little tradition, and twisting it on its head.  You still have the elegance that you started with, but you end up with something totally new and unique.
Here, we have a lovely white cake.  Sounds a little boring, yes?  But how could it be?  Our cake artists have played with shape, giving us both square and round.  They've changed up the Read More
0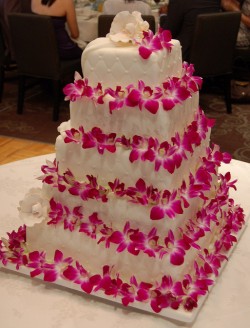 I have a friend from my childhood who married well. Like…her family went to Hawaii last month and are in Florida this week. Sure, they are both business trips for her husband's work…but color me jealous because I have to scrimp and save for end tables from Ikea. This is not to say she married for money because she didn't…she just got super lucky in the rich husband department.
Anyway, while looking through her family photos of their Hawaiian vacation I found myself longing for a glass of pineapple juice and a vase full of hibiscus flowers. Since that won't work we'll just post this lovely cake that Read More
0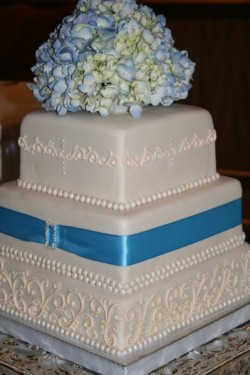 Sometimes all you need is a simple and classic wedding cake.  There is something about light blue and white that brings me inner peace.  That might be why every room in my house has a blue color scheme.
This cake makes me happy.  It's a square cake with three tiers.  It's covered in white fondant and adorned with a light blue ribbon around the middle.  The bottom and top tiers have beautiful white scroll work and the topper is a neat cluster Read More
0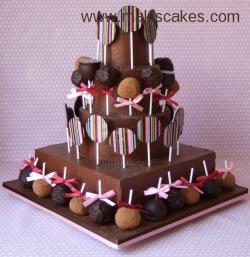 Oh. my. goodness.
To be fair I had another post planned for today from Maki's Cakes. While I was scrolling through the Cake Gallery I saw this one…stopped dead in my tracks…fainted, eventually recovered and decided to feature this one instead.
This is a four tiered cake that embraces the square/round combination.  I'm not usually a fan of the some-tiers-square-other-tiers-round kind of thing, but I actually love how the square flanks Read More
0
This is going to be the first of a few cakes that we feature from our friends at Pink Cake Box. Let's face it…these girls know cake and they know how to embrace a good theme with class and style.
This holiday wedding cake is a typical square wedding cake with the three tiers covered in ivory fondant. The base of each tier is trimmed off with a crisp layer of ivory fondant ribbon. The exceptional part of this cake is the hand painted holly leaves and berries on this cake. Truth be told I think the "commercialism" of Read More
0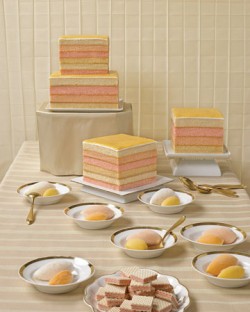 The week before Christmas.  Is your hair on fire, like mine?
What a beautiful time of the year, when we remember hope and excitement and a thousand other things that make life sparkly and fun…that is, if we don't wear ourselves out in the process.  So my hope for you this week is that, at some point, you can grab a cup of cocoa, filled to the brim with marshmallows, sit in front of your Christmas tree, or by candlelight or glow of a fire, and just be.
It's a crazy week for me too, so let's do this.  And we'll start with Read More
0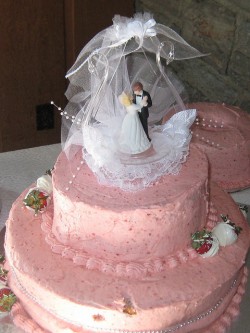 Summer is gone and Fall is here.  Personally, I adore every single second of Fall.  I think it's the only season of the year I don't get sick of.  I am dying for summer and beach trips in April but by July I am sweating my baguettes off and ready for it to be over.  In November I am anticipating the crisp weather and Christmas ambiance, but by the time January rolls around I am ready for green grass and capri pants.  I'm fickle.  What can I say.
The one thing I do miss about Spring & Summer year round is the strawberries.  Oh yes.  I am a strawberry girl.  I could get them any day on anything.  By themselves? Done.  In a salad? Yum.  Covered in chocolate? Yes! Please!  Now!
On a cake? Yes.  Mixed with buttercream?  Oh my.  I can't help myself.  Which is why this strawberry iced cake caught my eye.  It apparently caught the eye of some teeny tiny wedding guest who couldn't resist putting their fingers in that icing.  I'm with ya' kid.  I wouldn't be able to control myself either.