Square Wedding Cakes
Square wedding cakes have gained in popularity over the last few years. While they still trail their round counterparts significantly, they are the second most popular shape that cakes take in today's wedding cake world. The couple who chooses a square cake may have a myriad of reasons for doing so. Maybe they just want something a little different. Or maybe a particular design feature that they have chosen works better with a square cake, such as a monogram. Perhaps the couple (or the bride, or the wedding planner or caterer) has a lovely old cake stand to feature, and it just so happens to be square in shape. Whatever reason, square cakes, whether separated by columns, or stacked with tiers directly on top of one another, emphasize the couple's attention to detail. Round cakes are the default; square cakes must be requested, and for that reason, seem just a little more special.
0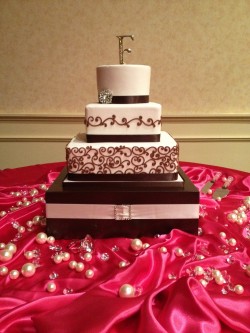 It's the simple touches that really set apart good from fantastic, right?  Anna Hightower from Central Florida's Anna Cakes totally gets that.
I saw this cake for the first time on Twitter, when Anna sent me a pic.  I immediately fell in love!  I mean, pink and brown are such a fantastic color combo anyway, but then I took in the different design elements – the perfectly piped scrolls, the top layer that was round for whimsy, the brooch and the picture-perfect initial cake topper – they all came together to make a beautiful cake.  But truly, what sets it apart for me is the Read More
0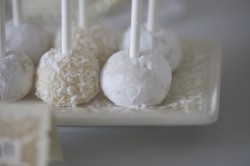 Greetings, Cake Lovers and Seekers of Pretty and *sigh* Moments!
What have you been up to this week?  I confess, I've had one foot in Fantasyworld (or rather, in the Happiest Place on Earth) and the other in the quagmire that is the last month of the school year.  Will it ever end?  I suppose that's counter Read More
0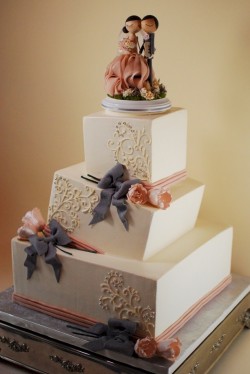 When the wonky wedding cake debuted in the nineties we were all taken aback with by its cuteness and whimsy. This style of  cake, which had asymmetrical layers and looked like something right out of Alice in Wonderland, defied gravity to stay upright.  It was a breath of fresh air.
Nowadays, we've seen lots of wonky cakes.  Some are well executed; some, not so much.  But when I saw this one by Jenniffer of Cup a Dee Cakes in Georgia, I really considered the genre redefined.
I had never seen a square wonky cake!  And this one's wonkiness Read More
0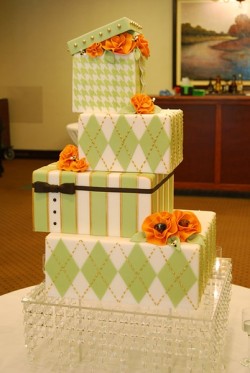 I'm in a unique state of mind this week, y'all.
This box-themed cake is incredible, don't you think?  I love everything about it.  The meticulous execution of the theme (really.  Would you know it was cake if I didn't tell you?)  The colors.  The flawless – and I do mean FLAWLESS designs of argyle, hounds tooth, and stripes.  The off-center stacking that is different than the way we usually see a wonky feature like that applied.  And how about the top "box", with the lid propped up, flowers spilling out?  I love that the cake perfectly blends masculine Read More
0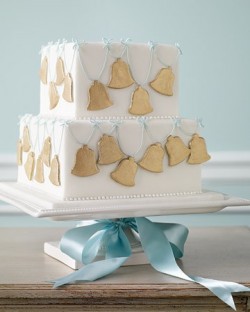 We still say that wedding bells are ringing…but when did you actually last hear some?
Well, even if churches don't still come with nifty bell towers (and lots of people don't even get married in churches these days), it's still a quaint thought.  And this cake celebrates that notion bee-autifully.
Two square tiers, flawlessly covered in white fondant and trimmed with an edge of tiny white dots are then embellished with bells, cut out from more fondant, painted with edible gold dust, and Read More
0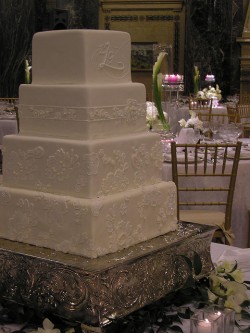 I love when I find a classic technique or concept, with a totally unique twist.
It's well documented that, even if bakers get sick and tired of white-on-white-on-white cakes, I am a big fan of them.  I just think a cake that doesn't use a lot of fireworks, or bells and whistles, but just stands there, with dignity, in white simplicity, is perfection.  I think few cakes showcase a cake artist's talent and creativity better than what they do with a white on white palette.
This fondant cake is a beauty.  While I'd be extra bowled over if those white designs were hand-piped – they appear to be Read More
0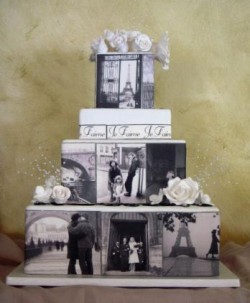 And where does this first day of April find you?  We are chillin', back home from our little getaway, and eager to take on the last quarter of school before – yippee! – summer vacay!  While it's hard to stay focused some days, when I remember that my focus is on, you know, cake and pretty…well, it suddenly puts it all in perspective.
So, what are your favorite finds lately in the world of wedding?  Let's compare notes!  But first, we'll take a look at Read More
0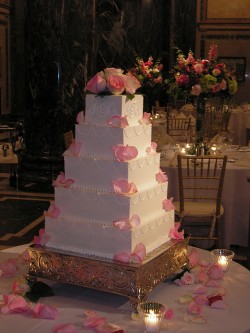 Aren't rose petals pretty?  We see them scattered on aisle cloths or lawns.  Sometimes they're strewn across the cake table (like they are here.)  But this baker goes a step further and actually puts them on the cake.
The simplicity of the vision is simple, and perfectly symmetrical, which lends a sense of calm and order to this lovely cake.  Pink roses crown the cake, and petals rest at each corner of the five graduated square layers, which are decorated meticulously with buttercream, royal icing swags, and classic white Read More
0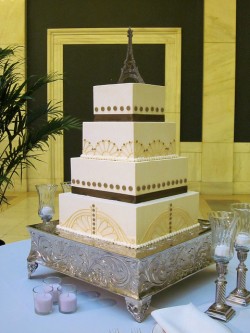 I started to make this cake a feature for Wedding Cake Topper Friday, on account that I heart Paris in the most longing way, and so of course I sighed and swooned when I saw this fabulous cake.  But honestly, the cake is so much more than that topper.  And so here it is, the star of its own post.
I'm a big fan of art deco anyway.  Have you seen Midnight in Paris?  Woody Allen's 2011 Oscar contender straddled the line between present day and 1920s Paris.  I loved it immediately, and this cake, with its art deco motif and La Tour Eiffel topper, takes me right to it.  And there's something so Read More
0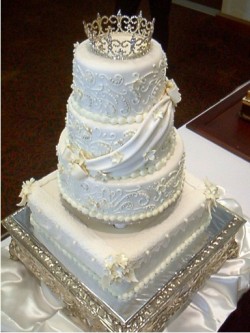 Now, seriously…why didn't we think of this?  Brill!
So…we all need to be honest here, right this minute.  And that is to say that if we had our way, we'd ALL get the chance to wear little tiaras and crownlettes (is that a word?  I don't think so) like this.  I personally would wear mine while grocery shopping and vacuuming.  Heck, I already wear my pearls for those activities, so why not?
This is a great cake anyway, all white on white, round on square, with a perfect swag of fondant doing a great fabric impression.  The piping is exquisite, the decorations are just enough Read More