Modern Wedding Cakes
The term "modern wedding cake" may mean different things to different people. Here at A Wedding Cake Blog, we take the term to mean anything with a contemporary feel; a cake that eschews the traditional white on white, piped and buttercreamed and trimmed with swags or roses. Modern may refer to a bold use of color, or a contemporary decor or shape. It may also refer to choosing something other than the grand, traditional tiered cake – a cake of macarons, for instance, or an assortment of individual cakes. Modern means that you are updating the tradition: perhaps you aren't entirely throwing it out. You're just giving it a breath of fresh air.
0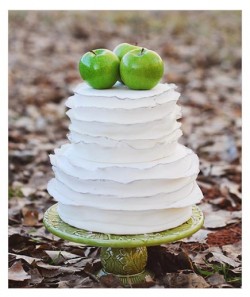 As I drove around town today I noticed some leaves starting to change color. This can only mean one thing – fall is right around the corner!
Fall is the best season in my humble opinion because fall means apples. Lots and lots of juicy and delicious apples.
So take a peek at this cake and tell me how perfect it would look at a fall wedding. It's just amazingly simple and gorgeous. Read More
0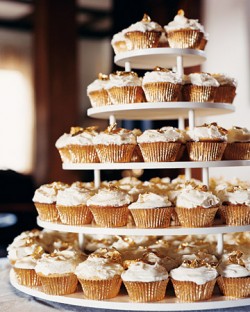 I absolutely love cupcakes and had they been the "in" thing all those eons ago when I tied the knot, I would have totally served cupcakes at my wedding.
And these golden cupcakes would have been at the top of my list of favorites!
The cupcakes are carrot cake – which isn't everyone's cup of tea, I know – but I'm sure you could adjust the cake flavor to something you liked if you aren't a fan of cakes made from carrots. Read More
0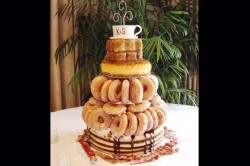 My absolute favorite meal of the day is breakfast. You can do savory and sweet at the same meal – pancakes with maple syrup and a side of sausage links to dip in the syrup is a personal favorite.
So you can imagine my excitement when I came upon this unusual and completely awesome wedding cake that features many of the best breakfast foods out there. Read More
0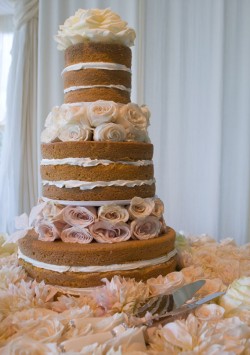 I'll be the first person to admit that frosting is the only reason I eat cake. In my opinion, there should always be a high frosting-to-cake ratio. But I'll let that rule slide this one time, because I love the look of this celebrity wedding cake.
May I present to you – the naked wedding cake.
This nearly frosting-less stunner was the cake at Hilary Duff's wedding to hockey player Mike Comrie back in 2010.
The three-tiered cake only had frosting in between the layers. The rest of the cake was "naked" – completely devoid of frosting. But I'm sure it still tasted great. Read More
0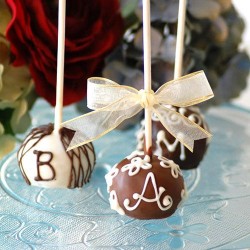 I think one of the best things about being a guest at a wedding – other than witnessing the wedding and the cake – is that we get to take home a fun gift. I'm talking about the wedding favors and I'll admit, I'm a sucker for a great wedding favor.
At my wedding we gave guests little boxes of Jordan Almonds, which at the time seemed fun but in retrospect it's sort of boring.
I mean little boxes of candy that might break a tooth can't even compare to these super cute monogrammed brownie pops! Read More
0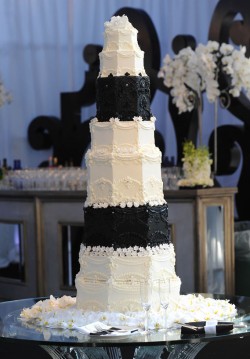 It seems like ages since Kim Kardashian married NBA player Kris Humphries in that over-the-top-made-for-TV spectacle way back in August 2011. And while it is sad that the marriage lasted a mere 72 days, we're here to talk about the cake.
The wedding colors were black and white and the cake was a beautiful reflection of that with black frosted layers inserted between the white frosted layers.
The cake itself was six-feet tall, which makes it shorter than an NBA player but taller than his reality TV bride. Read More
0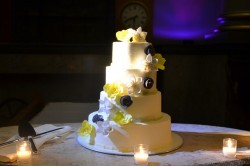 Sometimes it's the simple and elegant cakes that really grab your attention. Case in point – this beauty.
There is much to love about this cake, starting with the Read More
0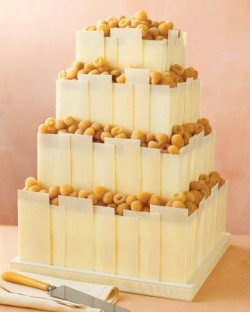 This cake is an amazing architectural masterpiece – four tiers of cake surrounded by white chocolate panels and topped with golden raspberries. And the biggest surprise is that this cake can be a DIY project!
The cake can be purchased frosted but undecorated from your local bakery (or if you're really ambitious, you could make the cake). The chocolate panels can be ordered from Read More
0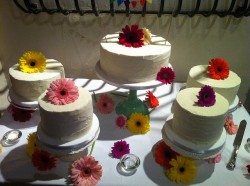 This cake reminded me so much of my friend Christen that I just had to share it with you.
Christen used to contribute regularly to A Wedding Cake Blog, and I know that she still loves to keep up with all the Sweet and Pretty that we feature here. And this cake actually reminds me of her for two reasons: Read More
0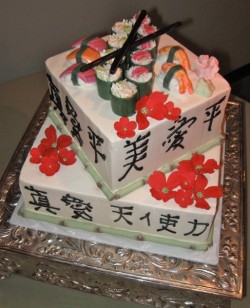 Time for another fabulous themed cake. This one falls in the "juxtaposition of things that definitely don't remind you of cake, but it's so pretty you can't help yourself" category.
I think this cake is absolutely beautiful. The Japanese characters are flawless, and the gumpaste flowers are incredibly lifelike. But the star of the show is the assortment of gumpaste sushi that adorns the top of the cake.
Wrapped in Read More