Simple Wedding Cakes
Sometimes simple says it best. You might choose a simple wedding cake because you prefer a minimalist approach, or because you like you like to stick with the basics when it comes to cake, or even because you are interested in showcasing a particularly fancy flower or cake topper, simple wedding cakes never go out of style. The basic, stacked, white wedding cake, frosted in a smooth coating of buttercream or covered in a snowy blanket of fondant, may hide beautiful flavors and colors beneath its exterior – the best of both worlds. Or maybe you and your groom prefer the traditional "white cake, white frosting" approach – or "chocolate cake, chocolate frosting" – after all, simple doesn't necessarily mean traditional. On the other hand, a simple cake may be the perfect way to showcase a special caketopper or flower that has personal meaning for you. A topper that shows your style or a hobby that you and future hubby share becomes all the more visible when it doesn't need to compete with a fancy cake. Maybe you have a family heirloom that can nestle atop your cake. Alternatively, some dazzling orchids or floppy peonies may be all the statement that you need to make. A simple cake need not be boring, after all.
0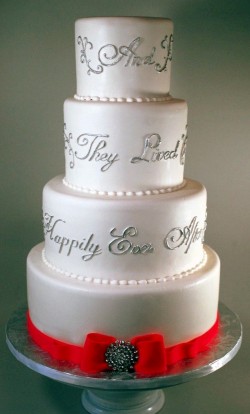 Those with any sense know that "And They Lived Happily Ever After" signifies not the end of the story, but the beginning.
Today, we feature another beautiful cake by Jenniffer at Cup A Dee Cakes in Tunnel Hill, Georgia.  Clearly, Jenniffer knows this secret, and so does the couple for whom she made this beautiful cake.
So there are lots of fun things to love here.  First, be sure to read Jen's original blog post about how she got that pretty silver lettering onto that cake without going all wonky and downhill like most of us would.  Next, don't you love that vivid pop of Read More
Other Posts You May Enjoy:
0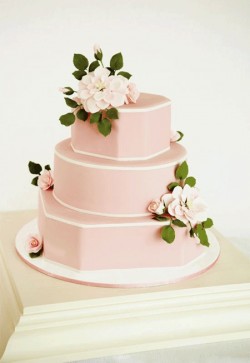 Pretty, pretty, pretty.  And dare I say – without being fired upon where I stand – ladylike?
This breathtakingly beautiful pink wedding cake with white trim makes me think of Easter dresses, and ladies who lunch, and kelly bags, and spectator pumps, and white gloves and hats, and every sweet, fun thing that there ever was about being a girl.  Really.  I wouldn't be surprised if there were a strand of pearls secreted about it somewhere.
Created by Jean-Paul's Creative Cakes in (of course!) Charleston, South Carolina, pale pink fondant hides Read More
Other Posts You May Enjoy:
0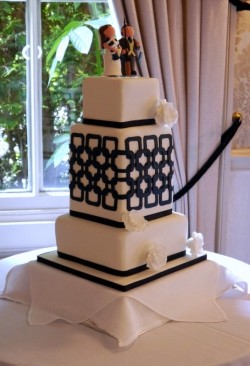 I leapt at the chance to feature this beautiful cake by Cakes By Beth in Manchester, UK.  Isn't it gorgeous?
When Beth originally met with the bride and groom, they had very few specific ideas about how they wanted their cake to look.  They knew they wanted four tiers and something simple in design that incorporated navy blue ribbon, but that was the extent of their input.  Enter Beth and her brilliance!  She suggested this geometric design of overlapping squares, reminiscent (to me, anyway) of a Chippendale motif.  And though she was prepared for the couple not to love the idea…they did!  Two of the original four layers became Read More
Other Posts You May Enjoy:
0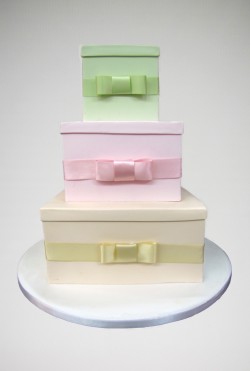 I love me some classic…well, anything. And isn't this pretty? I just want to grab my pencil skirt, cashmere cardigan, pearls, and kelly bag and go shopping with the girls. And then maybe to lunch. At Neiman Marcus.
Whew! Went a little too far into that 1950s movie fantasy right there.
But this cake will Read More
Other Posts You May Enjoy:
0
Some days I like my job, and somedays, I really love it.
What makes the difference?  Usually, it's interacting with the fun, friendly, vibrant community of bakers from all over the world that I'm getting to know through my work here on A Wedding Cake Blog.  Seriously, y'all.  I never would have dreamed 10 years ago that I would be chatting with gifted bakers from England and Australia.  Thank you, social media!
I asked for opinions on cakes that feature feathers a couple of weeks back, and Read More
Other Posts You May Enjoy:
0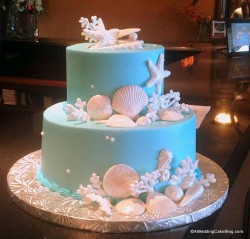 A few weeks back, my aunt, uncle, and their family headed to Key West for some fabulous R&R.  Have you been to Key West?  If not, put it on your list.  Right now.  No, I'm serious.  Go get a pen.
While they were there over Memorial Day weekend, the inn where they stayed happened to be the location of a Read More
Other Posts You May Enjoy:
0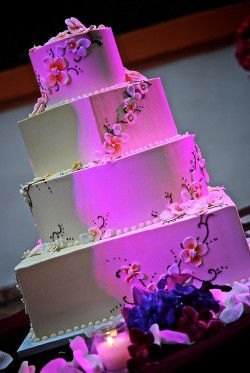 I know, I know.  The angle and lighting are a little funky on this one.  But it's sooooo still worth posting.
I love dogwood blossoms.  We awaited with such joy the blooming of the dogwoods back home, when we knew spring was finally on its way.  And this cake features beautiful versions of the lovely flower, used sparingly and asymmetrically on the various layers.
And speaking of the layers, I love a cake that has alternating shapes.  This one features both squares and rounds, and the second layer from the top is both square AND Read More
Other Posts You May Enjoy:
0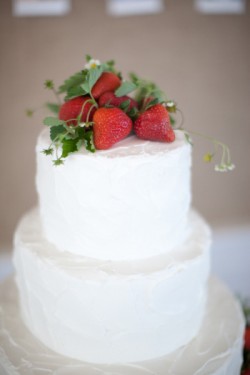 Happy Father's Day to all of our dads out there!   While we are fixin' to set out on a beach picnic (I know…tiresome…that's how we celebrate everything, it seems), I love showing you what we've been up to all week, as well as checking out what our friends are doing with their extraordinary gifts and abilities.  Let's start with our some pretty cakes, brought to you by, well, US!
On Monday, I shared with you what is destined to be one of my most favorite cakes EVER – the Teacup Wedding Cake.
Tuesday brought with it Shades of….Purple, when Kasey shared a lovely Read More
Other Posts You May Enjoy:
0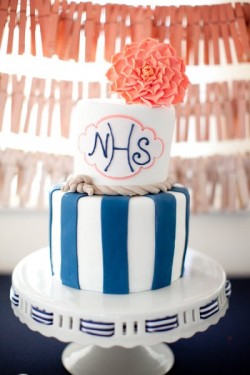 I love sweet and simple. And today's cake is just that!
Cake Goodness in California is the bakery behind this sweet nautical-themed cake, which was featured on Style Me Pretty, and was captured by Shannon Lee Images.  And I have to say that I love how they incorporated so much into such a little cake! This cake was for a beach wedding in Malibu – hello dream wedding location! – and as the wedding incorporated nautical elements, it was important to carry the theme through to the cake. The blue and white stripes on the lower tier evoke that beach club, nautical feel, and the fondant rope around the base of the top tier really completes the look. But they took it one step further and "iced" it with a cake stand that incorporated a blue and white striped ribbon. I also love how they stepped out of the traditional yellow and blue nautical color scheme and went with blue and coral. The coral dahlia on top is fun and unique and sweet! And I love that they incorporated their monogram on the top tier.
To sum it up pretty much everything about this cake is perfect!
Other Posts You May Enjoy:
0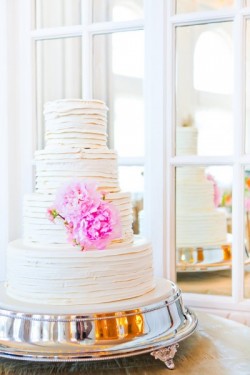 So confession time…I love pink! (Actually, I think I already confessed that. And is that confession-worthy? Whatevs.) The love affair started sometime during high school (I was way too much of a tomboy before that to be on board the pink train) and it has continued to this day. I may have a different staple color in my wardrobe this season and my room may no longer be the pink and brown it was in college, but I still adore all things pink.
When I spotted this cake, I fell in love. I love its dimensions and the layered look of the tiers. The burst of Read More
Other Posts You May Enjoy: