Simple Wedding Cakes
Sometimes simple says it best. You might choose a simple wedding cake because you prefer a minimalist approach, or because you like you like to stick with the basics when it comes to cake, or even because you are interested in showcasing a particularly fancy flower or cake topper, simple wedding cakes never go out of style. The basic, stacked, white wedding cake, frosted in a smooth coating of buttercream or covered in a snowy blanket of fondant, may hide beautiful flavors and colors beneath its exterior – the best of both worlds. Or maybe you and your groom prefer the traditional "white cake, white frosting" approach – or "chocolate cake, chocolate frosting" – after all, simple doesn't necessarily mean traditional. On the other hand, a simple cake may be the perfect way to showcase a special caketopper or flower that has personal meaning for you. A topper that shows your style or a hobby that you and future hubby share becomes all the more visible when it doesn't need to compete with a fancy cake. Maybe you have a family heirloom that can nestle atop your cake. Alternatively, some dazzling orchids or floppy peonies may be all the statement that you need to make. A simple cake need not be boring, after all.
0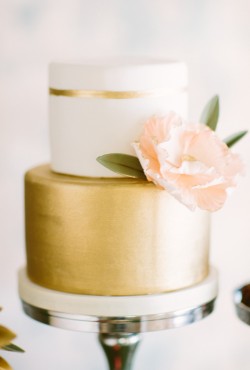 I don't know about you but I'm still glued to the television every night watching the 2016 Summer Olympics.
I'm cheering on Team USA every night (although I will admit to rooting for Usain Bolt the other night!).
And since we are winning a whole lotta gold medals in Rio, I wanted to find a gold wedding cake to keep with the Olympic theme. Read More
0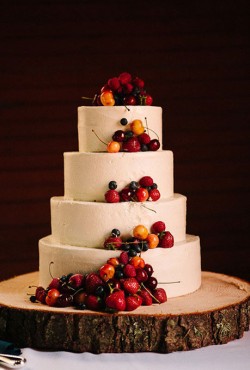 One of my favorite things about mid-to-late summer is the abundance of fresh fruit at my local market. Peaches, plums, cherries, berries, and more.
And I can't think of a better way to showcase all those gorgeous fruits than on a lovely white wedding cake!
People don't often think about using fresh fruits as an embellishment on a cake, but it really is genius. Read More
0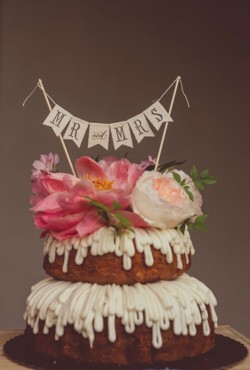 Ah, bundt cakes. The ubiquitous cake of the 1950s and 1960s.
They're so retro that they're cool again – just ask my mom. She loves to bake bundt cakes for family birthdays, complete with homemade chocolate drizzle.
Imagine having a bundt cake as your wedding cake – now that would be cool. Plus, they're basically the original "naked" cake, with only a drizzle of frosting. Read More
0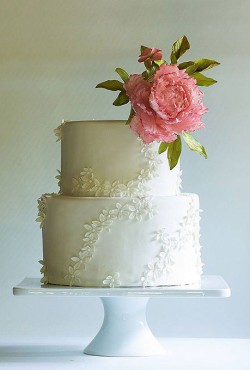 I'm back with another lace-inspired wedding cake because I honestly just can't get enough!
Today's cake is one that I could stare at for hours, it's so gorgeous.
The lace effect on this cake was painstakingly created by creating dozens of tiny sugar blossoms and then arranging them in a trail on the cake. Imagine the time it took – this cake is really too pretty to eat! Read More
0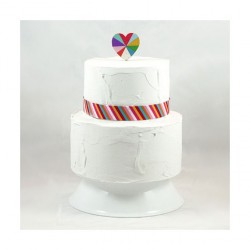 Since we're in the dog days of summer it seems like a good time to showcase another simple rainbow wedding cake.
Rainbows and summer go hand-in-hand, right?
I love the simplicity of this cake. It's not fussy or over-the-top. It's just a simple two-tier white wedding cake with a little bit of color added thanks to a cute little cake topper. Read More
0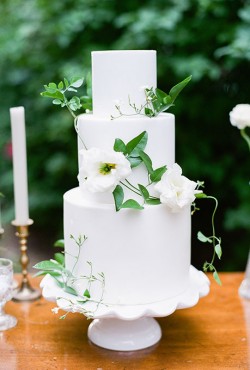 I love an over-the-top, non-traditional wedding cake just as much as the next non-traditionalist. But I also love simple wedding cakes that are both elegant and gorgeous.
Take today's wedding cake as an example.
There isn't a lot going on with the cake but that's what makes it special. The 'wow' factor is in the cake's simplicity.
A stark white tiered cake topped with fresh white blooms. It's simple and beautiful and makes a statement by not being over-the-top. Read More
0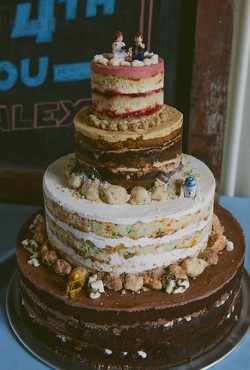 Today I'm showcasing another naked, unfrosted wedding cake simply because it's like nothing I've seen before.
Not only is it part of the whole "naked wedding cake" trend that just keeps hanging on (what do you have against frosting??) but look very closely at the cake.
Do you see what I see?
Yep! That's right! Star Wars Lego figurines.
That. Is. Awesome. Read More
0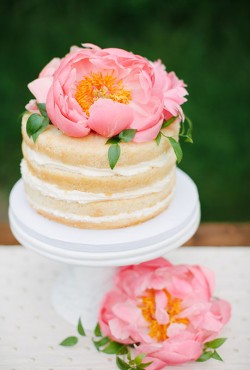 Sometimes, less is better.
For example – when it is 95 degrees outside with 1 million percent humidity, it's better to be in a bathing suit than a business suit. Less is better.
The same can be said of wedding cakes. When it's hot and humid outside sometimes the last thing you want is a wedding cake with a whole bunch of icing. Read More
0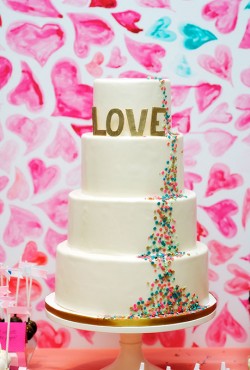 And it's time for another sprinkle wedding cake! I can't help myself – I'm totally in LOVE with these cakes.
I can't explain my obsession with wedding cakes adorned with sprinkles. They're just so fun and whimsical yet still with an air of elegance.
And I'm in love with today's cake thanks to the subtle yet colorful cascade of jewel-toned confetti sprinkles and the golden 'LOVE' cake topper. Read More
0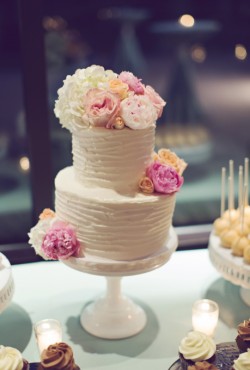 I love this time of early summer – a couple weeks after all the flowers have been planted, when they're still bright and blooming.
My backyard looks like a flower shop with pots and containers full of pink and purple blooms.
Which brings me to today's wedding cake – a lovely two-tier confection topped with fresh garden flowers. Read More