Wedding Cake Toppers
For many wedding cakes it is the topper that makes the cake. Since the topper generally represents the bride and groom themselves in some way they can be the most important part of the cake. These cakes have unusual, beautiful or simply novel toppers that are worth checking out.
0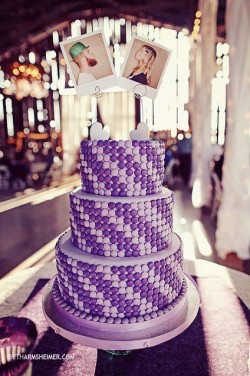 While perusing Pinterest the other day, we found this gem.
Now, try to forget the spectacular candy-covered cake for a minute (it's hard, we know.)  It reminds us of other candy-themed cakes we've featured here on A Wedding Cake Blog, like this rock candy cake, this cotton candy cake (swoon), this incredible M&M's wedding cake, and this sixlet candy cake.
But we think the real star of this show is the super simple and oh-so-adorable photograph clip cake toppers.  Seriously!  A trip to Target, a couple of Polaroid snaps, and mark this one Read More
0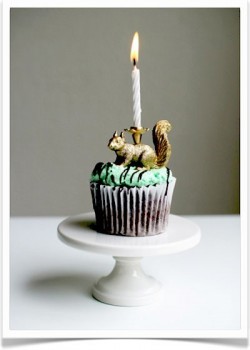 We are always up for wedding DIY at A Wedding Cake Blog.  We've explored DIY wedding cake techniques, DIY mini cakes, and DIY cupcakes.  (We are kinda all about the cake around here.)  I mean, nothing is more gratifying than when you are at your bridal sparkly beautiful best, AND someone finds out that, why, yes you DID make every single one of those cake pops yourself!
But here, we are on to another level of craftiness:  making your own candle cake toppers.  I Love love love love LOVE!  THIS!  These gilded cupcake toppers look super high-end and all kinds of Read More
0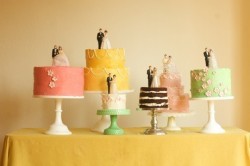 Um, why didn't this occur to any of us ever before?
With the rising popularity of multiple wedding cakes and sweets tables, well, why not multiple bride and groom sets?
I thought this idea was so cute as soon as I laid eyes on it.  I mean, c'mon, I cannot be Read More
0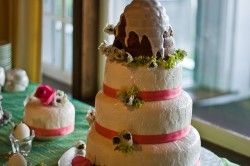 Did you know that beehives often symbolize industry, harmony, and order?  Well, if that be so, then we think using a beehive as a symbol for marriage is to get off on exactly the right foot.  After all, marriage takes work, and harmony makes it all the better, yes?
Paige and Justin, our bride and groom whose Read More
0
We're not done with Valentine's Day yet – oh nosireebobby!
Aren't these little lovebirds adorable?  I mean, the polka dot cake by Cakebee in Centreville, Virginia, was already all kinds of sweet, but then the dream team baker and bride came up with these precious felt bird cake toppers.  The red on the hearts coordinates with the cake so perfectly!  And the birdies are so life-like that you can practically hear the chirrups.
The bird motif was super hot in 2011, and it looks like it will carry over into 2012.  What do you Read More
2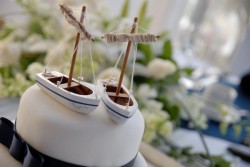 Isn't this sweet?
You know that my happy place is the ocean.  It's a good thing that I live in a state that's surrounded by saltwater on three sides, yes?
Well, even though I haven't formally cemented my list of 2012 New Year's Resolutions, floating around Read More
0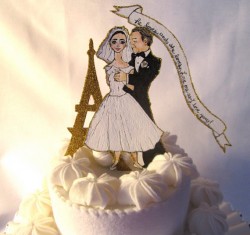 Gasp.
When I first was directed to Jolie En Rose Vintage on Etsy my first thought was: Oh my.  It's going to be hard to choose just one of these to feature. And then…much like a movie…it happened.  My meet/cute if you will.  The Funny Face inspired cake topper.  If you haven't seen this movie walk…no run…to your Netflix and queue it up.  Singing, dancing, pretending for one nano second that putting frumpy Read More
0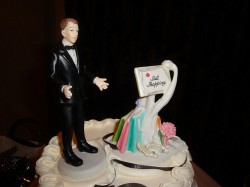 Oh my.  Brooke actually found this little beauty and shot it to me in an e-mail last week.
It's like she knew we were meant to be together.
I kind of have this problem…like a lot of women…I just love to shop.  If I am having a crappy day I head to a store.  Very rarely is it ever Read More
0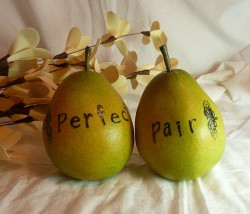 I love pears.  When it's "pear day" at school I always grab two.  However, this has very little to do with my love of fruit.  Other than the fact that these cake toppers are in fact…you know…pears.
These cutie cake toppers and nonbreakable hand-stamped pears that are about 4 inches tall.  The great thing about these toppers are that they are lightweight, so they Read More